Print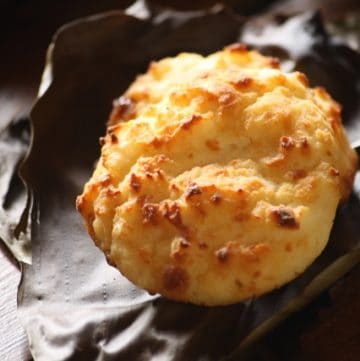 Pan de Arroz (Bolivian Gluten-Free Bread)
This pan de arroz (rice bread) is made with rice flour and mashed cassava. Cheesy and naturally gluten-free.
6-1/4

cups

rice flour

(500g)

1

kilo peeled cassava (2lb)

4

cups

grated cheese

I used half mozzarella cheese and half sandwich cheese (500g)

4-1/4

cups

milk

you can use sour milk or whey (1litre)

1/2

cup

vegetal oil

(118ml)

1

tablespoon

salt
Boil and drain cassava (cooking time varies between 15-45 minutes).

While the cassava is hot, mash it with a fork or a mortar (I put mine in the food processor).

Add all the ingredients in a large bowl and mix well (I used my hands).

Cover and let it stand for at least 4 hours (I left mine overnight).

When you are ready to bake, heat the oven to 243 ° C / 470 ° F. drop the dough with a spoon on a greased tray or on a tray covered with banana leaves. Bake for about 25-30 minutes or until golden. Eat them while hot.
If you do not use all the batter, you can store it in the freezer.