So excited to be a part of this food advent calendar - "spice it up!". I really enjoy learning and trying new recipes, and this food advent calendar does that. Starting tomorrow, December 1st., we´ll be going to different kitchens, in different countries, trying new Christmas recipes.
What is an advent calendar? The Advent or Christmas calendar (in Germany) began as a plain card with paper backing. On the face were 24 windows, that when opened revealed various Christmas symbols and scenes. These windows or small doors were to be opened, one each day, over the 24 days leading up to Heiligabend or Christmas Eve. The largest window is still reserved for December 24th and usually offers a view of the Nativity.
Today the most popular version of this calendar is the candy-filled variety. Instead of mere pictures, the windows open to reveal pieces of chocolate shaped to resemble stars, fir trees, and other Christmas symbols.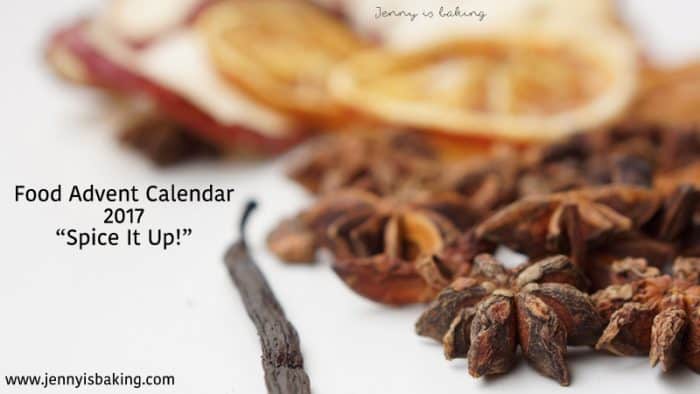 So Jenny (jennyisbaking.com) blogging from Germany, invited us to do a food advent calendar where one of the ingredients is a spice commonly used where we are. I hope you enjoy our trip and try new recipes :).
December 1, Jenny from Jenny Is Baking will feature tonka bean in a sweet bread
December 2, Rachel from Dishing Up Dinner will feature nutmeg in a cookie
December 3, Jyoti from The Hungry Belly will feature saffron in a dessert
December 4, Natalie from Natalie Journeys will feature nutmeg in a drink
December 5, Renea from Inspire A Creation will feature peppermint in a dessert
December 6, Samira from Samira's Recipe Diary will feature cardamom in a dessert
December 7, Markus from Earth Food and Fire will feature cloves in a side dish
December 8, Candi from Make Ahead Meal Mom will feature nutmeg in a dessert
December 9, Rachael from Coloured Plates will feature star anise in a condiment
December 10, Kori from I Rok the Kitchen will feature ginger in a cookie
December 11, Megan from Life on Paradise Drive will feature pumpkin pie spice in a dessert
December 12, Leslie from Deliciously Plated will feature cardamom in a beverage
December 13, Tanya from Food Forage will feature ginger in a dessert
December 14, Ali from Fix Me a Little Lunch will feature bay leaves in a cocktail
December 15, Daniela from Dani's Cookings will feature cinnamon in a cake
December 16, Neha from Witty Mushroom will feature cardamom in a dessert
December 17, Lizet from Chipa by the Dozen will feature aniseed in a cookie
December 18, Jillian from Simple Sassy Scrumptious will feature cinnamon and cloves in a cookie
December 19, Jennifer from Jennifer Bakes will feature cayenne pepper in a snack
December 20, Angela from Bake It with Love will feature nutmeg in a dessert
December 21, Kaveri from Pretty Little Things will feature ginger in a dessert
December 22, Nataliya from The Friendly Gourmand will feature clove in a side dish
December 23, Myriam from Milly's Melting Pot will feature vanilla in a cookie
December 24, Jenny, initiator and from Jenny Is Baking will make a roundup