Bolivian salteñas are baked empanadas with a sweet and buttery crust and a juicy chicken filling or jigote with potatoes, chili peppers, raisins, and olives.

If you've visited Bolivia or have a Bolivian friend, you have heard about salteñas.
These baked empanadas can be found in many Bolivian streets during the morning. They are eaten for breakfast or as a mid-morning snack.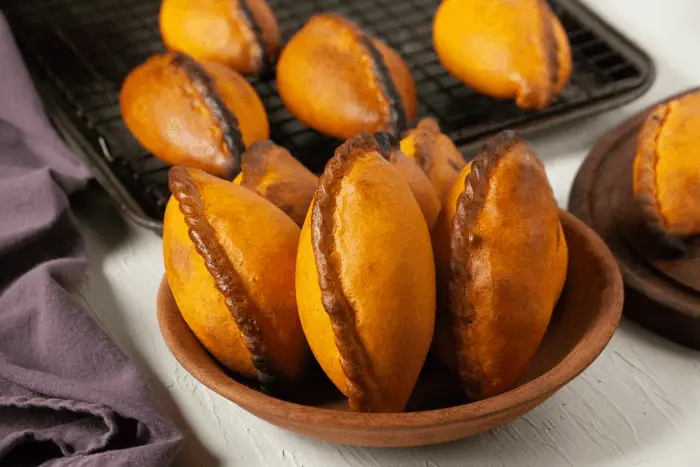 The country is full of salteñerías. These stalls or small restaurants open early in the mornings offering beef, chicken, spicy and non-spicy salteñas.
A cup of steaming coffee or fresh made fruit juice is served with piping hot salteñas.
Salteñas are generally bought, it is not a recipe people make at home.
When we moved to Paraguay, my mom had a long list of Bolivian recipes that she would make. Some recipes she grew up making with her mom, but others were foods that were bought in the streets and there was no need to learn how to make them, unless you lived outside the country.
There began her fight or adventure to find a recipe for Bolivian salteñas.
In terms of flavors, very quickly she found how to replicate it, but the dough. That blessed dough! If the dough doesn't have the right consistency, the salteñas don't seal properly and they open in the oven and all the juice comes out, leaving you with dry salteñas.
We would go back to Bolivia for Christmas, and my parents would try to find someone to share their secret to a perfect salteña. But since it's not something that people make at home, their search came to nothing, year after year.
The oven also has a lot to do with making salteñas come out well. The oven has to be able to heat to very high temperatures, my parents thinking that their oven was not heating enough or properly, bought an industrial oven in Bolivia, and brought it back to Paraguay. Yes, that's how much Bolivians love their salteñas.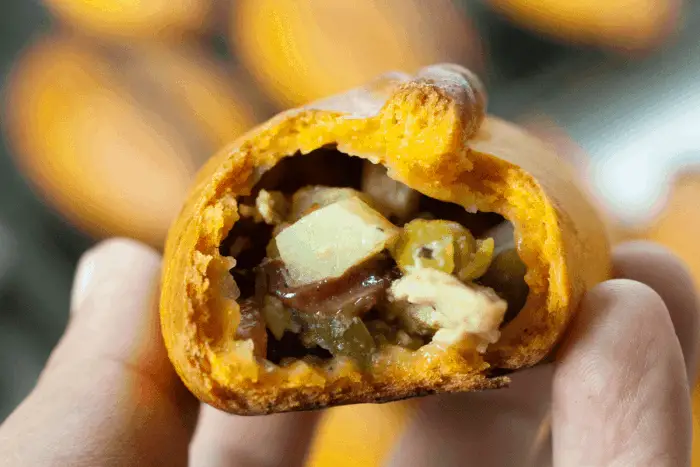 I really don't remember if that helped. But we did eat lots of delicious salteñas over the years as they kept trying to get it right.
Once my parents returned to live in Bolivia and I stayed in Paraguay, my adventure of finding the right dough for salteñas began.
This recipe is the work of many years. Yes, there are many videos on YouTube and many recipes on the internet. So why was I still searching for one?
Recipes generally don't tell you exactly how much water is needed. Or if they tell you, the flour absorbs liquids differently depending on the brand, or the country where you live. If you've never made the dough, it's hard to know what it means when a recipe says "add enough water."
I think that due to the fact that I have been able to bake in 3 different countries, I can tell you and help you with that little problem.
But I want you to know that I am not a professional. I'm going to tell you everything I learned in the process, and what I do it to be able to make salteñas at home. Maybe they are not the most common methods, but it is what worked for me.
History
Bolivia has very diverse gastronomy. Throughout the country, you find traditional dishes that represent the culture and the different ecological floors.
But we have some dishes that are prepared and enjoyed by all Bolivians, such as peanut soup, llajua, and these salteñas.
There are some stories about how these empanadas came to Bolivia. Due to the particular name (Salteña is a woman from the city of Salta, Argentina), it is believed that Juana Manuela Gorriti, born in the province of Salta, Argentina, was the one who created the recipe.
The recipe book from 1776 is the oldest existing in the country written by Josepha de Escurrechea and with it, it is shown that the broth empanada or juicy empanada was already known in Potosí and what Doña Josepha did, in addition to cooking it, was to include her recipe which, that way, it is preserved to this day.
In this recipe book, she mentions the use of beef and the repulgue (the name for how to seal the empanada). Due to these specifically established uses, it is clear that this origin was in this city (Potosí) where the preparation of the famous salteñas began and was consolidated, with the essential addition of potatoes and chili peppers.
Our Recipe
The traditional salteña is about 12 centimeters long and 7 centimeters wide. They are large and fit nicely in the hand.
Our recipe makes 20 small salteñas. If you want them larger, you can divide the dough into 15 portions. The cooking time does not vary.
Filling or jigote
Ingredients: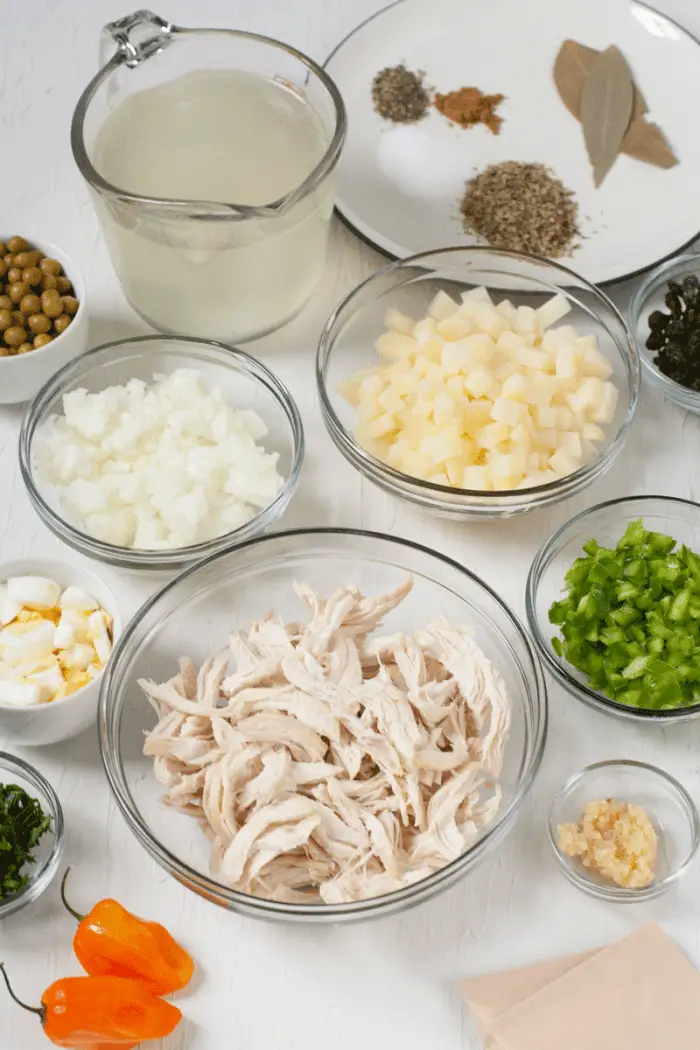 Chicken: I use boneless, skinless breast, but you can cook a whole chicken, and shred it to use in the filling. You can also use beef cut into small pieces.
Onion: in Bolivia purple or red onion is the most common, but you can use what you have on hand.
Garlic
Green bell pepper
Parsley
Habaneros: I used habaneros to spice it up, but you can use your favorite chili pepper, fresh, or ground.
Peas: you can use fresh or canned. My kids don't like it, and most of the time I skip them.
Raisins
Potato: this is a primary ingredient. But when you make it at home you can omit it, or you can add more. I usually calculate the amount of the potatoes to be half the chicken.
Sugar
Salt
Black pepper
Cumin
Oregano
Bay leaf
Unflavored gelatin
Boiled eggs
Green Olives: Many people do not like olives and prefer to omit them.
(As an Amazon Associate I earn from qualifying purchases)
Tips
To make salteñas cheaper, many people add more potatoes.
The filling or jigote has gelatine and needs to cool completely before using it.
You can make it and keep it in the fridge for up to 3 days.
In this recipe, I added chopped eggs together with the jigote. Generally, a slice is placed before closing or sealing the empanada.
You can use chicken breast with bone and skin, the bone will give more flavor to the broth.
Remember not to throw away the broth, because it is used for the filling.
Dough
Ingredients: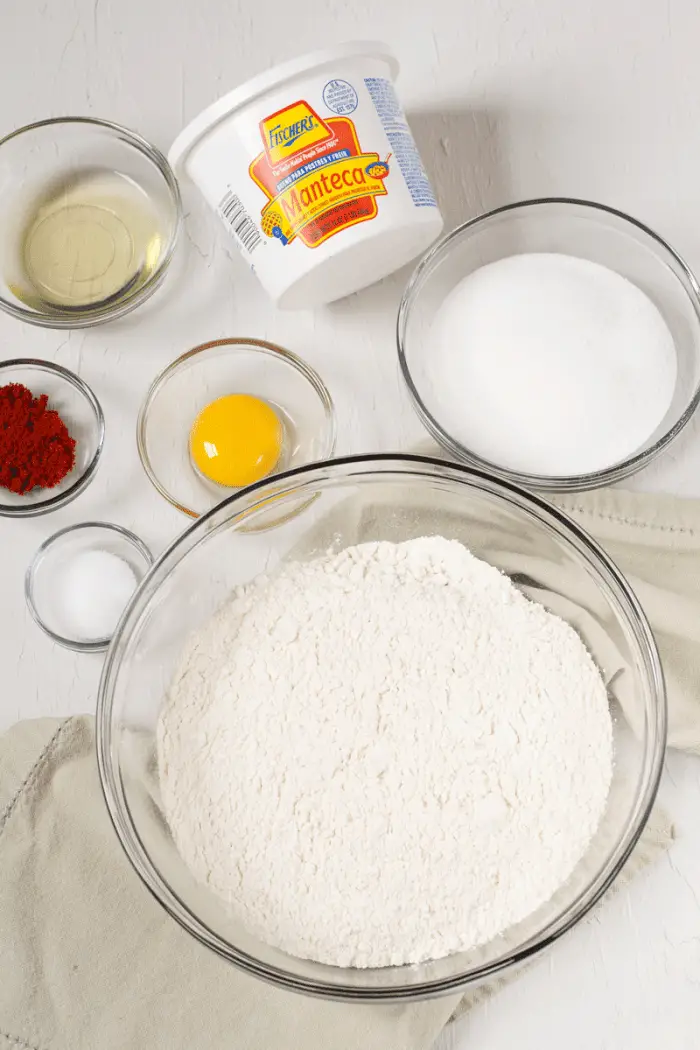 Flour: I used all-purpose flour (11.7% protein)
Sugar
Salt
Urucú: also called achiote. This comes in seeds or powder form. If you use the seeds, heat 1 tablespoon of lard with the seeds; let it rest for about 5 minutes, remove the seeds, and use the lard for the salteñas. This is an ingredient that cannot be replaced. If you can't get it, you can make the salteñas without the color.
Egg yolk: save the white to paint the salteñas before baking.
Fat: this should be at room temperature. I've made it with butter and lard, both work fine. I do not recommend using oil. Many recipes use hot fat, they never came out right when I did that step. You can try it, but it works well with room temperature fat.
Tips
Use a large mixing bowl.
Lard and water should be at room temperature.
Each brand of flour absorbs water differently. I'm in the USA and I used King Arthur Flour brand (unbleached).
If you are in Bolivia, this dough is going to be a little soft, and you'll need to add about 2 to 4 more tablespoons of flour.
If you are in Paraguay, this dough is going to be a little soft, but not much. You may need to add 1 to 2 more tablespoons of flour.
Once you mix all the ingredients, you need to knead for about 10 minutes by hand, or 5 minutes if you use a kitchen aid.
In my experience, if after kneading the dough the top looks completely smooth, the dough is too soft, and the seal or repulgue is going to open in the oven.
If the dough, after kneading, breaks easily, it's because it's too dry and you will not be able to roll it out and make the discs. Add 2 tablespoons of water, knead again.
The perfect dough I found to be like the one seen in the picture. You can see a smooth part and some that is not very smooth.
Since the dough is a bit firm, it needs to rest. The rest makes gluten do its job and the dough easier to handle.
If you roll out the dough, and it shrinks or gets smaller, it's because it needs to rest a bit more.
When the dough rests, cover it with a damp cloth. Wet a clean kitchen towel, squeeze out all the water, and cover the dough.
When the empanada discs are ready, you should store them in the refrigerator. They are firmer and easier to handle.
Empanada discs can be made up to 2 days before use.
You can use pieces of parchment paper to separate each disc, and thus freeze. The night before using them, remove from the freezer and defrost in the refrigerator.
How to fill and seal salteñas
Start by removing only 5 empanada discs and a little of the filling. It is important to keep the ingredients cold.
I hope the video helps you!
How to store and bake salteñas
Once the salteñas are assembled, you can bake them immediately or you can freeze them.
If you are going to bake them immediately, you should preheat the oven to 245C (470F) degrees. Many gas ovens don't reach this temperature, unfortunately.
The time for preheating depends a lot on how big your oven is and if it seals and keeps the heat well.
In Paraguay, I have a large gas oven, and that one takes about 30 minutes to reach the correct temperature.
For many years I had a large oven that did not hold heat very well, and in that one, it took 40 to 45 minutes.
Now I am using an electric oven that keeps the heat well and usually heats up in about 10 minutes.
Salteñas should be baked on a greased baking tray, and leave a space of about 5 centimeters (2 inches) between each empanada.
If you are going to freeze salteñas: at this point, you can freeze salteñas. You can place them on a plate or tray that fits into your freezer. Leave them in for one to two hours, until they are firm. Take them out and place them in an airtight bag and store them back in the freezer for up to 3 months.
Baking frozen salteñas: preheat the oven as the explanation above. You don't need to defrost the salteñas. You can brush them with a mixture of egg whites and water. But they need to cook for 35 to 40 minutes.
Frequent questions
Can I use rotisserie chicken that I bought from the supermarket?
No, I don't recommend you use store-bought rotisserie chicken as the spices are different and will change the flavor of the salteñas.
How can I make them juicier?
You can add more broth to make them juicier, but remember that you will need to use more gelatin as well.
Can I freeze the filling?
Since it has gelatin, I don't recommend freezing it. But you can freeze the entire salteña before baking.
Why are my salteñas opening while they are baking?
There are two common reasons. The dough was too soft and didn't seal properly. The other one is that the oven was not very hot and it took longer to bake.
Recipes you might like:
If you liked the recipe above, please consider rating the recipe and leaving a comment below! and share your picture on Instagram with the hashtag #chipabythedozen
Recipe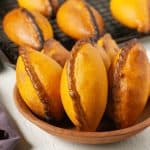 Print Recipe
Salteñas (Bolivian Baked Empanadas)
Bolivian salteñas are baked empanadas with a sweet and buttery crust and a juicy chicken filling or jigote with potatoes, chili peppers, raisins, and olives.
Ingredients
Filling:

½

chicken breast,

skinless and boneless (333g, about 11 ounces)

2

quarts

water

2

teaspoons

vegetable oil

½

onion,

minced

1

garlic clove,

minced

½

bell pepper,

chopped

2

tablespoons

parsley,

minced

2

habaneros,

minced (you can omit this chili pepper, use ground chili pepper, or use whatever you have on hand)

¼

cup

green peas,

peeled and cooked

½

cup

raisins

1

potato,

peeled and diced (250g, about 9 ounces)

1-½

tablespoon

sugar

1

teaspoon

salt

½

teaspoon

black pepper

¼

teaspoon

cumin,

ground

1

tablespoon

dried oregano

1

bay leaf

1-½

tablespoons

unflavored gelatin

3

tablespoons

of water

2

hard-boiled eggs,

peeled and diced

20

green olives

Dough:

500

grams

flour

(4 cups)

170

grams

sugar

(¾ cups)

1

teaspoon

salt

2

tablespoons

urucú,

achiote cannot be substituted

1

egg yolk

113

grams

lard

or butter (½ cup)

161

grams

of water

(¾ cup + 1 tablespoon)
Instructions
Filling: In a pot, add chicken breast and 2 quarts of water. Boil until chicken is cooked. Remove it and cool on a plate, then shred it. Strain the broth, and reserve 3 cups for later use.

Clean the pot and saute the onion, green peppers, garlic, parsley, and chili if using for about 3 to 4 minutes. Add shredded chicken, chicken broth (3 cups), peas, raisins, potatoes, sugar, salt, pepper, cumin, oregano, and bay leaf. Once it starts to boil, lower the heat and simmer for 5 minutes.

While that is simmering, in a small bowl add the gelatin with 3 tablespoons of water at room temperature, mix and let it sit for a couple of minutes.

After 5 minutes of simmering, taste and see if you need more salt or more chili; remove the bay leaf and add the gelatin. Mix well and cook for 1 more minute and turn off the heat.

Let it cool a bit in the pot and then move to an airtight container. Add the eggs, mix and chill for at least 4 hours, or overnight.

Dough: In a large bowl, mix flour, sugar, salt, urucú (if using), egg yolk, and lard. Add the water at room temperature, mix until everything comes together.

On a flat, floured surface, knead for 10 minutes, or until smooth. (If you have a kitchen aid, you can use it to knead).

Let the dough rest for 20 minutes. Cover it with a damp cloth.

After resting, divide the dough into 20 equal portions (I weighed each ball at 50 grams - about 1.7 ounces).

Working with one portion of dough at a time, form an even ball with circle movements between the palm of the hand and a flat surface.

Place the dough on a plate, or on parchment paper (the color can dye the container), and cover with a damp cloth for 20 minutes.

Working with one portion at a time, roll each ball out onto a flat, floured surface. They should be about 12 centimeters in diameter (4.7 inches), and ¼ centimeter thick (about ⅛ inches).

Place the empanada discs in an airtight bag or container (remember that the color will dye the container, but you can cover it with parchment paper so that this does not happen) and store in the refrigerator for 2 to 3 hours.

How to fill: Take out only 5 empanada discs at a time, and a little filling. Try to keep the rest in the fridge.

If the empanada disc has a lot of flour on the edges, wet your fingertips and run a little water around it.

Place an empanada disc in one hand or a plate, add 1 tablespoon and a half of the filling, and an olive. Bring the edges of the middle together and press with your fingers. Keep pressing the edges, but leave a 1-centimeter (¼ inch) gap at one end.

With both hands, press the salteña (like hugging it) so that the air comes out. Press tip that was still open, to close.

With your index finger and thumb, press the entire edge again.

To seal, press with your thumb and index finger, fold the corner over the edge into a triangle, and press again. Continue until the entire salteña is sealed. Bring the tip and fold it underneath the salteña.

Place salteñas on a greased baking tray with the seal or repulgue facing upwards. Leave a space of 5 centimeters (2 inches) between each salteña.

Brush each salteña with a mixture of 1 egg white + 2 tablespoons of water.

Heat the oven to 245C (470F) degrees. In a gas oven, it sometimes takes 20 to 40 minutes.

Bake the salteñas for 20 minutes and serve hot with a strawberry, banana, or peach batido (milk, fruit, and sugar).
Video
Notes
This recipe makes 20 small salteñas. If you want to make them bigger, you can divide the dough into 15 portions. You don't need to change the baking time.
After assembling the salteñas, they can be frozen for up to 3 months. For baking, it is not necessary to defrost. Bake frozen salteñas at 245C (470F) degrees for 35 minutes.
The filling can be made with beef.
The empanada discs can be frozen. Cut pieces of parchment paper, place a piece between each disc. Store the discs in an airtight bag. The night before using, remove from the freezer and defrost in the refrigerator.
Nutrition