These Bolivian-style papas a la huancaina have a creamy, spicy sauce made with roasted peanuts and ají amarillo or yellow chili pepper. An easy and delicious appetizer.
A dish with simple ingredients and a sauce that transforms it into something very delicious and comforting.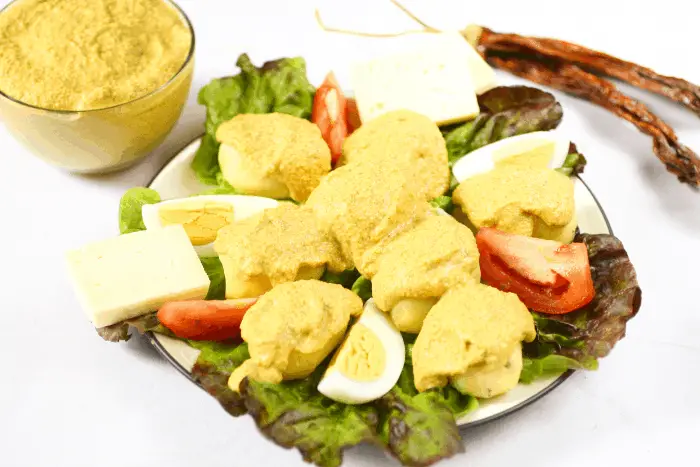 History
Papas a la huancaína is a Peruvian dish well known internationally.
There are different versions of how it originated in Peru. One version says it appeared at the end of the 19th century when "yellow potatoes a la huancaína" was served as an appetizer to the banquet offered to the Peruvian Captain of the Ship Miguel Grau Seminario.
It is said that the creator of this recipe bought the potatoes in the city of Huancayo - in the Mantaro River Valley, then to honor this region the name was given to the recipe "Papa a la Huancayo - Huancaína".
Another version says that at the time the Central Railroad, which runs from Lima to Huancayo, was built, it was the people of Huancayo who provided food for the workers.
At lunchtime the women brought food. One of these women was nicknamed "La Huancaína", she brought in her baskets some tasty potatoes slathered in a cheese sauce and decorated with eggs.
The workers began to call these potatoes "those of the Huancaína", that's how the name stuck.
Bolivian-style Papas a la Huancaina
I wasn't able to find data on how this Peruvian dish got to Bolivia. Among Bolivians, we suspect that a Bolivian who visited Peru brought the recipe or the recipe idea to Bolivia.
For this dish, the sauce is the most important. For some reason, the one who brought the recipe to Bolivia, decided to change the ingredients to what was more common in the country.
The sauce went from being based on cream with crackers to roasted and blended peanuts.
How to make it
The preparation of this sauce varies from house to house.
Some use raw peanuts and blend it with milk, and others roast the peanuts and use water to blend it.
Today's recipe was made with the help of my aunt Gley who lived for several years in La Paz, Bolivia where this dish is eaten more frequently.
This sauce has yellow chili pepper or ají amarillo. This chili pepper (Capsicum baccatum) is highly appreciated in Peruvian and Bolivian Andean gastronomy.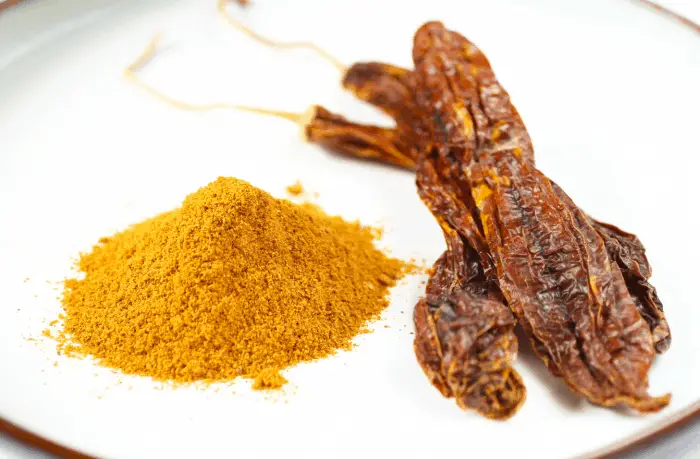 This yellow chili pepper in my opinion is not very spicy (at least the one we can get in Bolivia). It gives it a rich, mildly spicy, and sweet flavor to the sauce.
In Bolivia this chili pepper is found dry and ground for sale in any market.
On Amazon you can find it in a paste form or ground.
(As an Amazon Associate I earn from qualifying purchases)
When using dried chili peppers in this recipe, you should soak them in warm water. If desired, it can be cut in half and seeds removed before continuing.
Once the chili peppers are ready, the peanuts are roasted on a pan with a splash of oil.
Then it is added to a blender along with the chili peppers, and a little water to be able to blend it.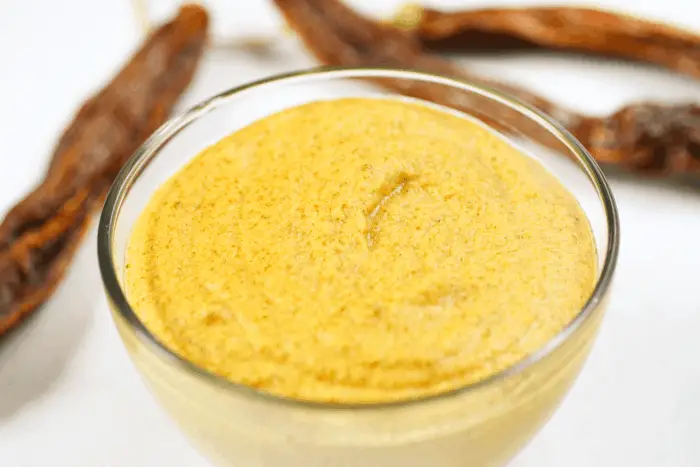 Once blended and creamy, heat a saucepan with a little oil and cook the sauce for about 5 minutes, adding salt to taste.
The sauce is a bit thick. If you want it a little more liquid, add more water. Remember that it thickens as it cools.
How to serve it
This spicy peanut sauce is served over boiled and peeled potatoes.
The dish begins with a bed of lettuce leaves, on which the boiled potatoes with the sauce are placed. It is accompanied with slices of tomato, hard-boiled eggs, cheese, and green or black olives.
Variations
Although this dish is easy to prepare, I found another way to make it faster.
You can use peanut butter, a little water, and chili pepper to make the sauce.
If you use this technique, look for a peanut butter that does not contain sugar.
You can use 1/2 cup of peanut butter and 1/2 cup of water. If it's too thick, you can add more water.
Recipes you might like:
If you liked the recipe above, please consider rating the recipe and leaving a comment below! and share your picture on Instagram with the hashtag #chipabythedozen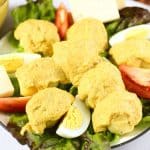 Print Recipe
PAPAS A LA HUANCAINA (SPICY PEANUT SAUCE)
These Bolivian-style papas a la huancaina have a creamy, spicy sauce made with roasted peanuts and ají amarillo or yellow chili pepper. An easy and delicious appetizer.
Ingredients
Sauce:

1

cup

raw peanuts

2

teaspoons

vegetable oil

2

cups

water

3

tablespoons

yellow chili pepper,

ground

1-1/2

teaspoons

salt

For serving:

lettuce

2 to

matoes cut into slices

4

hard-boiled eggs,

sliced

6

slices

of cheese

6 to 8

olives

12

small potatoes,

boiled and peeled
Instructions
To make the peanut sauce, roast the peanuts over low heat with 2 teaspoons of oil until golden brown.

To a blender, add peanuts with the water and blend until creamy.

Heat a medium saucepan over medium heat, and add 1 teaspoon of oil. Add the peanut mixture and cook for 5 minutes, stirring so it does not stick.

If it is too thick, add more water. Add salt.

For serving. In a tray or large plate, place the lettuce, add the potatoes, and pour the spicy sauce over. Add the tomatoes, eggs, cheese, and olives. Serve.
Notes
This sauce can be stored in the refrigerator for up to 1 week. Heat in the microwave before serving.
Nutrition