Pucacapas are little pockets of joy. Filled with spicy, cheesy goodness. Wrapped in a sweet and buttery pastry.
Today's recipe is a new recipe for me. Pucacapas are found in the departments or states of Cochabamba and La Paz.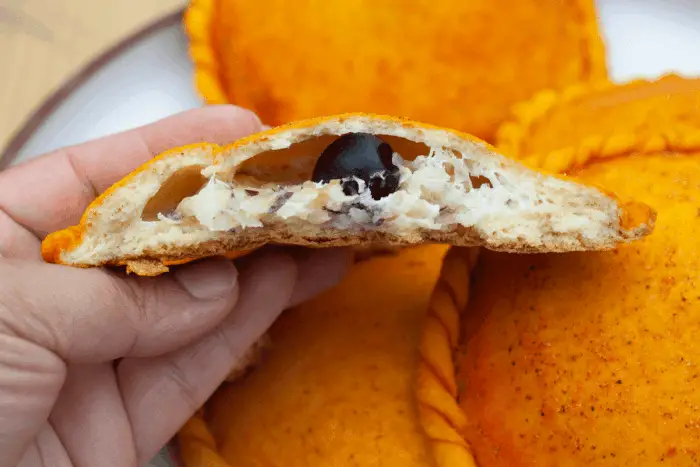 These two departments enjoy cool temperatures throughout the year. The gastronomy is usually spicier than what is served in the eastern part of the country where I grew up.
Today's recipe comes from Grace, a Bolivian who lives in Germany and shares traditional Bolivian recipes on her YouTube channel, Typica Rezepte.
Their recipes can be found in Spanish and German.
Grace shares with us tips and a little bit of her story before we continue with the recipe.
My tip would be to mix all the dry ingredients first before adding the rest. Another tip that I can give you is that everything I bake or cook I do with a lot of love. I consider cooking to be an art, I do it with a lot of creativity, love, and commitment. Cook with passion!
When you make pucacapas, what memories does it bring?
I have so many good memories. I remember when we would travel to Cochabamba, we had pucacapas, it's a recipe form Chochabamba, from the valleys of our Bolivia. I love its flavor, whether spicy or not, and it can be shared with a delicious tea or coffee in the company of the family.
This is how I used to do it, now that I am in Germany and through my YouTube channel: Typika Rezepte I try to spread our delicious gastronomy, especially in this Germanic country.
I already had the opportunity to share these empanadas with many Germans and I can definitely say that they were surprised by the amazing flavors of these pucacapas and many more recipes from our country Bolivia.
Pucacapas
Pukacapa or pucacapa, is a combination of two words, puka, which in Quechua means red. It's the color brush on the top before baking them, and capa (layers) in Spanish refers to the layers of pastry used to keep the filling in.
These cheese empanadas are round, and baked.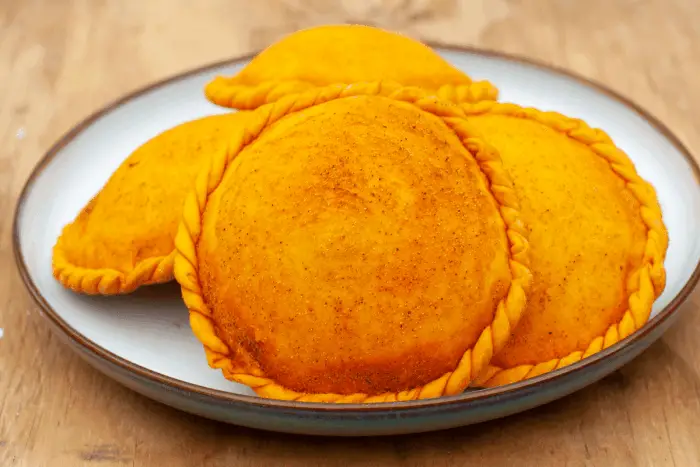 The filling begins with saute onions, quirquiña, chili peppers, and cheese. Although each family and each cook adds what they want.
Before sealing or closing the empanadas, a black olive is added.
The traditional color of pucacapas is red. A mixture of oil or water and ground chili peppers is brushed on the top layer before baking them.
As you can imagine, it is an explosion of flavors!
Dough
The dough has common pantry ingredients, and it comes together very quickly.
As Grace advises us, we mix the dry ingredients first, mixing it with the yolk and butter.
To this, we add the milk little by little, until we have a soft and easy-to-handle dough.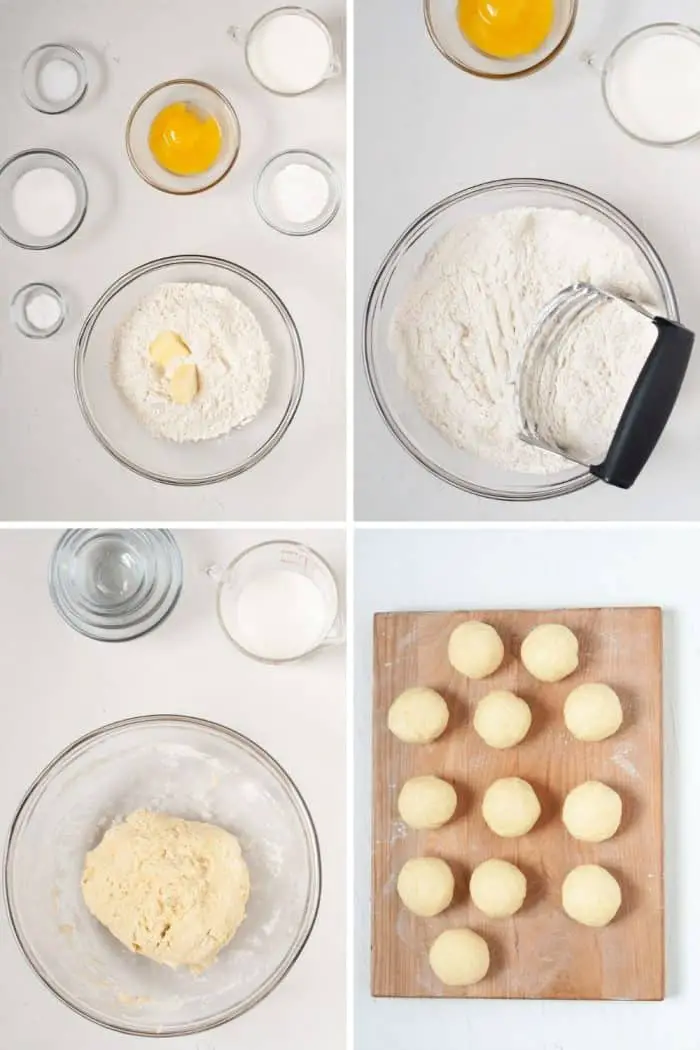 Grace's recipe makes 3 pucacapas. Here I doubled the recipe to get 6 empanadas.
I leave you Grace's recipe so you can see step by step how it is done. How to make cheese Pucacapas.
This dough doesn't need to be kneaded for long. About 2 to 3 minutes, and you will see that it is smooth.
To form the balls, I weighed the entire dough and then divided it into 12 equal portions.
Then, you let them rest for 20 minutes before starting to roll them out.
To roll the dough into discs, use a flat surface. Flour the surface so that the dough does not stick.
Filling
The filling begins with sauteing onions and quirquiña. Quirquiña, also known as Bolivian coriander, is not very common in other countries.
In my opinion, the taste is similar to the curly-leaf parsley. But I've also seen others replace it with cilantro.
Grace's recipe doesn't include chopped chili peppers in the filling, but I saw in other recipes that is a common ingredient and added it. You can use chili powder to your liking, or you can omit it entirely.
This mixture of onions needs to cool completely before continuing.
For the filling, beat the whites that were leftover from the dough, until stiff, and mix with the cheese and onions.
How to assemble empanadas
To assemble these cheese empanadas, place a disc on a flat surface. Use a tablespoon and a half to two of the filling, and place 1 black olive in the center.
Place the second empanada disc on top, and with your fingers, press the edges to seal.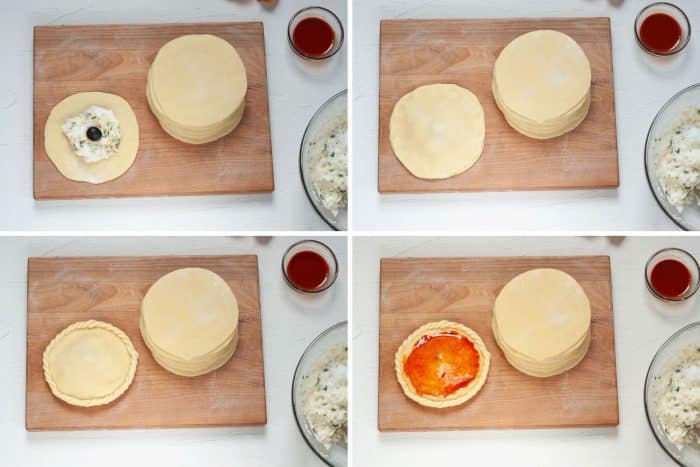 To completely seal these pucacapas, you can use a super easy technique using a fork. Use the tip of the fork to press down on both discs.
The second technique would be the repulge. For repulge, press the dough with your thumb and index finger, fold the corner over the edge to form a triangle, and press again. Continue until all the pucacapa is sealed (watch Grace's video!).
Before baking them, mix oil or water with chili powder, and brush each empanada.
20 minutes in the oven and you are ready to enjoy a delicious spicy, and cheesy pucacapa.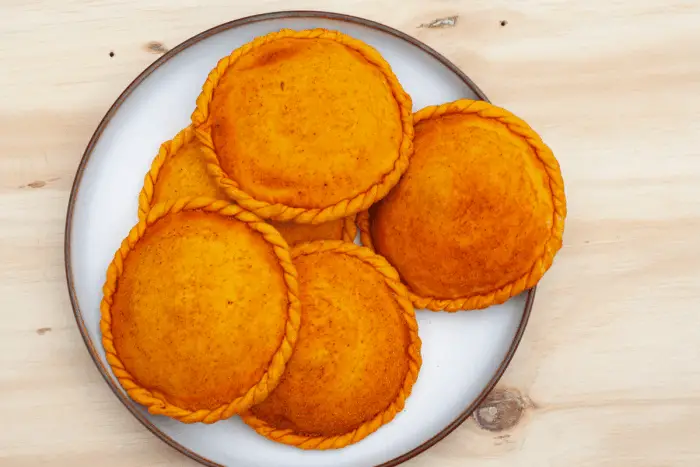 Recipes you might like:
If you liked the recipe above, please consider rating the recipe and leaving a comment below! and share your picture on Instagram with the hashtag #chipabythedozen
Recipe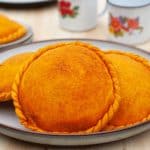 Print Recipe
Pucacapas (Bolivian Spicy Cheese Empanadas)
Pucacapas are little pockets of joy. Filled with spicy, cheesy goodness. Wrapped around a sweet and buttery pastry.
Ingredients
Dough:

2

cups

flour

3

teaspoons

baking powder

¼

teaspoon

baking soda

2

tablespoons

sugar

½

teaspoon

salt

2

tablespoons

butter,

at room temperature

2

yolks

½

cup

milk

Filling:

1

teaspoon

vegetable oil

½

onion

minced

1

tablespoon

quirquiña

minced (you can substitute curly leaf parsley or coriander)

2

habaneros

chopped

1

cup

shredded cheese (mozzarella, or some kind of sharp cheese)

6

black olives

For brushing:

¼

teaspoon

chili pepper

2

tablespoons

vegetable oil
Instructions
Dough: In a large bowl, add the flour, baking powder, baking soda, sugar, salt, and butter. Mix with your hands until it resembles big crumbs. Add the egg yolk; Mix. Add the milk, mix until all the ingredients have incorporated.

On a floured surface, knead until the dough is smooth (2 to 3 minutes). Divide the dough into 12 equal portions. Using the palms of your hands, form balls. Cover with a kitchen towel and let it rest for 20 minutes.

Roll out each ball into a disk about 12.5 centimeters in diameter. Cover with a kitchen towel.

Filling: In a frying pan, heat the oil and saute the onion until translucent. Add the quirquiña, and the minced chili pepper. Cook for 1 minute and allow to cool completely.

In a medium bowl, beat the egg whites until stiff. Add the cheese and onions (make sure they are not hot).

How to assemble: Put an empanada disc on a flat surface. Add 1-½ to 2 tablespoons of filling (leaving 1 centimeter of space on the edges) and an olive in the middle. Cover with another empanadas disc. Press the edges.

To close them, you can use the tip of a fork or make a repulgue.

Brush each empanada with a mixture of ground chili pepper and oil.

Heat the oven to 180C / 355F. Bake the pucacapas for 20 minutes.

Serve hot.
Notes
Once cool, store in an airtight container at room temperature for one night, or store in the refrigerator for up to 3 days.
Nutrition