(updated recipe)
Bolivian peanut soup is made with blended raw peanuts, vegetables, and your favorite protein. It's served with homemade fries and accompanied by slices of French bread.
This light broth is very versatile, although the main ingredient is peanuts, you can vary the vegetables, protein, and carbohydrates depending on what you have on hand.
You can serve it as a first course or a main course if you add extra ingredients like more rice or noodles.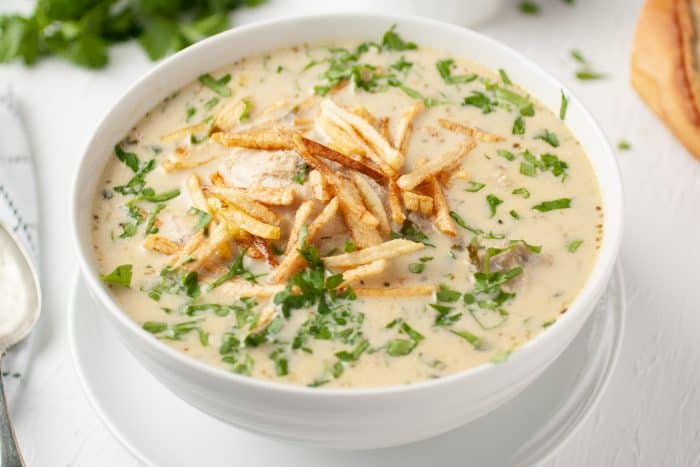 Bolivian Peanut Soup
Peanut soup is a very popular soup throughout Bolivia. In recent years, it has been named one of the country's flag dishes.
Although the origin of this recipe is unknown, it is said that the peanut comes from Bolivia, since it was grown in South America before the arrival of the conquerors.
Like every dish or recipe, within the country itself, there are variations according to the climate and terrain of the cities.
In some areas, it is served with rice, cassava, and plantains. In the valley, they add little red chilis and they use goat or beef, and potatoes.
In the highlands, it is usually served with lamb meat and French fries.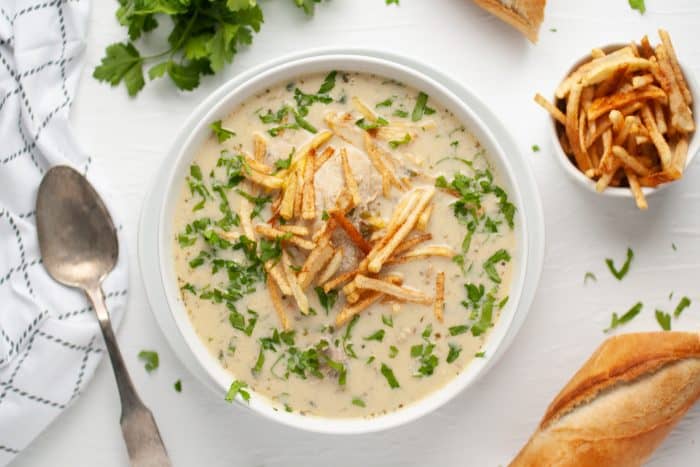 Our Recipe
This recipe is based on how I remember peanut soup tasted like when I used to order it at the restaurant on Sundays when my family went out to eat.
It is a light soup. With some vegetables, small pieces of chicken, and of course, homemade fries.
I say light because for an adult or teenager this will not be enough to satisfy them if made as a main dish.
After eating this peanut soup, serve this segundo ( second plate, as it is called in Bolivia) majadito (Bolivian Chicken and Rice).
Ingredients for Bolivian Peanut Soup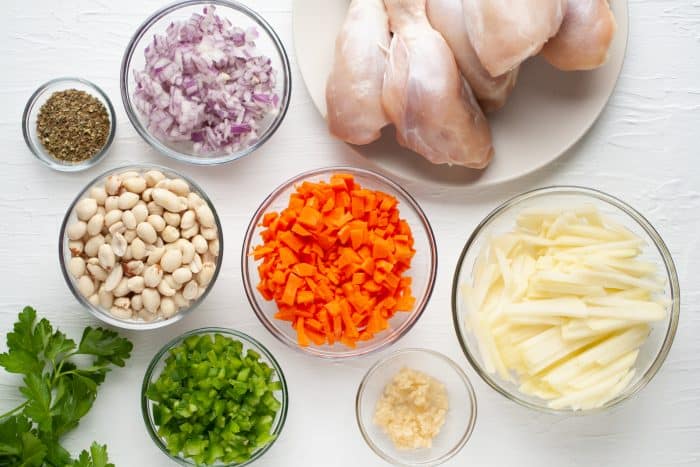 Peanuts: As you can imagine, peanuts are the main ingredient in this soup. Raw peanuts are used, not roasted. In Bolivia, raw peanuts are already peeled. If your only option is peanuts with skin or the red shell, you can use that. The only difference is that your broth will come out kind of pink but the flavor will be the same.
Onion: Red onions are the most common in Bolivia.
Garlic
Green peppers
Fresh parsley
Chicken: you can use chicken breast, thigh, leg, or the whole chicken
Carrots
Salt
Ground black pepper
Dried oregano
How to make it:
Peanuts should be blended well. It should be creamy and without lumps.
To make sure that the mixture is creamy, you should scoop a little bit into a spoon, and rub it between the tip of your fingers. If it feels gritty, you need to continue blending.
If the peanuts are not blended well, when you eat the soup it seems that those bits get stuck in your throat and make you cough and almost choke. We don't want a bad experience associated with this soup ?
Once the peanuts are blended, continue sealing the chicken and then sautéing the vegetables.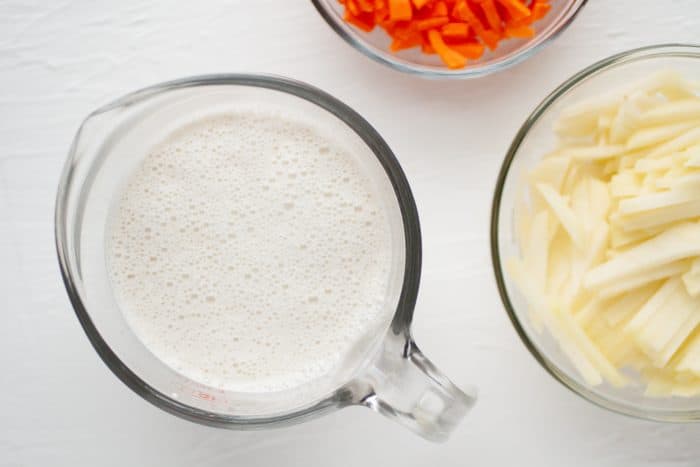 Almost every Bolivian meal starts with an ahogau, which is simply red onion, garlic, and green peppers sauteed with a drizzle of oil.
To this the peanut mixture is added, water or chicken broth, and vegetables that need to cook longer like carrots.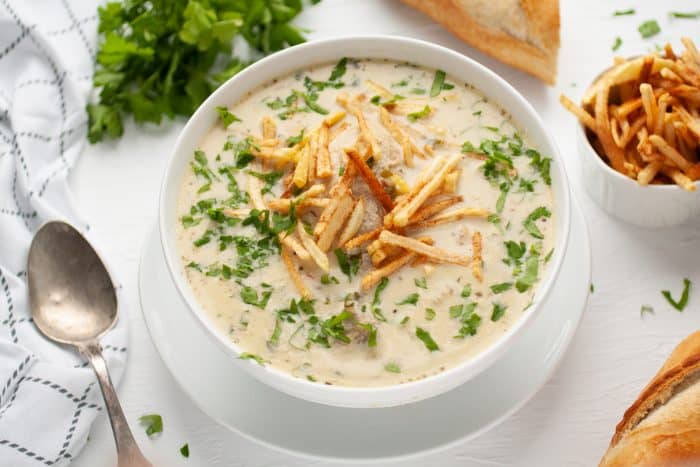 Peanuts need to cook for a long time which helps to thicken the soup.
After about 20 minutes, add the chicken and other vegetables that take less time to cook, such as peas, and potatoes.
Peanut Soup Variations
Some ingredients that you can add to this soup, either to make it more succulent and you can serve it as the main course, or to use what you have in your fridge or pantry: (In the recipe card mention the quantities.)
Rice or macaroni noodles: it can be added with the chicken
Celery: cook together with the onion
Peas: if they are fresh, add them along with the chicken. If they are canned, drain them add them about 3 minutes before turning off the soup.
Chicken breast: cook with water for 20 minutes. Remove from the water and shred. Use the broth for the soup.
Whole chicken: A whole chicken would be a lot for this recipe that serves 6 people, but if you double the recipe, it would be enough. Cut it into smaller pieces, and follow the steps from the recipe card.
Beef: depending on the cut, if it is a tender cut of meat, you can use this recipe. If it is a cut that needs more cooking, increase it for 20 more minutes and about 500 ml of water or broth.
How to Serve Peanut Soup
Bolivians love carbohydrates. Many times this peanut soup has potatoes, noodles/rice, and is served with homemade fries and a piece of bread or boiled cassava. So you have several options.
However you prepare this soup, serve it with llajua (Bolivian hot sauce and you have the recipe here). The first bite will take you directly to Bolivia.
Note about peanuts for this soup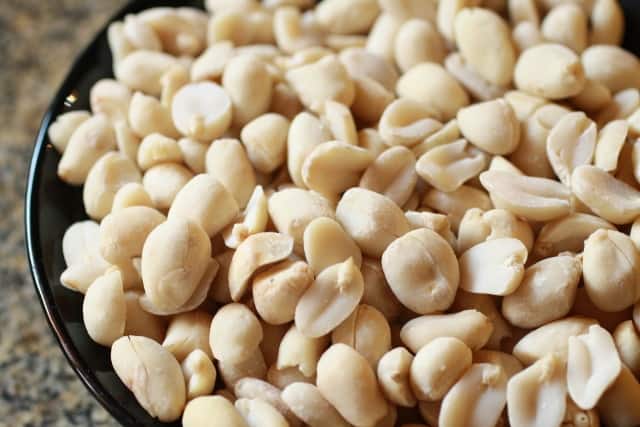 To peel the peanuts, they must be soaked in hot water for 5 minutes. Drain and place them between two kitchen towels. With both hands, press and rub until the skin is separated. Rinse and separate the skin from the peanuts before blending.
Recipes you might like: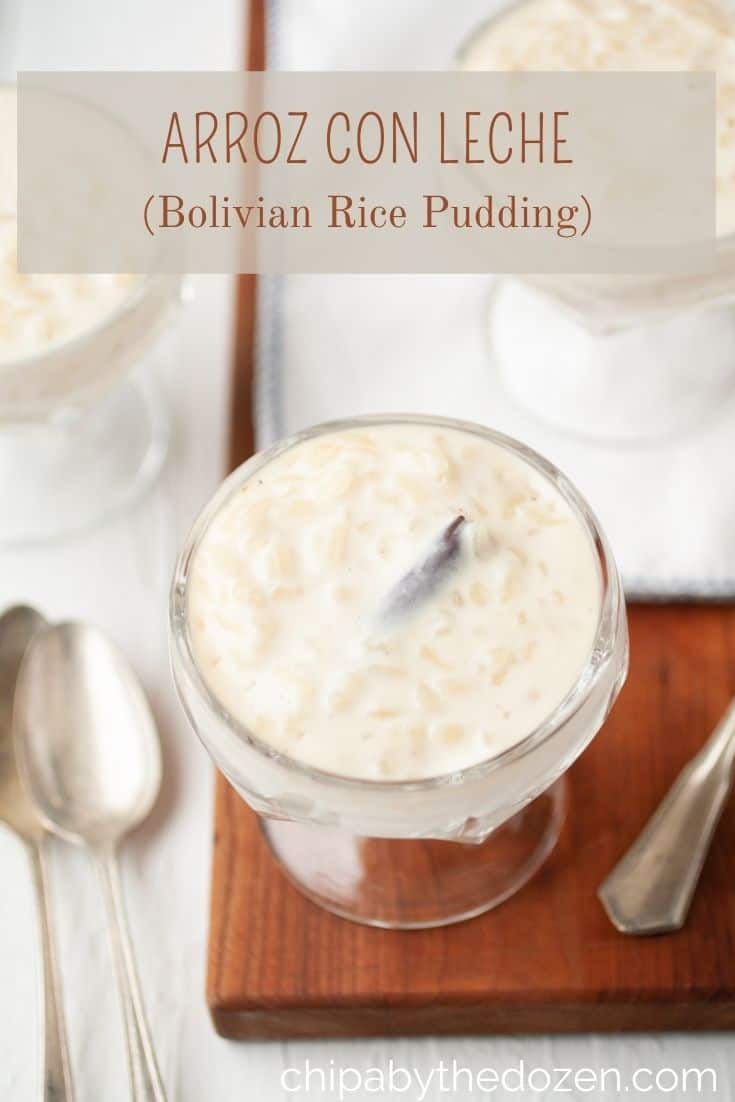 If you liked the recipe above, please consider rating the recipe and leaving a comment below! and share your picture on Instagram with the hashtag #chipabythedozen
Note: This recipe was first published on August 6th, 2016
Recipe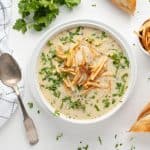 Print Recipe
Bolivian Peanut Soup
Peanut soup is a very special dish for Bolivians. Very easy to vary with different ingredients and full of flavor.
Ingredients
6

tablespoons

raw peanuts

(52g)

3

tablespoons

vegetable oil

6

chicken legs

1

large onion,

diced

2

cloves

of garlic,

minced

1

green pepper,

diced

4

tablespoons

parsley,

minced

12

cups

of water or chicken broth

(3 liters)

3

carrots,

chopped

1

teaspoon

salt

or to taste

1

teaspoon

black pepper

1

tablespoon

dried oregano
Serve with french fries, llajua (spicy sauce), French baguette
Instructions
Soak peanuts for 5 minutes in a bowl with hot water. Drain.

Blend half of the peanuts with 2 cups of water for 2 to 3 minutes, or until the mixture is smooth. Repeat the same step with the other half.

In a large pot, heat the oil and seal chicken over high heat. Remove from the pot and keep aside while preparing the rest of the food.

Using the same pot, saute the onion, garlic, green peppers, and parsley for 3 minutes.

Add the peanut mixture, the rest of the water or chicken broth and the carrots. Once it boils, cook for 20 minutes on low heat; stir every 5 minutes (the broth usually rises, as when heating milk, and overflows the pan ... keep an eye on it!)

Add salt, pepper, and oregano.

After 20 minutes add chicken legs and cook for 15 minutes or until the chicken is fully cooked.
Video
Notes
Serve with french fries and llajua (hot sauce).
If you add peas and potatoes, add them together with the peanut mixture and carrots.
If you add pasta (1 cup), add it 10 minutes before turning off the heat.
If you add rice (6 tablespoons), add it 15 minutes before turning off the heat.
Beef - 1 pound, cubed
Nutrition