Cuñapé abizcochado is made with cassava starch and cheese. Naturally gluten-free and perfect to dip in your coffee.
Cuñapé is a bread eaten in eastern Bolivia. You can find it in the markets, bakeries, and bus stations.
But it is also a bread that people make at home for afternoon coffee time. It's easy to make and it has few ingredients.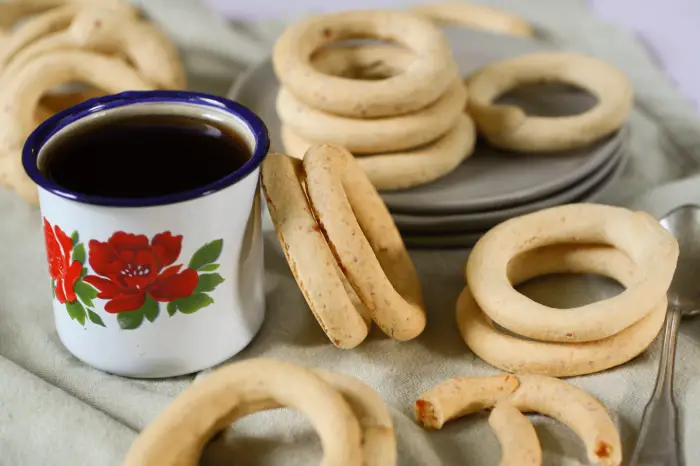 One way to preserve bread is by baking it twice.
Baking it for a second time helps dry the bread, leaving it crispy and great for keeping at room temperature for several days.
This is the case for this cuñapé abizcochado (abizcochado means double-baked) or Bolivian gluten-free crackers.
In Bolivia, cassava or manioc has many uses. It's used boiled to accompany meals, and fried for appetizers. Once it's cooked you can mash it, mix it with cheese and milk and make a dish called sonso (cassava cheesy casserole).
The starch is extracted and used to make these delicious cuñape.
Types of Cuñapé
There are 3 kinds of cuñapé in Bolivia and they all have the same ingredients. Cassava starch, cheese, milk, egg, and butter.
The dough has the same texture before cooking it, but the way you cook it varies and gives it a slightly different texture in the end.
Baked cuñapé: once the dough is ready, it is shaped into balls and baked.
Fried cuñapé: usually this one is shaped like a ring or little sticks. The dough works better if it has a little baking powder in it. Then they are fried.
Cuñapé abizcochado: this comes in the form of rings and also balls. After baking it once, let it cool and then bake a second time over low heat to give it that crispiness.
How to make it
If you visit Bolivia, you'll hear how much people love these cuñapé abizcochados from the city of San Javier.
The quality of their cheese makes them taste exquisite. Trying to make them taste the same outside Bolivia is a bit difficult, but I think that by mixing these two kinds of cheese, I got pretty close.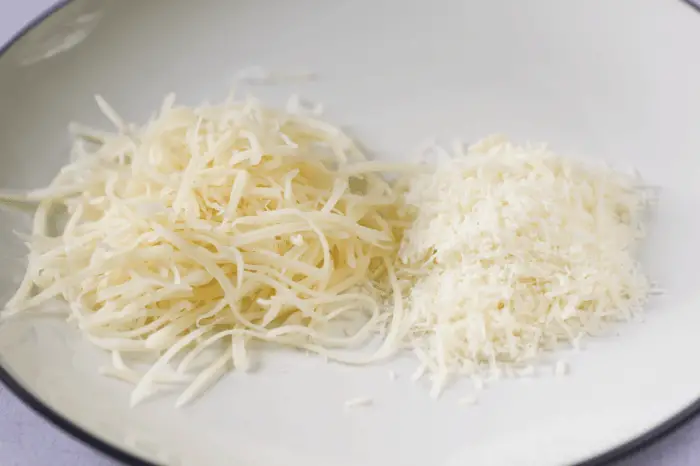 Bolivian cheese is a semi-dry and salty cheese. Here in the USA, I used a mixture of Swiss cheese and Parmesan cheese. Although the mixture of these two does not have as much salt as Bolivian cheese, the flavor it gave the cuñapé is perfect.
To make these gluten-free crackers I recommend that you look for a dry cheese, I do not recommend mozzarella. I tried to use it, but the second cooking time, instead of being 40 minutes, became 2 hours.
Remember that the second baking time is to remove the humidity, to dry it, and if it has a fresh cheese, the process will take longer.
Start with a large bowl mixing cassava starch, cheese, butter or pork fat, sugar, salt, and the egg yolk. Mix this well and then add milk.
Add the milk little by little. Cassava starch absorbs liquid very quickly. If the egg you used is larger or smaller than the one I used for the recipe, you will need more or less milk.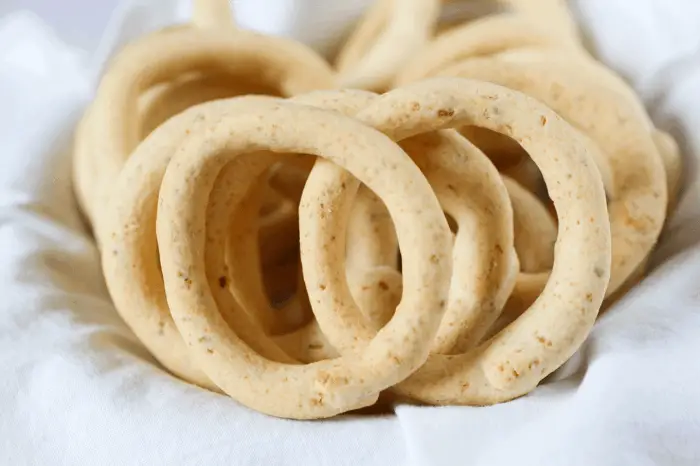 Once you have a homogeneous dough, not dry, start kneading. This step will help the starch and cheese to fully integrate.
Divide the dough into 32 equal portions, you can cover them with a kitchen towel while you assemble each ring.
Start by making a rope (21 cm), if the dough falls apart and you cannot make the rope, you need to knead it a little more. Once you have a rope, join the ends by making a ring.
Place them in greased trays and bake them for 20 minutes.
Let them cool completely and then bake them again on low heat for 40 minutes.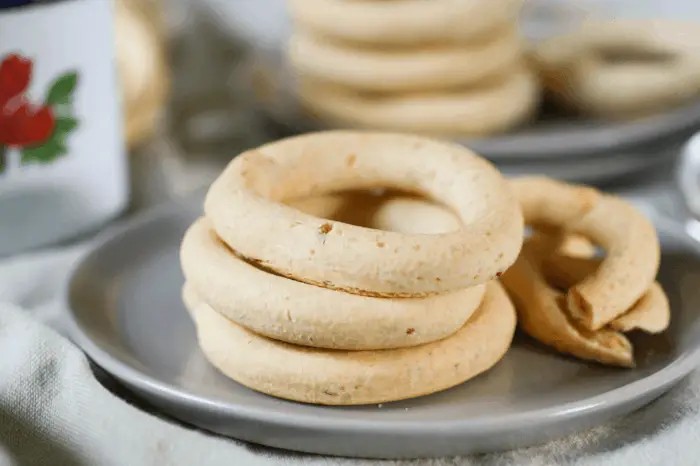 How to serve it
This type of cuñapé is usually served with a cup of coffee to dip it in and soften it up a bit.
The thickness of these rings are thin, it makes it easier to eat them without having to dip them in coffee.
It's a delicious snack that kids can grab and keep playing.
When I'm in the USA I buy Bob's Red Mill Tapioca Flour. It works great for the 3 kinds of cuñapé. My aunt who lived in New Jersy for a few years, recommends Goya Yuca Flour.
(As an Amazon Associate I earn from qualifying purchases)
If you liked the recipe above, please consider rating the recipe and leaving a comment below! and share your picture on Instagram with the hashtag #chipabythedozen
Recipe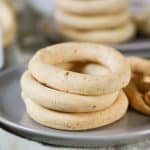 Print Recipe
Cuñapé (Bolivian Gluten-Free Crackers)
Cuñapé abizcochado is made with cassava starch and cheese. Naturally gluten-free and perfect to dip in your coffee.
Ingredients
2

cups

cassava starch

(280g)

½

tablespoon

sugar

(12g)

1

teaspoon

salt

(6g)

2

tablespoons

butter or lard

at room temperature (28g)

1

egg yolk

1-½

cups

Swiss cheese,

grated (170g)

½

cup

Parmesan cheese,

grated (56g)

9

tablespoons

milk
Instructions
Preheat the oven to 350F (175C), and grease two to 3 baking sheets.

In a large bowl, add the cassava starch, sugar, salt, butter, egg yolk, and cheese. Mix well and add the milk little by little until you have a homogeneous dough. Knead for 3 minutes.

Divide the dough into 32 equal portions. Working with one portion at a time; make a rope with each portion (if the dough falls apart, you need to knead a little more) 21 centimeters long. Bring ends together to make the ring and place it on the prepared trays.

Bake for 20 minutes. Remove and let cool completely.

Heat the oven to 250F (120C) and bake the rings a second time, for 40 minutes. Remove and let cool completely.
Notes
Store them in an airtight container to keep them crispy.
Use any kind of dry cheese you have on hand. Avoid using fresh cheeses.
The amount of salt that this dough needs varies depending on how much salt the cheese has.
This recipe was measured with American cups. Amounts in grams are an approximation.
Nutrition