Sonso, a peculiar name for a delicious dish from eastern Bolivia. Made with cassava and lots of cheese.
A few weeks ago I shared a recipe called, Sonso de Yuca Frito (Cheesy and Fluffy Bolivian Pancake). Where the main ingredient is cassava. This recipe is very similar. But baked instead of cooked in a frying pan.
Cassava is a root that grows very well in eastern Bolivia. We have many recipes that use both the starch that is extracted from the root, and the root itself.
Cassava or manioc in English. Yuca or mandioca in Spanish, has a white flesh covered in a thick, dark brown skin. In some countries you can get cassava already peeled and frozen, you can use that if you wish.
Years ago I bought some cassava when I was visiting the USA, and the skin was covered with wax. It looked different from what we get here in Paraguay, but it was the same procedure to use it.
For this recipe we use mashed cassava. Peel cassava with a sharp knife, cut it into large chunks, and boil it. It takes between 15 to 50 minutes, depending on the kind of cassava you can get. Once cooked, drain it and is ready to mash.
In my opinion, it is easier to mash it while the cassava still hot. You can use a mash potato, a fork, a food processor, or a corn grinder to mash it. Once this step is done, everything comes together in a few minutes.
The amount of cheese is to taste, and generally Bolivians add a lot of cheese. You can use shredded or diced cheese, that stays to your liking. I like to have pieces of cheese that haven't melt completely, but when you bite into them, they are soft.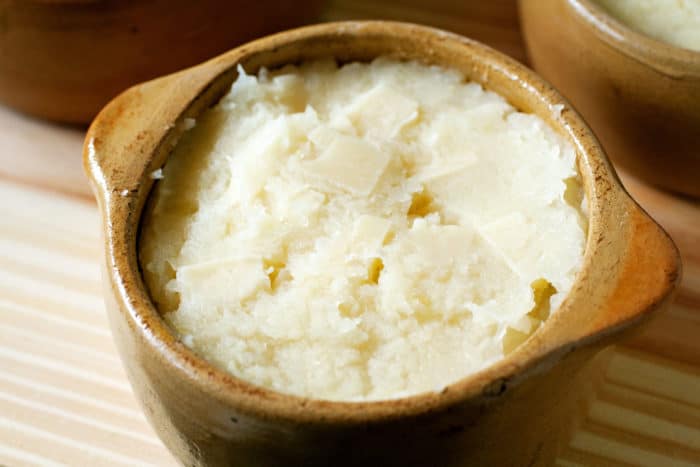 Another thing I like to do is double or triple my recipe, store it in trays and then freeze them for up to 3 months.
How to serve this Bolivian Cassava Casserole (Sonso de Yuca):
In Bolivia, this sonso (which means, dumb) is served for the afternoon merienda (snack - coffee time). It is served with a cup of coffee, tea, or hot chocolate. Since I no longer live in Bolivia, I like to serve it as a side dish when I make pork. Another idea is to bake them in muffin tins and serve them as appetizer.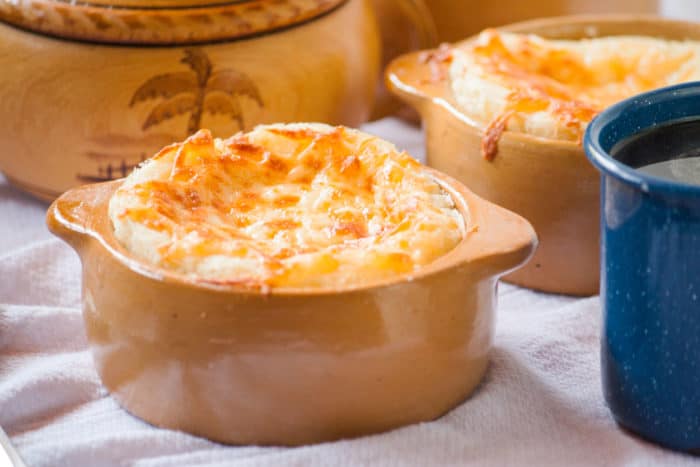 Don't forget to come back and tell us how you liked it.
Note: This recipe was published for the first time on April 12th, 2012 on my old blog. As we celebrate Bolivia's independence in the month of August, I thought it was a good time to update my Bolivian recipes.
If you liked the recipe above, please consider rating the recipe and leaving a comment below! and share your picture on Instagram with the hashtag #chipabythedozen
More Bolivian recipes: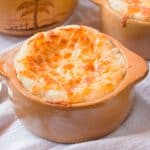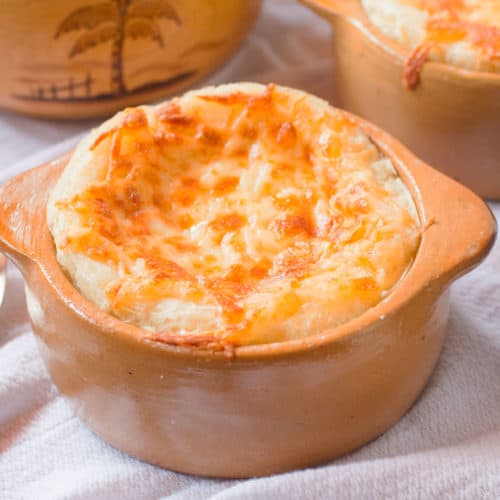 Print Recipe
Bolivian Cassava Casserole (Sonso de Yuca)
Bolivian Cassava Casserole (Sonso de Yuca) is a receipe from eastern Bolivia. This makes a great gluten-free appetizer too.
Ingredients
3

cups

mashed cassava,

about 2 large cassavas

2

cups

cheese

cut into cubes (250g)

1

teaspoon

of salt

or to taste

1/4

cup

butter,at room temperature

(56g)

1/4

cup

whole milk

(59ml)

1/2

cup

grated cheese

(50g)
Instructions
Preheat the oven to 190C / 375F and grease a 27x19cm pan.

In a large bowl add mashed cassava, 2 cups of cheese, butter, and milk. Mix and put in the already greased pan.

Bake for 15 minutes, remove from the oven and sprinkle 1/2 cup of grated cheese. Bake for 5 minutes or until the cheese is golden brown.
Notes
The sonso dough can be frozen for up to 3 months.