Cuñapé is a Bolivian bread with lots of cheese and it's gluten-free. With a firm crust and a chewy crumb, you're going to love it!
Oh! afternoon tea! Growing up in Bolivia we had a custom of having tea/coffee at around 3 or 4 in the afternoon. If you are a guest, your hostess would have a table full of horneau (fresh baked pastries and bread). Although in Spanish these pastries are called caseros (homemade), they are not always baked at home but are easily available in any market and they taste just like the ones your grandma made.
The main ingredients for baked cuñapé are cassava or yuca starch and cheese. Lots of cheese. Although Bolivian cheese is very salty and dry, you can substitute it for mozzarella without any problems. Just avoid fresh cheese like queso fresco.
Your oven needs to be very hot, 500°F/250-275°C. If it's not hot enough, they won't rise as nicely as the pictures here. Or they'll rise while baking, but once out of the oven, they'll collapse. Very yummy nevertheless, but flat.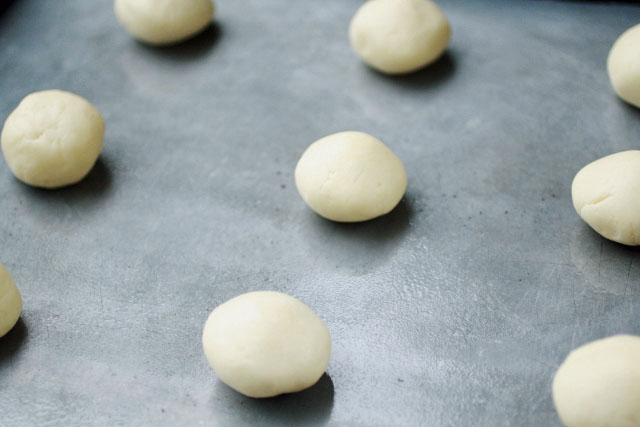 The dough is very simple and easy to work with. If you have a stand mixer, you can use it to mix/knead the dough. Little hands are great for helping form the little balls 🙂
I hope you give this recipe a try and enjoy this Bolivian delicacy.
Note: This recipe was published for the first time on 2,012, on my old blog. As we celebrate Bolivia's independence in the month of August, I thought it was a good time to update my Bolivian recipes.
If you liked the recipe above, please consider rating the recipe and leaving a comment below! and share your picture on Instagram with the hashtag #chipabythedozen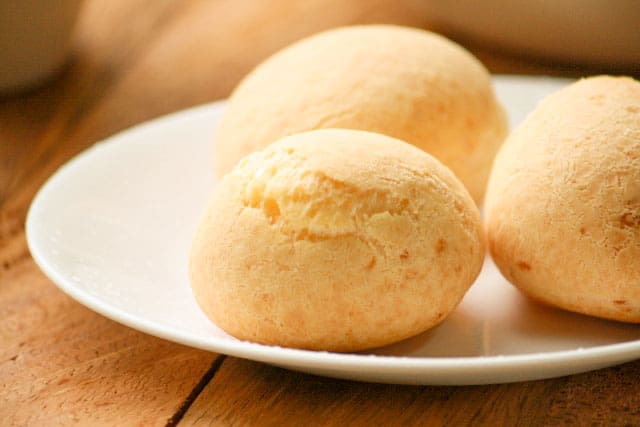 Baked Cuñapé (Bolivian Bread - Gluten-Free)
Cuñapé is a Bolivian bread with lots of cheese and it's gluten-free. With a firm crust and a chewy crumb, you're going to love it!
Ingredients
4

cups

cassava/yuca starch

(488g)

4

cups

shredded cheese

in the US I used mozzarella (500g) (for a more delicious cuñapé use 8 cups of cheese)

2

eggs

3

tablespoons

butter

soften (42.54g)

1/2

tablespoon

salt

depending on how salty the cheese you are using is, you use more or less salt. This amount is for Paraguayan cheese, if you use another kind, use less salt, maybe 1/4 tablespoon

1/2

cup

milk

(120ml)
Instructions
In a big bowl, mix all the ingredients. Knead the dough for 2-3 minutes.

Divide the dough into 24 equal portions. Make a round ball with each portion and place them on a greased baking sheet.

Bake for 20 minutes in a very hot oven, 500 F° / 250-275 C°.
Recipe Notes
Serve cuñapé hot. They're not as yummy the next day. Enjoy it with some coffee.