This pan de arroz (rice bread) is made with rice flour and mashed cassava. Cheesy and naturally gluten-free.
Bolivian food is so diverse. Each department/state has dishes with flavors and ingredients unique to their location. I am from Santa Cruz, a department where the land is fertile, hot and has delicious food. 
Cassava/yuca is a root. It has a slightly thick, brown skin that needs to be peel with a knife. Inside it´s white. It's a bit like potatoes, but slightly fibrous. 
In Santa Cruz, cassava is prepared in many different ways, fried (like french fries), boiled (to be eaten with soup); and in this case boiled and mashed to make a thick batter. 
The main ingredients for this bread are the mashed cassava, rice flour and cheese. Usually they´re baked on banana leaves in a brick oven. But it can also be done in a greased tray and in a kitchen oven. But if you can get the banana leaves, I recommend you use them, it adds a nice flavor. 
The batter for this  gluten-free Bolivian bread, needs to rest all night at room temperature. Or at least 4 hours. This helps the batter to ferment a little, giving it its unique, sour flavor.
The batter for pan de arroz is thick, and once baked, it is a spongy bread. This rice bread is accompanied with a cup of hot coffee or hot chocolate, for afternoon snack or for breakfast.
The batter can be frozen for up to 3 months. I usually make a large amount, and then divide the batter into different bags and then freeze it. The night before using, I take it out of the freezer and leave it at room temperature.
Note: This recipe was published for the first time on October, 2015, on my old blog. As we celebrate Bolivia's independence in the month of August, I thought it was a good time to update my Bolivian recipes.
If you liked the recipe above, please consider rating the recipe and leaving a comment below! and share your picture on Instagram with the hashtag #chipabythedozen
More Bolivian recipes: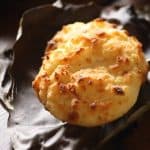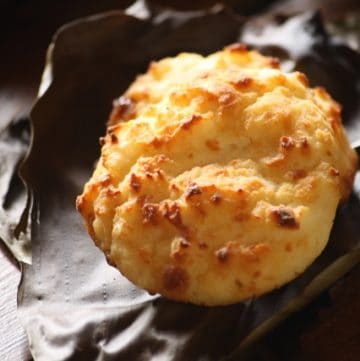 Print Recipe
Pan de Arroz (Bolivian Gluten-Free Bread)
This pan de arroz (rice bread) is made with rice flour and mashed cassava. Cheesy and naturally gluten-free.
Ingredients
3

cups

rice flour + 2 tablespoons

(250g)

500

grams

peeled cassava (1lb)

2

cups

grated cheese,

I used half mozzarella cheese and half sandwich cheese (250g) or use fresh cheese

3-1/2

cups

milk

you can use sour milk or whey

1/4

cup

vegetal oil

3/4

tablespoon

salt

(depends how salty the cheese is)
Instructions
Boil and drain cassava (cooking time varies between 15-45 minutes).

While the cassava is hot, mash it with a fork or a mortar (I put mine in the food processor).

Add all the ingredients in a large bowl and mix well (I used my hands).

Cover and let it stand for at least 4 hours (I left mine overnight).

When you are ready to bake, heat the oven to 243 ° C / 470 ° F. drop the dough with a spoon on a greased tray or on a tray covered with banana leaves. Bake for about 25-30 minutes or until golden. Eat them while hot.
Video
Notes
If you do not use all the batter, you can store it in the freezer.
Nutrition