Asaditos are hamburgers that you can find in the streets of eastern Bolivia throughout the day.
(This recipe was first written for Curious Cuisiniere)
Welcome to another August post, where I share with you street food recipes from Bolivia, my native country.
Last Friday, chef Valentina shared with us an article about Bolivian gastronomy and the different produce the country offers. If you haven't read it yet, come and check it out here.
These asaditos or beef patties bring childhood memories.
My parents would get me some asaditos on our long trip to the big city. The bus would stop in different small towns, and the street vendors would hand you through the window whatever snack you bought. I can't remember how many times I dropped it 😬😅

Asaditos Camba
Camba is a person from the eastern part of Bolivia. As these asaditos are made and eaten in eastern Bolivia, they are called asaditos camba or cruceños (from the city of Santa Cruz).
Asaditos are similar to hamburgers. They are made with ground beef and are shaped like a patty, although less thick than hamburgers, which make them kind of crispy.
The ingredient other than what is usually seen in a hamburger is grated cassava or manioc.
Cassava is a fibrous root with a lot of starch, widely used in South American cooking.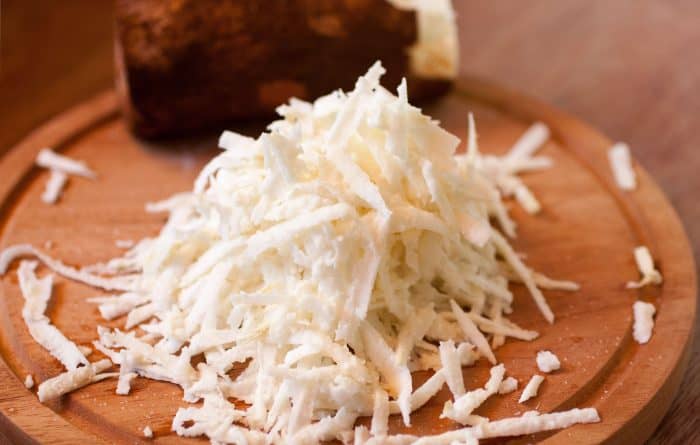 Cassava skin is thick and brown in color, but its flesh is white. From its flesh or pulp, you get flour, starch (used for chipa), and tapioca pearls.
How to make asadito camba or cruceño:

You will be surprised how fast and easy it is to make.
Add all the ingredients to a mixing bowl, mix everything well (I mix it with my hands) and then form the hamburgers.
I usually make them small and serve as an appetizer.
Generally, asaditos are deep-fried, I like to cook them with less oil, using enough just to cover a portion of the asaditos, and then turning them to finish cooking them.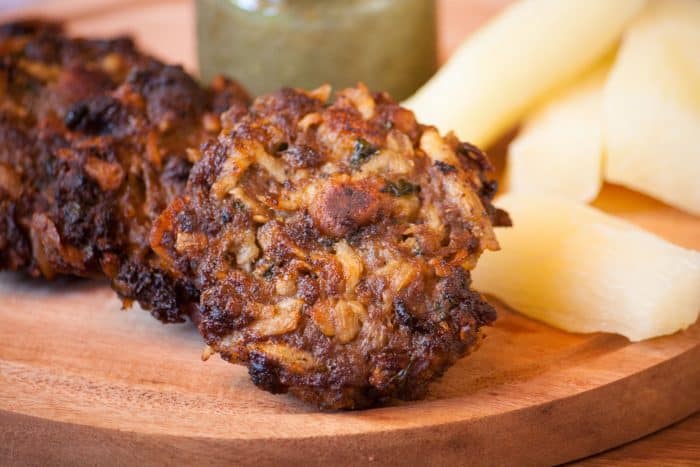 Asaditos are then served with more yuca or cassava! 😬
Cassava can be boiled (like potatoes) until soft. Drained and served with the asaditos.
Make sure you have some llajua ready to go! Llajua is a Bolivian hot sauce. Each bite has to have some llajua 😉 (here is the recipe).
I hope you enjoyed this Bolivian recipe. Next Friday I'll be back with a quinoa recipe from chef Valentina.
If you liked the recipe above, please consider rating the recipe and leaving a comment below! and share your picture on Instagram with the hashtag #chipabythedozen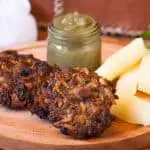 Print Recipe
Asaditos (Bolivian Beef and Cassava Burgers)
Bolivian asaditos are patties or burgers made with beef and shredded cassava.
Ingredients
1-1/2

pounds

ground beef

(700g)

10

ounces

fresh cassava,

shredded (280g)

1

egg

1/2

cup

plain bread crumbs

1

medium red onion,

chopped

1/4

cup

fresh parsley,

chopped

1

teaspoon

salt

1/2

teaspoon

ground black pepper

1/4

teaspoon

ground cumin

Vegetable oil for frying

(about 1/2 cup)
Instructions
In a big mixing bowl, add all the ingredients (except vegetable oil) and mix well.

Get 2 tablespoons at a time of the meat mixture and form burgers.

Using a big frying pan, heat oil on medium heat.

Fry each burger for 3 minutes each side. Drain on paper towels.

Serve hot with boiled cassava and spicy sauce.
Notes
Make ahead: Prepare and shape patties. Place parchment paper on 2 trays. Place patties on paper and place tray in the freezer for 3 hours. Remove and place frozen patties in a ziplock bag. Place in the freezer again.
Before using, defrost patties in the fridge overnight and cook. 
Nutrition