Majadito tostado or fried rice with beef is an eastern Bolivian dish that consists of fried rice with vegetables and meat. This traditional dish is served with fried plantains and a fried egg.
Majadito is a simple and cheap dish to make. It is one of the first recipes that as a teenager you learn to cook.
Although the flavors are simple, a bite of this rice along with the egg and plantain, is like a party in your mouth.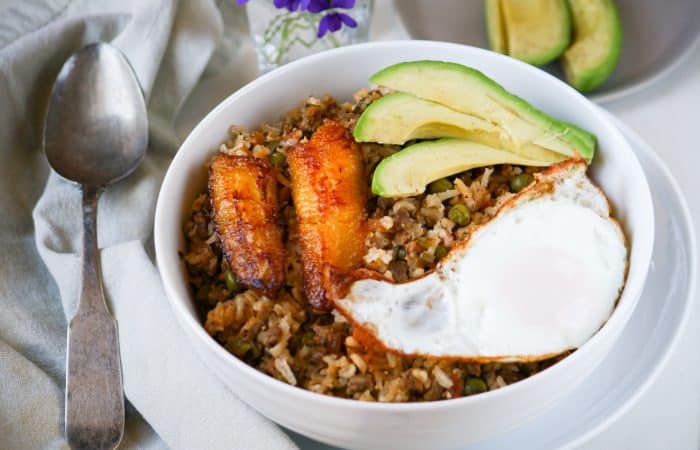 History
Majadito or majau is a traditional dish from the departments or states of Beni and Santa Cruz that appears at the time of the Spanish conquest in Bolivia.
It is a dish similar to a paella.
The word majau, in Bolivia means beaten. This refers to the act of preparing the dried meat that is traditionally used to make the majau.
The traditional majadito is made with beef jerky. This is a meat is dried in the sun with plenty of salt to preserve it.
Once dry, this meat is quite tough. It requires a long cooking period in water. Then it's pounded in a mortar to soften it and shredded by hand.
Over time, this dish has been prepared with different meats. There is chicken majadito, beef majadito, and another one made with duck.
Majadito
You'll notice that majadito has an orange color that characterizes it. This color is given by the use of urucú, also known as achiote or anatto seed..
In Bolivia, you can find it ground or whole. When using the whole seed, the oil is heated with the seeds. Once the oil is red, the seeds are removed and the oil is used for cooking.
If you cannot find it in your country, you can use 1 tablespoon of tomato extract and it will give it the traditional color.
Living in the USA this past year, I discovered Sazón Goya. This package has ground achiote and cumin. I've been using it to make majadito. Just skip the cumin in the recipe card.
(As an Amazon Associate I earn from qualifying purchases)
If you prefer to use the seeds, Badia has it.
Or you can get ground achiote seeds. I find it more convenient and you'll have enough to make plenty of Bolivian recipes.
Growing up, I always heard that there was 3 kinds of majaditos, but I notice that not many include the baked one.
Majadito batido: similar to risotto in texture. This majadito is constantly stirred while cooking.
Majau tapau: this one is more like a rice casserole. It's made with 2 layers of rice and the filling has beef jerky, plantains, and hard-boiled eggs.
Majadito tostado: tostado literally means toasted. That's the term used for frying the rice before adding the rest of the ingredients.
Fried rice with beef or Majadito tostado
All these majaditos have many ingredients in common. Starts with a simple ahogau or sauteed vegetables. Red onions, garlic, and green peppers.
Then the meat is added. For this majadito I used beef. I chose one that is soft and doesn't have a lot of fat.
Once it's brown, you can add the tomatoes and let it cook for about 3 more minutes.
To prepare the rice, heat oil in a pot and add the rice. I recommend for this step you stay next to the pot because the rice can burn very easily.
You need to stir it with a ladle until the rice has a golden color. Then the meat is added with the vegetables and hot water.
This is the perfect time to taste it and see if it needs more salt.
This rice with beef is cooked slowly with the pot covered and is not stirred until it is done cooking.
Rice
Rice varies from country to country, and from brand to brand. In Bolivia long rice is used to make fried majadito. This rice doesn't swell, nor does it stay sticky.
The amount of water that this recipe needs depends a lot on your rice. I recommend that you boil more water than you need.
Uncover the pot after 15 minutes and check to see if the water has evaporated and if the rice is soft.
If the rice is still a little hard, you can add another half a cup of hot water, cover it and let it cook for another 5 minutes.
Keep checking and adding water until the rice is soft.
How to serve it
Majadito in Bolivia is served with slices of fried ripe plantains, one fried egg per person, sometimes a piece of fried or boiled yucca, and a tomato salad with onions.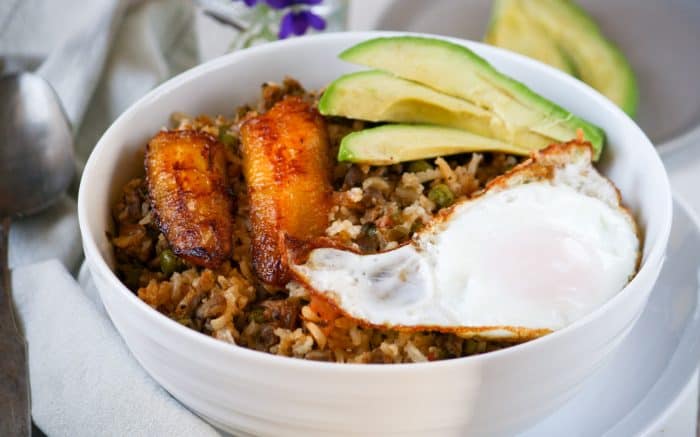 Living in Paraguay where we can't get plantains, we like to eat it with fried eggs and avocado slices.
Tips:
If you use beef jerky: this meat is usually cooked in a pressure cooker, or in a regular pot with plenty of water until soft. Then you'll need to pound it and shred before using it for majadito.
If you use duck: you can cook the whole duck in a big pot with water until it is soft; then cut it into smaller pieces to add to the majadito.
If you are using chicken: you can cook the whole chicken in a big pot of water and then cut it into smaller pieces. You can also use shredded chicken breast.
Recipes you might like:
If you liked the recipe above, please consider rating the recipe and leaving a comment below! and share your picture on Instagram with the hashtag #chipabythedozen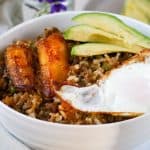 Print Recipe
Bolivian Fried Rice with Beef (Majadito)
Majadito tostado or fried rice with beef is an eastern Bolivian dish that consists of fried rice, with vegetables and meat. This traditional dish is served with fried plantains and a fried egg.
Ingredients
2

tablespoons

vegetable oil

1

red onion,

diced

1

garlic clove,

minced

1

bell pepper,

chopped

1

pound

tender beef,

cut into small pieces

2

large tomatoes,

chopped

Rice:

2

tablespoons

vegetable oil

1-1/2

cups

long-grain rice

1

teaspoon

salt

2-1/2 to 3

cups

boiled water

1

medium carrot,

chopped

1/2

cup

peas

1

teaspoon

dried oregano

1/2

teaspoon

ground cumin

1/4

teaspoon

ground black pepper

1/2

teaspoon

ground urucú

(ground achiote)

salt to taste

For serving:

4

tablespoons

vegetable oil

5

eggs

2

ripe plantains

1 to 2

avocados,

sliced
Instructions
In a large pot or saucepan, heat the oil over medium-high heat. Saute the onion, green pepper, and garlic until they are caramelized and translucent. Turn up the heat, add the meat and cook until golden brown. Add the tomatoes and cook for another 3 minutes. Remove from the pot and reserve.

In a medium saucepan, bring 3 cups of water to a boil.

Clean the pot and heat the oil over medium heat. Add the rice with a little salt and toast or fry until golden. You have to stir constantly so that it doesn't burn.

When the rice is golden brown, add the meat mixture, the chopped carrot, the peas, the seasonings, and 2 - 1/2 cups of hot water. Taste for salt and add if necessary.

Once it starts to boil, lower the heat, it needs to cook slowly. Cover and cook for 20 to 25 minutes. Do not stir.

Check your rice after 15 minutes. If the heat is too hot, the water will absorb faster and the rice may not be done. If this is the case, add an additional 1/2 cup of water.

Check again in 20 minutes. It should look dry, and the rice should be soft.

Turn off the heat, and mix with a ladle before serving.

In a small frying pan, heat 1 tablespoon of oil and fry the eggs.

Peel and cut the plantains into slices. In a medium skillet, heat 3 tablespoons of oil over medium heat and fry the plantains, turning until golden brown.

Serve majadito with a fried egg on top, plantain slices, and avocado.
Notes
Tips:
When frying the rice, remember to stand next to it and not stop stirring.
Boil more than 3 cups of water, just in case you need more.
Leftovers can be stored in the refrigerator for up to 3 days.
The texture of the rice changes if it is frozen, I do not recommend it.
Nutrition