Juicy meat filling with vegetables, wrapped in creamy mashed potatoes. The surprise of a piece of hard-boiled egg and an olive. In the end, a hint of spiciness from the llajua. That's a relleno de papa!
One bite of this stuffed potato and you will fall in love with Bolivia.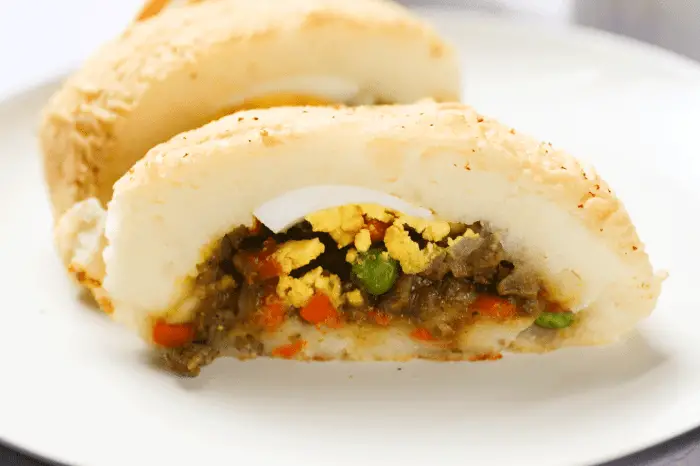 Today's recipe is inspired by Netflix's series street food - Latin America that was released this July 2020.
Street Food Latin America - Netflix
This 6-part series focuses on six Latin American countries to explore the culture of street food in Oaxaca, Mexico; Salvador, Brazil; Buenos Aires, Argentina; Lima Peru; Bogotá, Colombia, and finally La Paz, Bolivia.
In each episode, we see strong women, fighters. For some of them, it was a chance to bring themselves out of poverty and care for their families. For others, it was a rebellion against the male-dominated culture.
The last episode is set in La Paz, Bolivia. A city at more than 3,600 meters of altitude.
This episode begins with Doña Emiliana and her stall of stuffed potatoes.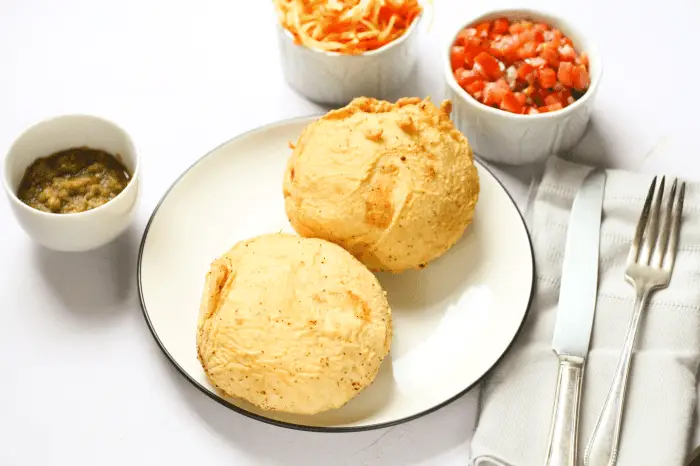 Bolivian relleno de papa is a dish served in the morning for breakfast, or as an appetizer before lunch.
Doña Emiliana tells in this episode that the different sauces that she prepares to eat with the rellenos are what distinguishes her from other street food stalls. Always creating a new and delicious sauce for her customers.
Rellenos de Papa
Stuffed potatoes are found in several Latin American countries.
We share a similar recipe. Some add flour to the mashed potatoes; others fill it with cheese, others with chicken.
Before frying them, some rolled them in egg and breadcrumbs. As you can see, in Bolivia they are dip in a simple batter (rebozo) before frying.
How to make it
The fillings start with creamy mashed potatoes. Once you have it ready, you can prepare the meat filling.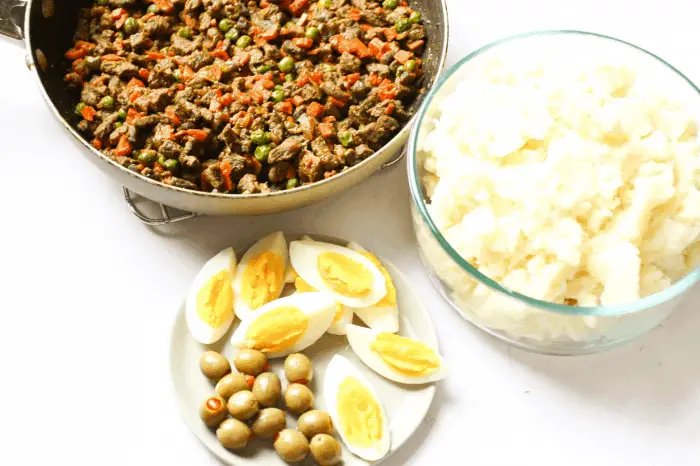 For the filling, use meat that is soft. If you are using a meat that takes longer to cook, the amount of water I mention on the recipe card is not going to be enough.
How to assemble it?
Once the mashed potatoes are cold or warm to the touch, you can start assembling the rellenos.
In my opinion, it's easier if you separate the mashed potatoes into 12 equal portions before filling them.
Then you separate each portion in two. Working with one portion at the time, using your hands, press it making a circle, add the filling, a piece of egg, and an olive. Covered it with the other portion of mashed potato and give it a round shape.
Continue until you have 12 portions.
Frying
You should start by heating oil. My recommendation is that you use a pot or saucepan. The rellenos are quite large and need to be completely submerged in the hot oil.
If you don't have enough oil in the pan, the rellenos will sink to the bottom and touch the pan sticking to it. Once you are ready to turn them, they'll start to fall apart (I tell you from experience ?).
While the oil is heating up, prepare the batter for coating.
To fry the rellenos, you'll need a simple batter made with flour, egg, water or milk.
For me, this step of dipping the rellenos in the batter was easier to do it with my hands. Then, very carefully, place it in the oil to fry.
Fry until golden brown, 3 to 5 minutes.
Sauces and salads
Every bite you take of these stuffed potatoes should be accompany with a sauce or a salad.
At every food stall, you'll find llajua. This is a fresh Bolivian sauce made with chili and tomato. You can find the recipe as Llajua (Bolivian Spicy Sauce).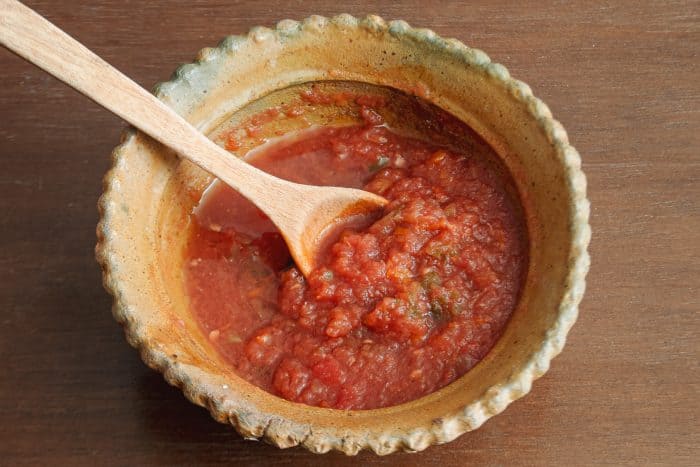 Other sauces that go well with these rellenos are: golf sauce (half mayo and half ketchup), homemade mayonnaise with garlic (my favorite), ají con maní (ground peanut with chili).
Another way to serve them is with salads and pickled vegetables.
Why do we like this recipe?
Apart from the amazing flavors, it is a practical recipe.
Both the filling and the mashed potatoes can be made the day before, or up to 2 days before and kept it in the refrigerator.
Make them the size that works better for you.
If you make them smaller, they will be perfect as an appetizer for any party.
This recipe uses yellow chili pepper used in Peruvian and Bolivian cuisine. This pepper is mild with a fruity flavor. Use what you have on hand or get this ají amarillo paste.
(As an Amazon Associate I earn from qualifying purchases)
Recipes you might like:
If you liked the recipe above, please consider rating the recipe and leaving a comment below! and share your picture on Instagram with the hashtag #chipabythedozen
Recipe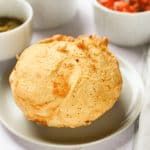 Print Recipe
Relleno de Papa (Bolivian Stuffed Potatoes)
Juicy meat filling with vegetables, wrapped in creamy mashed potatoes. The surprise of a piece of hard-boiled egg and an olive. In the end, a hint of spiciness from the llajua.
Ingredients
Potatoes:

4

pounds

potatoes

(2 kilos) (8 medium/large-sized)

1

teaspoon

salt

Filling:

2

tablespoons

oil

1

medium red onion,

diced

2

garlic cloves,

minced

2

tablespoons

parsley,

minced

8

ounces

beef chuck,

minced (225 grams)

1

medium carrot,

diced

¼

cup

green peas

Salt and pepper to taste

½

tablespoon

dried oregano

1

tablespoon

yellow chili pepper

if desired

1

cup

of water

3

hard-boiled eggs,

cut into 4 slices each

12

green or black olives

1

quart

vegetable oil for frying

Batter:

2

cups

flour

2

teaspoons

of salt

2

eggs

2

cups

water

Tomato and onion salad:

2

tomatoes,

diced

½

red onion,

diced

1

teaspoon

olive oil

1

teaspoon

soy sauce

pepper to taste

Cabbage and carrot salad:

1

small carrot,

grated

1

small piece of cabbage,

finely cut (½ cup)

1

teaspoon

of olive oil

Salt and pepper to taste
Instructions
Mashed potatoes: peel and cut the potatoes into small pieces. Put the potatoes in a saucepan with water and 1 teaspoon of salt and cook until the potatoes are soft. Drain the potatoes and mash until creamy. Taste for salt and add to taste. Reserve.

Beef filling: In a large skillet, put 2 tablespoons of oil and heat over medium heat. Sauté the onion, garlic, and parsley until translucent. Add the meat and cook for 2 minutes. Add the chopped carrot, peas, salt, pepper, oregano, yellow chili pepper (if using), and 1 cup of water. Let cook for 10 minutes or until the water evaporates.

How to assemble stuffed potatoes: Divide mashed potato into 12 equal portions (so you don't put more in one and then don't have enough for the rest).

Divide each portion in two. Press 1 portion in your hand (about half a centimeter thick/1/4 inch) trying to make a circle. Put 2 tablespoons of the filling in the middle, a slice of hard-boiled egg, and 1 olive. Use the other portion of mashed potatoes to cover it.

Turn the potato ball with your hand to give it a round shape. Place it on a plate or tray, and follow the same steps with the rest of the ingredients.

Batter: In a medium bowl, add flour, salt, eggs, and water and mix well with a spoon.

How to fry: In a medium saucepan (9 centimeters high - almost 4 inches and 18 centimeters - 7-½ inches in circumference) heat the oil over high heat for about 4 minutes before frying.

Dip 1 stuffed potato in the batter (easier to do by hand) until it is completely covered, and very carefully put it in the hot oil. Fry for 3 to 4 minutes, or until golden brown.

Scoop it out with a slotted spoon and place it on paper towels. Serve.

Tomato and onion salad: mix all the ingredients and let it rest for 10 minutes before serving.

Cabbage and carrot salad: mix all ingredients and serve.
Video
Notes
Remember to use a tall pot or saucepan, with enough oil so that the rellenos are completely covered in the oil.
You can make both the filling and the mashed potatoes the day before.
While you fry the rellenos, you can heat the oven to a low temperature, and place them on a tray to keep them warm while you fry the rest.
The calories on this card are an approximation. When you fry food, depending on the temperature of the oil and how long you leave it in, it varies how much the oil absorbs.
Nutrition