Spongy and soaked with delicious peach syrup. This cake is pretty enough to be the centerpiece on your Mother's Day table.
This is one of my favorite cakes. Brings back memories of my childhood. My mom used to make something similar for my birthdays, she added a few layers of meringues that really takes it to another level. Unfortunately, my oven does not keep the right temperature to bake the meringues, so I console myself with this simple peaches and cream sponge cake.
This sponge cake is very light, tender and not very sweet. I used canned peaches because I like to use part of the syrup to brush the top of the cakes; having peaches as the first layer, you ensure that it remains moist. The whipped cream gives it the perfect sweetness.
To make sure your cake rises well, it is important to fold gently and not over mix the flour with the yolk mixture and then with the egg whites. It is also important to use un- greased cake pans and do not open the oven door while your cakes are in there.
Something I learned recently, is to add some low fat powdered milk to the cream before beating it (besides putting in it in the freezer 10 minutes before using it). This helps stabilize the cream (you won't get watery cream after a few hours). You can skip this if you are going to eat the cake right away.
If you would like to cover the entire cake with cream, beat 3 cups of cream and maybe add a tablespoon of sugar.
I prefer to eat this cake the next day when the cake has absorbed the yummy syrup. Enjoy!
Are you doing something special with or for your mom? Mine is in another country, and it's a time to remember the beautiful moments we've spent together. This year I'll share it with other moms with young children and encourage them in the work they are doing. Happy Mother's Day!
If you liked the recipe above, please consider rating the recipe and leaving a comment below! and share your picture on Instagram with the hashtag #chipabythedozen
I'm sharing this recipe at Fiesta Friday hosted by Angie and her co-host this week is Antonia @ Zoale.com. Come check out the delicious recipes!
Recipe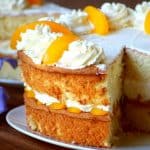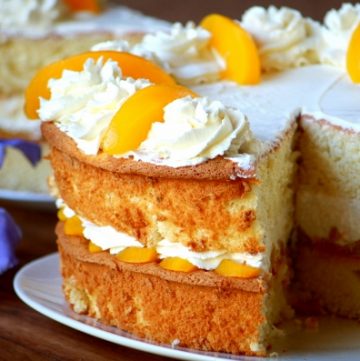 Print Recipe
Peaches and Cream Sponge Cake
Spongy and soaked with delicious peach syrup. This cake is pretty enough to be the center piece on your Mother's Day table.
Ingredients
Cake:
6

eggs

½

cup

milk

1

teaspoon

vanilla extract

1

teaspoon

almond extract

1

cup

sugar (200 g)

1-¼

cup

self-rising flour (156.25 g)

½

cup

sugar (100 g)
Filling:
2

cups

whipping cream

4

tablespoons

sugar

1

tablespoon

low fat powdered milk

1

sliced canned peaches (280g /9.8 oz)
Instructions
Half an hour before making the cakes: separate the egg whites from the egg yolks and allow them to stand at room temperature. In a big mixing bowl beat with an electric mixer the egg yolks for 5 minutes on high. Add the vanilla and almond extracts, and milk; beat on low until combined. Gradually beat in the 1 cup of sugar at low speed (add 2 tablespoons at a time). Increase to high speed; beat until mixture thickens and doubles in volume (about 5 minutes).

Sprinkle ¼ cup of flour over the egg yolk mixture and fold until combined. Repeat with the rest of the flour, using only ¼ cup of flour at a time. Set aside.

Wash the beaters well. In a large mixing bowl beat the egg whites until soft peaks form (about 3 minutes). Gradually add the ½ cup of sugar, beating on high speed until stiff peaks form. Fold 1 cup of the beaten egg white mixture into the egg yolk mixture; add the remaining egg white mixture and fold again. Pour into 2 un-greased 9.5x1-¾-inch round cake pans.

Bake at 325°F/162.7°C for 30 to 35 minutes. Cool thoroughly and loosen sides of cake from pan and remove from pan.

For the filling: In a medium mixing bowl beat the cream, sugar and powdered milk until firm peaks form, about 5 minutes.

To assemble, place a cake layer on a cake plate. Poke the cake with a fork. Pour 4 tablespoons of peach syrup. Add a layer of peaches, making sure you cover the whole cake. Add a layer of cream (about ¾ of the cream) (I used Wilton 2D tip). Top with the remaining cake layer. Pour 4 tablespoons of syrup. Spread a thin layer of cream. If desired, pipe some cream on the cake. Add some peaches. 
Notes
Store in the refrigerator until ready to serve.
Nutrition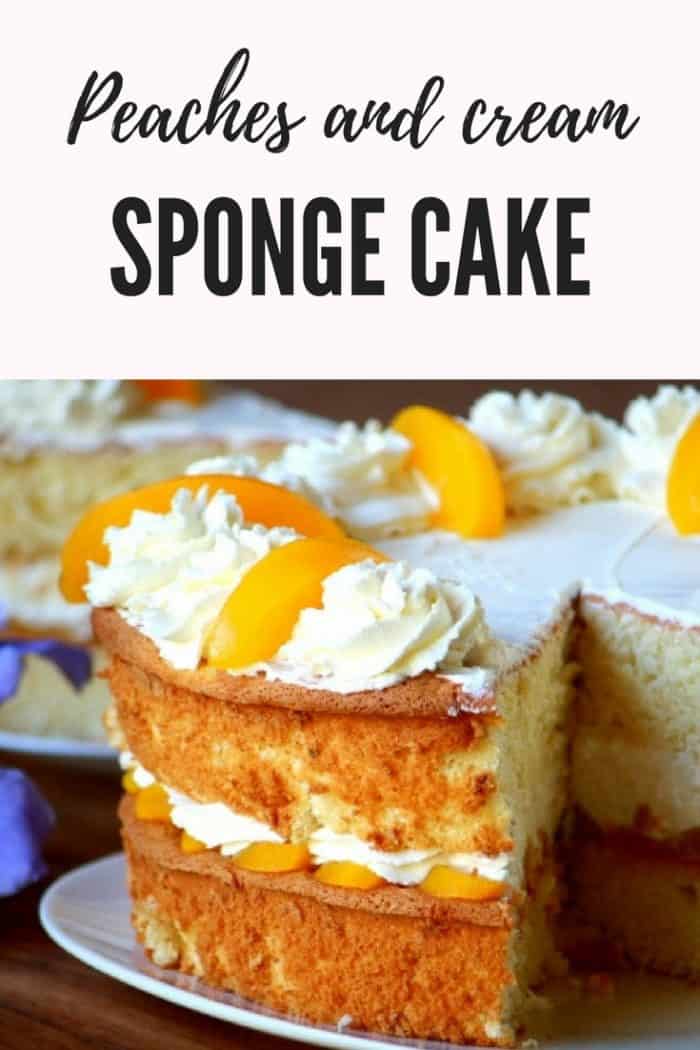 Torta de zanahoria, piña y nueces / Carrot, pineapple, nut cake - See more at: http://chipabythedozen.blogspot.com/#sthash.YUP9KEIX.dpuf