This fudge is so creamy. It melts in your mouth. It's peanut butter heaven. Want more? it's mixed in only one bowl!
What is fudge? Fudge is a creamy but firm candy and its basic ingredients are sugar, milk, and butter. By varying the kind of sugar, replacing milk with cream, butter by other fats, you get different textures and flavors.
Fudge originated in the US and little by little has reached other parts of the world. Here in Paraguay, we have something similar called dulce de maní (sweet peanuts). In Bolivia we have tablillas. All of these products are sold both in supermarkets and on the streets.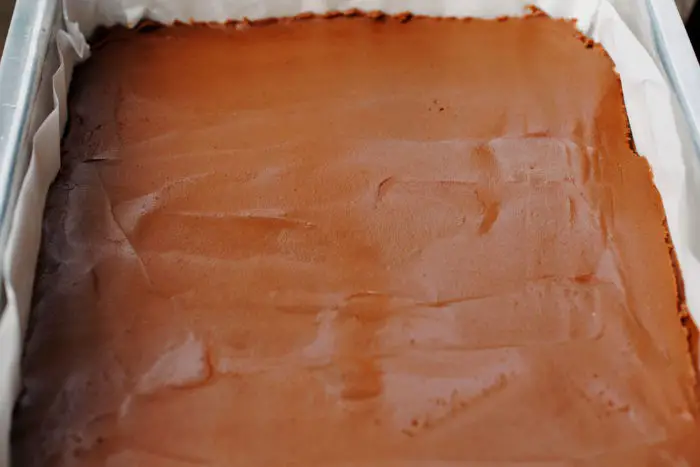 How to make creamy chocolate peanut butter fudge:
This recipe cannot be simpler. We're going to use one single bowl to mix all our ingredients in, and we're using the microwave to speed thing up a bit. But before you start:
Remove all your ingredients from the refrigerator 15 minutes before using
Read the recipe about 3 times, even if it's simple
Cover a pan with parchment paper
Once you mix all your ingredients in the bowl, you need to work quickly because the fudge hardens fast.
Peanut butter:
Peanut butter in Paraguay is very thick, not very spreadable, which makes the process of mixing this fudge a bit more laborious, but not impossible. I recommend that you don't use sweet peanut butter, even though is creamier (here in Paraguay). Salted or unsalted peanut butter? I used unsalted peanut butter. But you can use either one.
This is one of my favorite recipes to make and serve to large groups. Because this fudge is so rich, one piece is enough. Also, I really like it because it's mixed in one bowl, you use one pan, so not much for washing up ?
I got the recipe from a magazine. It came in small quantities and individual balls were formed. I always want to make large amounts and then save the leftovers, so I increased the amounts to meet my needs.
What do you think? Easy, right? Peanut butter and chocolate go hand-in-hand! One of those flavors that makes you come back for another piece ?
If you liked the recipe above, please consider rating the recipe and leaving a comment below! and share your picture on Instagram with the hashtag #chipabythedozen
Note: I published this recipe on November 26th, 2011, when I had only one blog. Now that I have one for English and one for Spanish, I am trying to separate my recipes with the right language.
Recipe adapted from Taste of Home.
Places I'm sharing this recipe:
Fiesta Friday hosted by Angie and her co-hosts are Jenny @ Apply To Face Blog and Deb @ Pantry Portfolio
Meal Plan Monday hosted by Southern Plate, Southern Bite, A Southern Soul, Big Bear's Wife, and Julia's Simply Southern
Recipe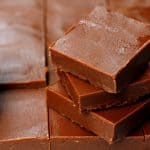 Print Recipe
Creamy Chocolate Peanut Butter Fudge
Made in one bowl. This creamy chocolate peanut butter just melts in your mouth.
Ingredients
1

cup

butter

(266.8g)

1

cup

peanut butter

(266g)

4

teaspoons

milk

⅓

cup

cocoa powder

(39.3g)

4

cups

of confectioners sugar

(500g)
Instructions
Cover a 13x9 inches or 33x22 cm pan with parchment paper.

In a large microwave-safe bowl, melt butter. About 2 minutes.

Add peanut butter and milk; mix well.

Add cocoa powder and confectioners sugar and mix until creamy.

Add fudge mixture into prepared pan and spread evenly.

Store in the refrigerator for 2 hours or until firm. Slice and serve.
Notes
Store in an airtight container in the refrigerator for up to 2 weeks, or freeze for up to 3 months.
Nutrition