Homemade Marshmallows are made with gelatine and a simple syrup. They are fluffy, melt in your mouth little treats.
Marshmallows are sweet, spongy desserts. In Bolivia, we have something very similar, so these marshmallows bring a lot of childhood memories. It was sold at the bus terminal next to a bunch of other amazing treats. Sometimes my dad would get me one before our trip, but it was always hard to choose between a marshmallow and a cookie filled with marshmallow and covered in coconut.. mmm.. so delicious.
Marshmallows are so easy to make and easy to make them in different flavors. Just add different extracts or use fruit juice instead of water. A few years ago, while visiting my mom in Bolivia, we used passion fruit juice and they turned out amazing! Cover them in some chocolate or coconut, or add some sprinkles.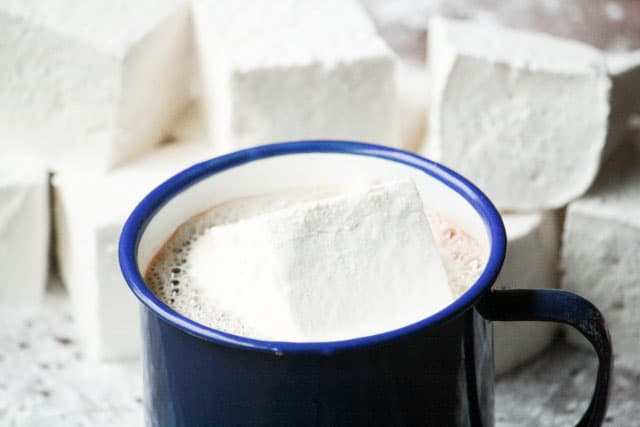 A lot of recipes use icing sugar to roll the marshmallows after you cut them. But because is so humid in Paraguay that doesn't work. I've been adding some starch with the icing sugar and they last a little bit longer. Serve marshmallows as a dessert or add them to some hot chocolate, mmm… see how the marshmallow melts? Delicious!
How to Make Homemade Marshmallows: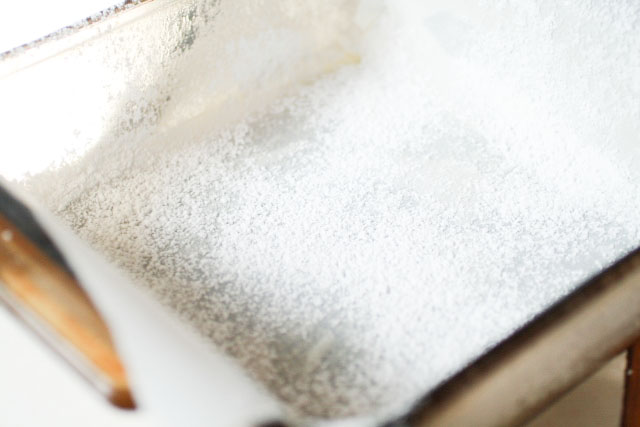 Before we start making marshmallows, measure all the ingredients. Prepare a baking pan; grease the bottom of an 8x8x2.25 in. pan and place a piece of parchment paper, grease that and the sides of the pan. Using a sieve, sprinkle some starch over the pan. You'll be using a spatula too, grease it well. Greasing the spatula and the baking pan helps with the sticky marshmallow.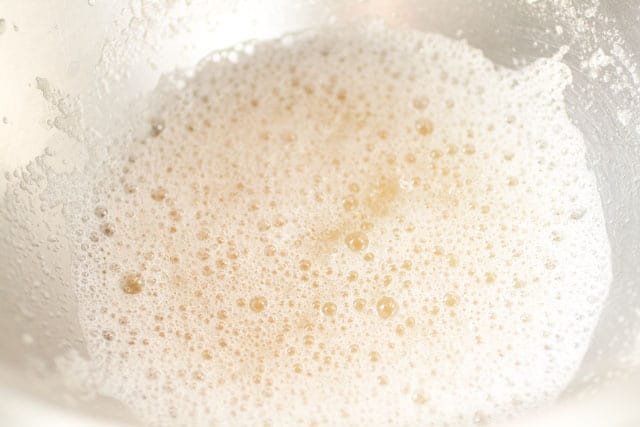 To a mixing bowl add the gelatin and 8 tablespoons of water. Let it bloom while you make a simple syrup. Then add the syrup and the extract to the gelatin and start beating.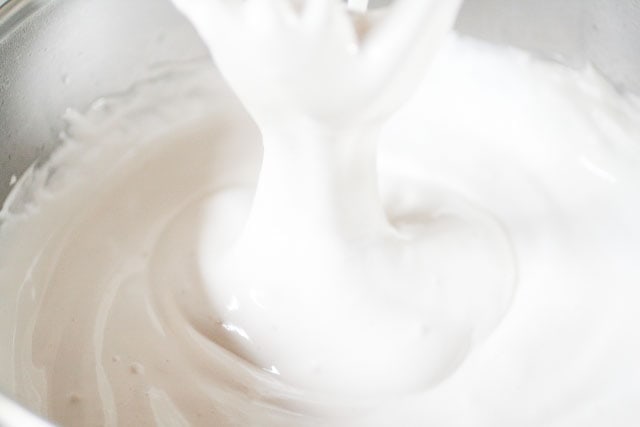 After 5 minutes.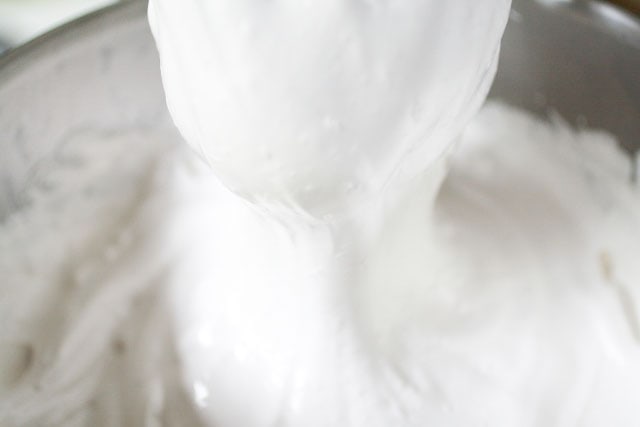 After 10 minutes.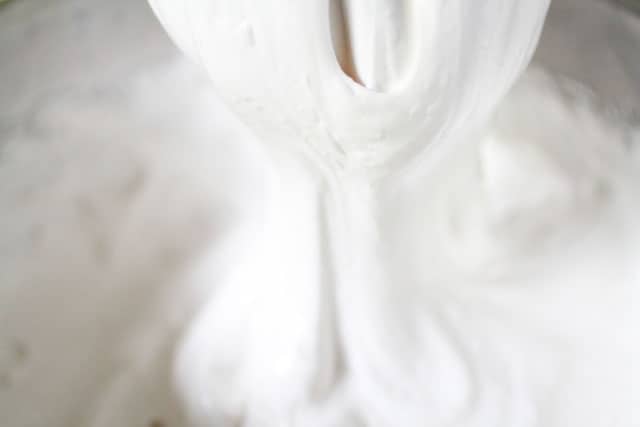 After 15 minutes.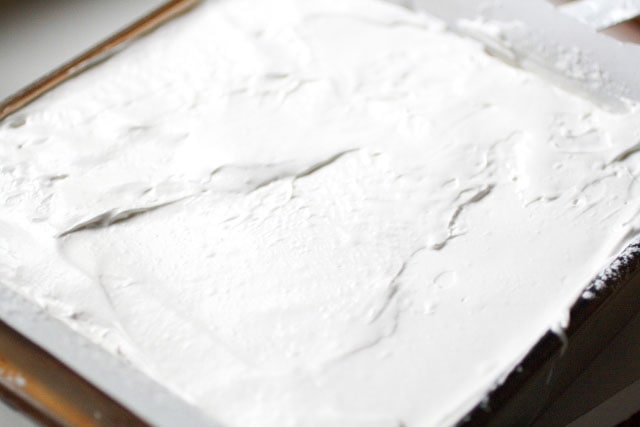 Pour marshmallow into prepared pan and let sit for half an hour before cutting.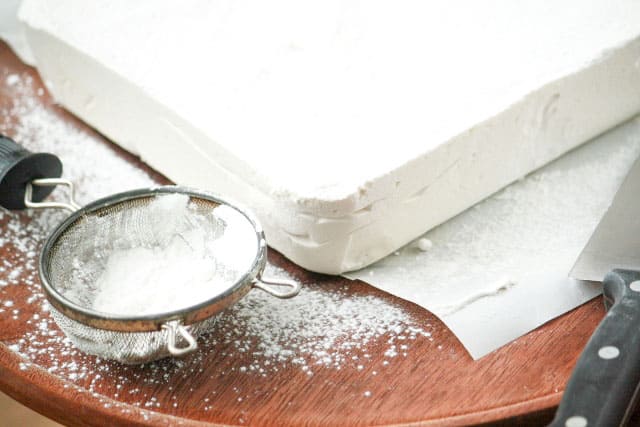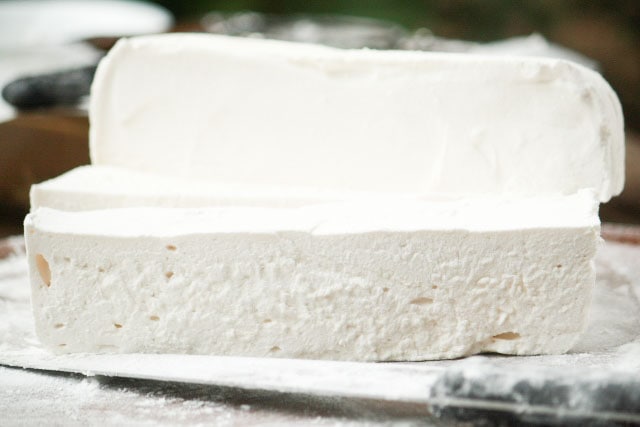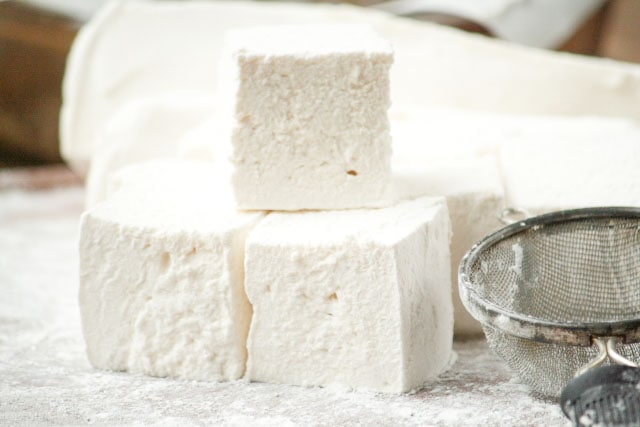 Cut marshmallow using a knife and roll them in a mix of icing sugar and starch.
What do you think? Do you find it easy? I hope you try this recipe. It makes a delicious treat for birthday parties.
If you liked the recipe above, please consider rating the recipe and leaving a comment below! and share your picture on Instagram with the hashtag #chipabythedozen
Note: I published this recipe on May 18, 2016, when I had only one blog. Now that I have one for English and one for Spanish, I am trying to separate my recipes with the right language.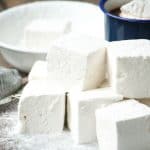 Print Recipe
How to Make Homemade Marshmallows
Light and fluffy. A great dairy-free, gluten-free treat.
Ingredients
2

tablespoons

unflavored gelatin

8

tablespoons

water

2

cups

sugar

1/2

cup

water

1

teaspoon

vanilla extract

1/4

cup

icing sugar

1/4

cup

cornstarch
Instructions
To a mixing bowl add the gelatin and 8 tablespoons of water. Let it bloom while you make a simple syrup. For the syrup, mix sugar and 1/2 cup of water in a small pan. Bring to boil and cook until sugar has dissolved. Add the vanilla extract.

Add the syrup to the gelatin and start beating. It takes about 15 minutes. After the first 5 minutes, you´ll notice that it´s thicker and your machine is working a little bit harder. After 15 minutes turn it off and using the greased spatula spread the marshmallow into the prepared pan. Let it sit for half an hour before cutting.

Lift onto a board. Sprinkle some icing sugar-starch mix over the marshmallow and start cutting. After each slice, sprinkle some icing sugar mixture over the knife to avoid stickiness. After cutting all the marshmallow, roll each square in the icing sugar mixture and store in an air-tight container.
Notes
It is very important to have all the ingredients measured before you start. Prepare the pan in which you are going to pour the marshmallow and grease a spatula.
Nutrition