Creamy dulce de leche fudge with a little bit of a crunch from brown sugar. This fudge is a crowd-pleaser.
Two of my favorite desserts, fudge and dulce de leche. What is fudge? It's a candy. It so creamy, it melts in your mouth, but firm at the same time. There are several ways of making fudge. One way is cooking some sugar, cream, cocoa powder or chopped chocolate until it reaches a certain temperature. Another one is melting chocolate with condensed milk. Today's fudge is a mixture of these two techniques. You´re going to love it!
What is dulce de leche? Dulce de leche is obtained by cooking milk with sugar and a touch of vanilla. It has a creamy consistency and apart from being used in many desserts, it is used as a spread for toast.
Now let's talk about how to make this licking finger fudge.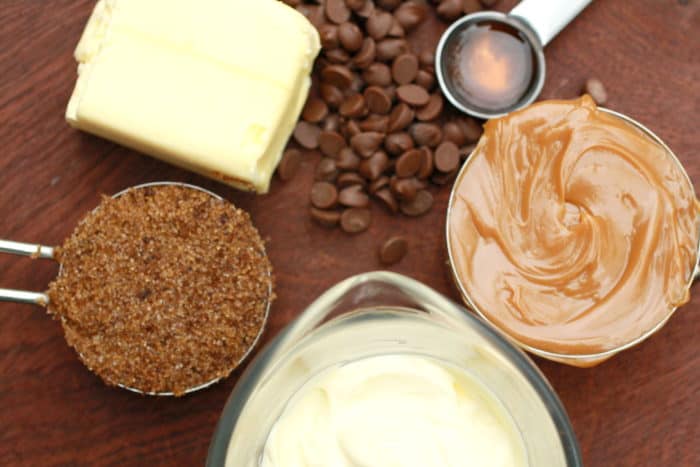 I´ve been making this fudge for more than 5 years and ruined many batches. So I hope you learn from my mistakes.
1. Use brown sugar, not regular sugar. 2. Use cream, not milk. It can be heavy cream, tin or box cream. 3. Use butter, not margarine. 4. If you want to double the recipe, take the time to do one at a time.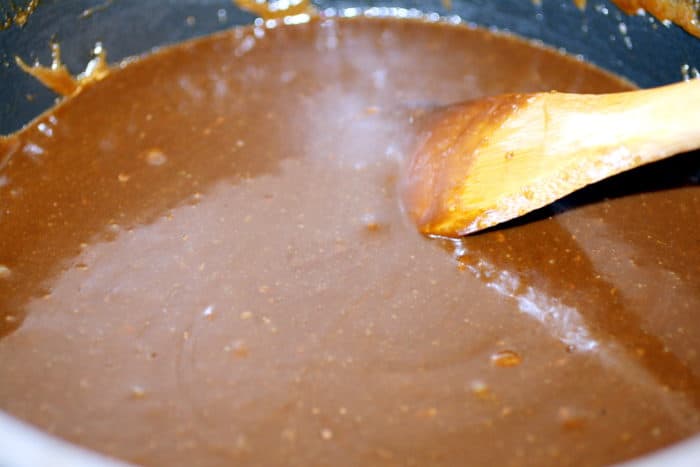 Before you start cooking, make sure you have a timer nearby. You just need to boil the mixture for 3 minutes.
Now, the most difficult part of this dessert is waiting for it to cool completely before cutting and tasting. The more you make them, the easier it gets.
If you can´t get dulce de leche at your store, try this homemade dulce de leche.
If you liked the recipe above, please consider rating the recipe and leaving a comment below! and share your picture on Instagram with the hashtag #chipabythedozen
Recipe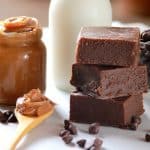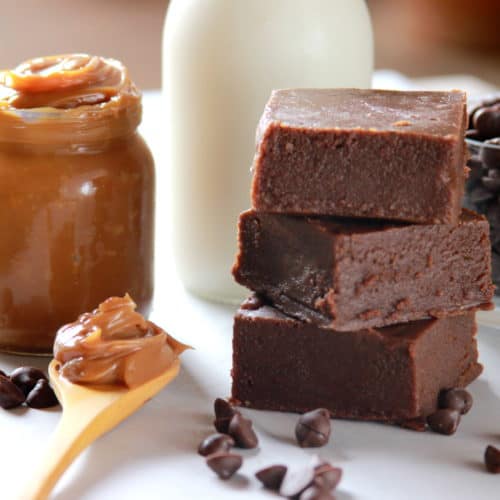 Print Recipe
Dulce de Leche Fudge
Creamy and with a little bit of a crunch from the brown sugar. This fudge is a crowd-pleaser.
Ingredients
½

cup

butter (113.4 g)

2

cups

brown sugar (400 g)

½

cup

cream (118.29 g)

Pinch

of salt

½

cup

dulce de leche (152 g)

2

teaspoons

vanilla

½

cup

chocolate chips or chocolate chunks (90 g)
Instructions
Line an 8x8 pan with foil, and butter foil generously.

Melt the butter in a big saucepan. Stir in the brown sugar, cream, and a pinch of salt.

Bring mixture to a boil, and boil for 3 minutes. Remove from heat and stir in the dulce de leche, vanilla and chocolate until well mixed.

Pour fudge mixture into prepared pan.

Let it cool in the refrigerator for about 4 hours or overnight. Cut into squares.
Notes
Keeps up to a week in the refrigerator.
Freeze for up to 3 months in an airtight container.
Nutrition