Weekends are for trying new recipes, don't you think? or at least for baking what we'll be eating during the coming week. And this week we have plenty of bananas. A problem/blessing that we have very often. I like to let some ripen until they look like they need to be trashed. Those black ones and squishy give a lot of sweetness and flavor to the baked goods.
These donuts have some of those bananas in the dough. It's a subtle flavor that goes so well with Nutella.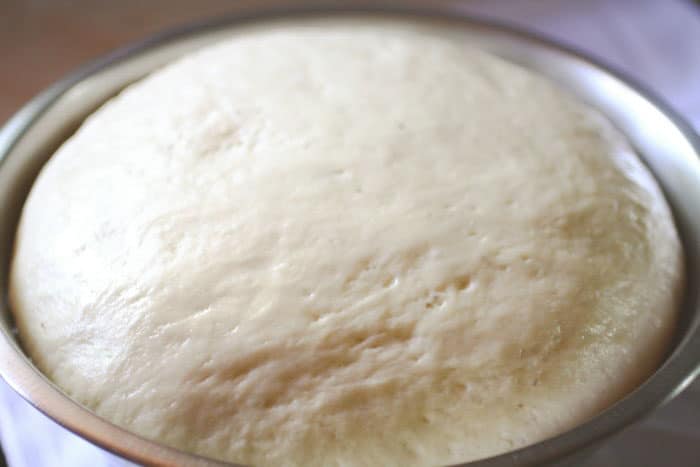 The dough needs to rest twice. One, before cutting and one more time, before frying. For the first resting time, I like to put my bowl somewhere warm, and for me, it's the laundry room. My dough rises very fast there. Another way is to put it in the oven with the light on.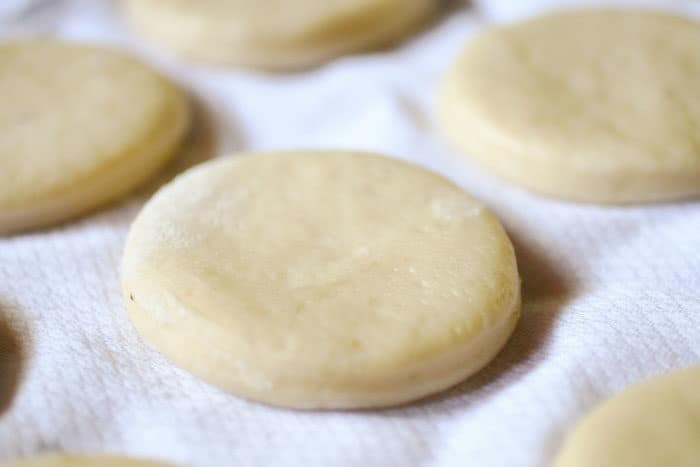 For cutting, use a round cookie cutter, a glass or a lid. Don't forget to flour it before cutting.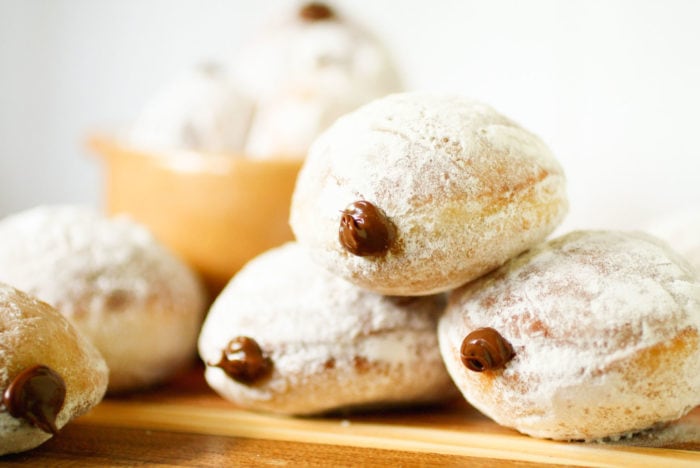 These Nutella Filled Banana Donuts are finger-licking good. They are fluffy and with each bite, the Nutella drips from the donut and ends up in your fingers. Delicious! ?
If you liked the recipe above, please consider rating the recipe and leaving a comment below! and share your picture on Instagram with the hashtag #chipabythedozen

This weekend I'll be co-hosting at Fiesta Friday #227 (hosted by Angie), visiting and commenting on posts as the official FF representative. So excited to be part of this party! would you like to join us? We'll be sharing amazing recipes from all over the globe.
Are you a new blogger? join Fiesta Friday! this is a wonderful way to gain exposure and views and meet blogger friends. We are a friendly, supportive, and welcoming group ☺  You just need to link your posts to my blog as well as Fiesta Friday so that we'll get a pingback. That way we know someone has arrived at the fiesta ? . Don't forget to tag your posts with "Fiesta Friday" as well so that it's easy for others to find them. In order for you to be eligible for feature selection, you should adhere to the guidelines.
Recipe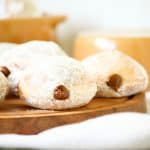 Print Recipe
Nutella Stuffed Banana Donuts
Banana and Nutella go so well in these fluffy donuts.
Ingredients
1

egg

½

cup

mashed bananas

(150g)

½

cup

whole milk

at room temperature (118ml)

2

teaspoons

dry yeast

2

tablespoons

butter

at room temperature (28.3g)

1

teaspoon

vanilla

2

tablespoons

sugar

3-½

cups

self-rising flour

(321.5g)

½

teaspoon

salt
Additional:
3

cups

vegetable oil

for frying (750ml)

1

cup

icing sugar

(125g)
Instructions
In a large bowl, add the egg, mashed banana, milk, and yeast. Mix and let stand for 5 minutes.

Add butter, vanilla, sugar, flour, and salt. Mix until you have a homogeneous dough. On a floured flat surface, knead for 10 minutes, or until the dough is smooth.

Put the dough in a large bowl greased with vegetable oil. Cover with film and let stand for 1-½ hours.

Roll the dough on a floured surface half a centimeter thick. Use a 7.5 cm round cutter (can be a glass or a lid) and cut the dough. Place the donuts on a cloth and let stand for 30 minutes.

In a deep saucepan, heat the oil over low heat. Fry donuts for 2 minutes each side, or until golden brown. Set them on paper towels.

Add Nutella in a disposable decorating bag or in a Zip-lock bag and cut the tip. With a knife, pierce each donut. Fill with Nutella. Roll each donut in icing sugar.
Notes
The rising time depends on how hot or cold your house is. In the winter it can take up to 2 hours and in the summer 1 hour.
If you have an electric mixer with dough hook, you can knead for 5 minutes.
Nutrition