Bolivian Buñuelos are spongy fritters or donuts served with molasses.

Welcome to the last Friday of August.
This month we celebrate the independence of Bolivia, my country of origin, and I have been sharing with you some of the food that you can find in the streets of Bolivia.
We have talked about Bolivian cuisine, about asaditos (hamburgers), p'esque (a dish made with quinoa), chicken empanadas and today we are finishing up with something sweet, buñuelos.
Buñuelos are found in several countries in South America. Our recipes are very similar. It is a dough made with flour, egg, water or milk, which is deep-fried.
Many of these fritters or donuts are served with molasses or a syrup made with panela/jaggery.
Bolivian Buñuelos
In Bolivia, buñuelos are served with a drink called api. Api is a drink made with purple corn, flavored with cinnamon and lemon.
Api is usually served hot, and the adventure of drinking it is to try not to burn the roof of your mouth 🤭
Bolivian buñuelos can be made with dry or fresh yeast, as well as baking powder.
The dough is flavored with anise seeds. You can heat the water and let the anise rest, and then strain it. Or you can simply add it together with the flour.
Yeast Dough for Buñuelos
Buñuelo dough tends to be sticky.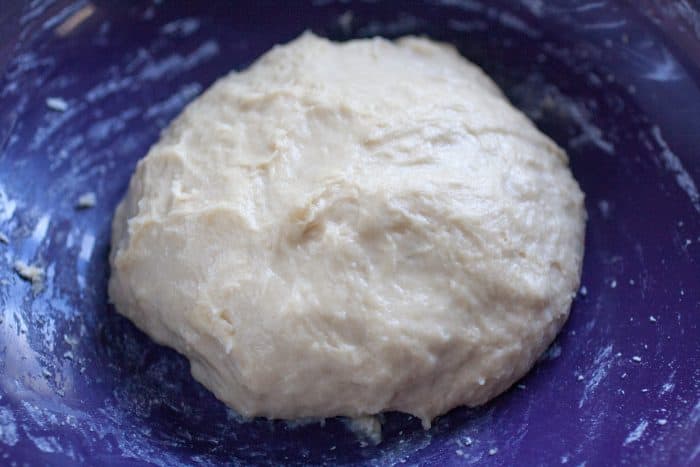 You'll need to get your hands wet, take out some dough and stretch it. The form that is usually given is a very thin circle, with some holes to make sure it cooks all the way through.
In other places, you can find them looking like donuts, and that's how I made them for today.
How to Serve Buñuelos
If you have molasses, pour a good amount before serving.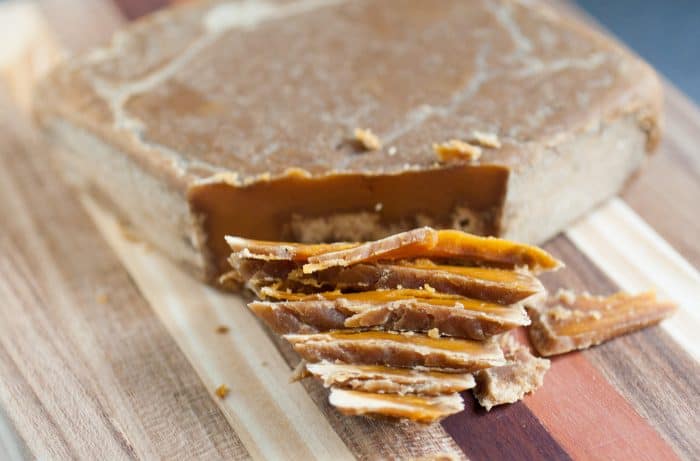 If you have panela or jaggery, cut some pieces and cook it with water and make a syrup.
Buñuelos are found on the streets during the day. They can be eaten for breakfast, snack or dessert.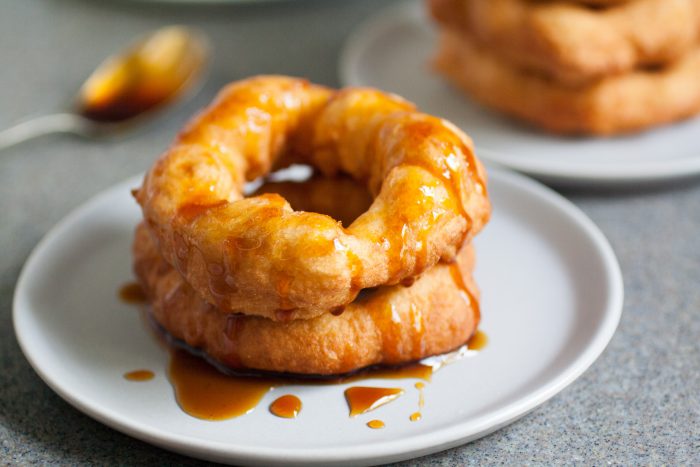 I hope you've enjoyed reading different Bolivian recipes this month. Which one will you try first?
If you liked the recipe above, please consider rating the recipe and leaving a comment below! and share your picture on Instagram with the hashtag #chipabythedozen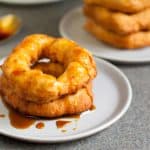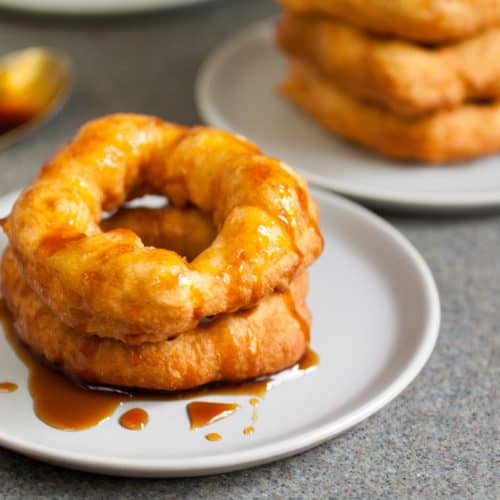 Print Recipe
Buñuelos (Bolivian Donuts)
Bolivian Buñuelos are spongy fritters or donuts served with molasses.


Ingredients
Dough:

1/2

cup

boiling water

1/2

teaspoon

anise seed

2-1/4

cups

flour

(288g)

1

tablespoon

sugar

1

teaspoon

dried yeast

2

eggs

1

cup

vegetable oil for frying

Syrup:

100

grams

panela/jaggery

(3.5 ounces)

1/2

cup

water
Instructions
In a glass, add boiling water and anise seeds. Let stand for 5 minutes.

In a large bowl, add the flour, sugar, and yeast. Strain the anise seeds and add the water to the flour.

Add the eggs and mix with a wooden ladle. The dough is going to be sticky. Let stand for 30 minutes.

In a medium skillet, heat the oil over low heat.

Get your hands wet and remove a piece of dough (about the size of a golf ball), with your thumb, make a hole in the middle and stretch the dough to form a ring.

Place the ring in the oil and fry for 1 minute each side, or until golden brown. Drain on paper towels.

For the syrup, in a small saucepan over medium heat add the water and the panela, let it cook for 5 minutes. Cool.

Serve buñuelos with panela syrup or molasses.
Notes
Buñuelos should be consumed the same day.
You can make the dough and let it rest in the refrigerator for a day. Before using, let it reach room temperature.
If you like anise, you can skip the first step, and add the seeds together with the flour. Use water at room temperature for the dough.
Nutrition