Crispy, chewy, cheesy waffles made with cassava flour which is naturally gluten-free.
If you've been browsing around this blog, you've seen lots of recipes made with cassava root, or cassava flour.
Cassava is a root with a thick, brown skin. Inside has a white fibrous white flesh.
Cassava is grown all over South America and is consumed almost daily in many countries.
If you want to know more about cassava and its uses, check out this article I wrote a few weeks ago: WHAT IS CASSAVA AND HOW IS IT USED?
Cheesy Waffles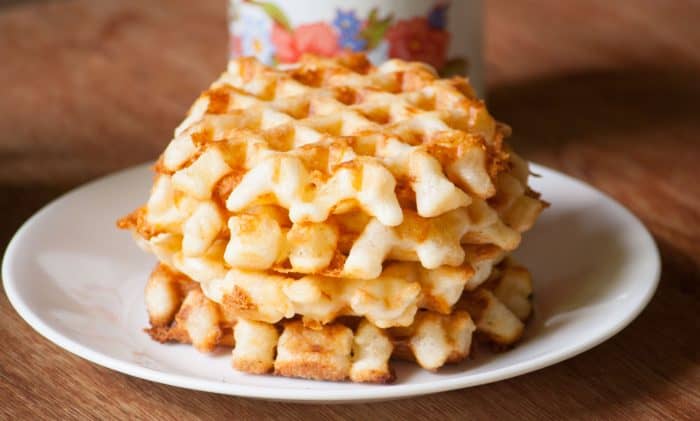 Look at all that cheesy goodness ?
Are you a cheese lover? I have to warn you, is hard to stop after the first one ?
Chipa and Cuñapé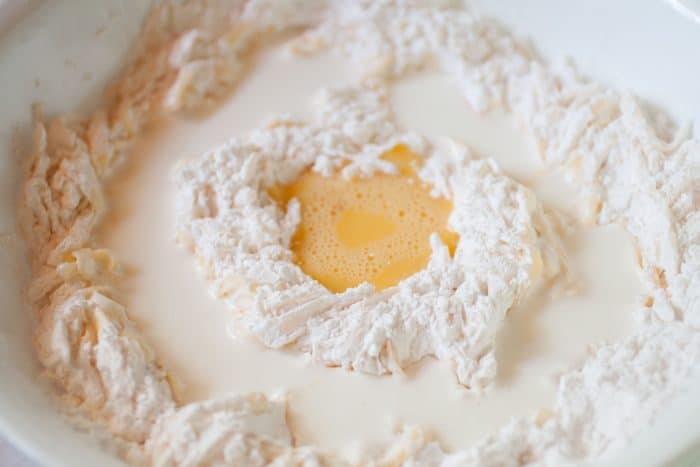 The batter for this recipe has the same ingredients as chipa licuadora (you might want to check this recipe), but in different amounts.
This recipe has very few ingredients. Cassava flour, cheese, eggs, milk and oil.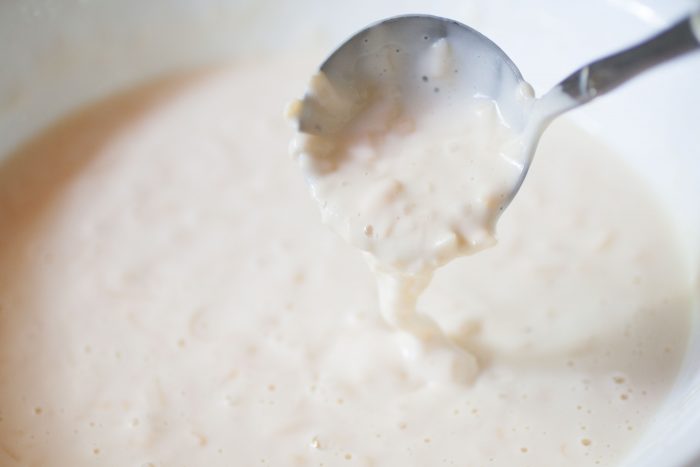 The ingredients for chipa licuadora are mixed in a blender, making the batter very smooth. I wanted to see the little pieces of cheese, so I mixed everything in one bowl.
So the batter looks like the one for chipa licuadora. But the flavor is more like cuñapé.
And what is cuñapé?
Cuñapé is a delicious, Bolivian cheesy bread. With a nice, firm crust and a chewy crumb. Bolivia's favorite snack, or at least mine ?
How to serve cheesy waffles
A very popular South American dessert is a slice of cheese, spread with a layer of guava jam.
That sweet - savory combo is my favorite way to serve these cheesy waffles.
Honey. I love honey, and it goes well with cheese.
Pizza sauce goes amazingly well with these waffles.
How would you serve these waffles?
If you liked the recipe above, please consider rating the recipe and leaving a comment below! and share your picture on Instagram with the hashtag #chipabythedozen
Recipe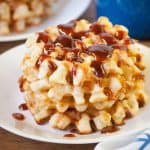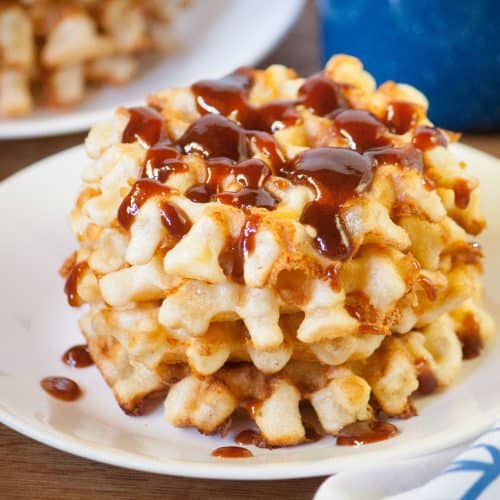 Print Recipe
Cheese Waffles (Gluten-Free)
Crispy, chewy, cheesy waffles made with cassava flour which is naturally gluten-free.
Ingredients
Batter:
3

cups

cassava starch

(366g)

1-½

cups

grated cheese

Holland or Cheddar (169.5g)

1

teaspoon

salt

2

eggs

½

cup

vegetal oil

(118ml)

1-¼

cups

sour milk

(295ml)
Instructions
Heat waffle maker on high.

In a large bowl, add all the ingredients and mix well with a spoon.

Grease waffle maker with oil or butter and add 2 tablespoons of batter into each square.

Close waffle maker and cook for 4 minutes.

Remove and repeat until all batter is finished.

If desired, serve with guava jam or honey.
Notes
These cheese waffles can be served with a little honey, guava jam or pizza sauce.
Nutrition
I'm sharing this recipe at Fiesta Friday, hosted by Angie and her co-host is
Mollie @ Frugal Hausfrau