We've been having ice cream every day for a few weeks now. My boys love the anticipation of what flavors to mix each afternoon, it's been so much fun!
With so many pineapples on sale, yesterday we enjoyed this delicious pineapple and coconut ice cream. The pineapple contains a lot of water, if is used by itself, the ice cream doesn't come out very creamy. You need to add some liquid.
I used coconut milk, which is very creamy and adds flavor to the ice cream. But if you do not have it, you can use coconut yogurt or just plain yogurt. I didn't add any sugar, it's not overly sweet if you wish to, add some honey or sugar.
I'm sure there are a lot of places where you can get frozen fruit, but if you can't, like here in Paraguay, the night before do the following:
Peel pineapples cut them into pieces of about 4cm, put them on a tray covered with wax paper and freeze. The next day you have fruit ready for some ice cream.
Another thing I like to do is, cut a lot of fruit, and after it has frozen, put them away in smaller portions. Take advantage when you see cheap fruit!
Finally the coconut. I recommend toasting some coconut in a frying pan before serving. I know is one more step, but when toasted, the coconut flavors intensify, making this ice cream a real treat.
Recipe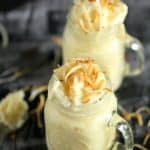 Print Recipe
Healthy Pineapple Coconut Ice Cream
Pineapples and coconut go together so well on this delicious, healthy ice cream.
Ingredients
500

g

peeled

cut and frozen pineapple

1

cup

coconut milk

or coconut yogurt

4

tablespoons

toasted coconut
Instructions
Add the pineapple and coconut milk in the food processor. Process until creamy. Serve immediately with a some toasted coconut.
Notes
Freeze fruit the night before to use for this ice cream.
Nutrition
Save