These mini banoffee pies are such a refreshing dessert. A great combination of textures and flavors. Enjoy it with a cup of hot tea.
I´m participating in a food challenge that takes me to the United Kingdom. I really enjoy these challenges. Looking for a recipe that I´ve never made before. Making it and then having a bite of it.
When I saw that our destination was the UK, I immediately thought of the amazing banoffee pie my friend Rachel served us a few years ago. That caramel - toffee filling is one of my weaknesses. I've been dreaming about it for several years. What kept me from making it? well, the time it takes to boil a can of sweetened condensed milk. But this challenge made the decision easier, and it was worth it. Now I´m so looking forward to making it again, and so is my family.
Banoffee pie was created by Nigel Mackenzie and his chef, Ian Dowding for his restaurant The Hungry Monk. The name is a combination of the ingredients of this pie, banana and toffee. The texture of toffee and flavor comes between caramel and dulce de leche. Some recipes call for dulce de leche instead, because of how easy it is to get. But the flavor doesn´t compare to boiled sweetened condensed milk. I encourage you get it over with and boil a can (or several 🙂) of sweetened condensed milk and try this delicious pie.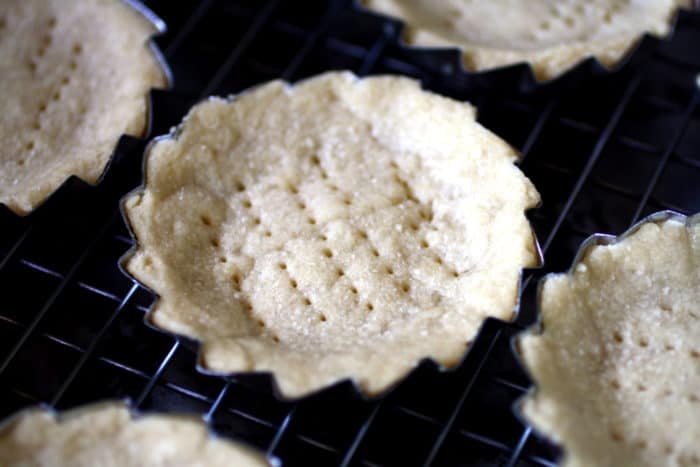 There are two options for the crust. Crushed cookies with a little butter, or the one I made, which is flour, rice flour and butter (an adaptation of Jamie Oliver´s recipe).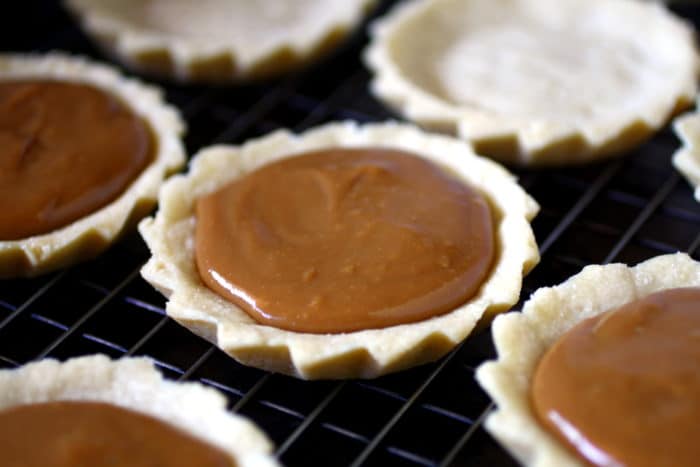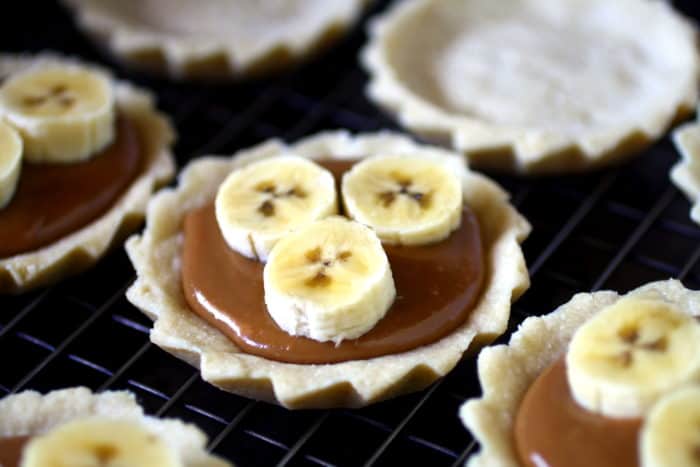 These are individual pies, but if you don´t have individual tart tins, use a large one instead.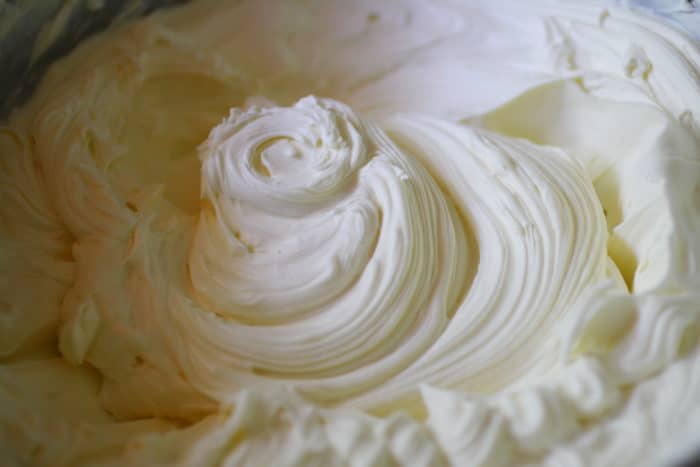 10 minutes before whipping your cream, set it in the freezer. After 10 minutes, whip it with an electric hand beater till thickened.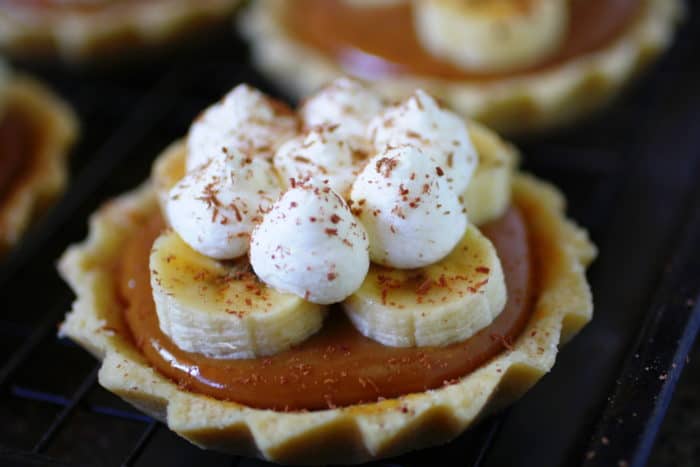 These individual banoffee pies are perfect for making ahead. You can make the base and the toffee a few days before and keep the base in a sealed container. On serving day, whip up the cream, slice some bananas y assemble your delicious banoffee pies. Serve them with a hot cup of tea.
If you liked the recipe above, please consider rating the recipe and leaving a comment below! and share your picture on Instagram with the hashtag #chipabythedozen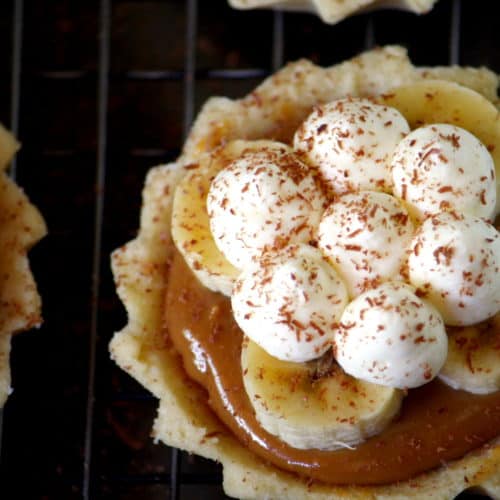 Print Recipe
Mini Banoffee Pies
These mini banoffee pies are such a refreshing dessert. A great combination of textures and flavors. Enjoy it with a cup of hot tea.
Ingredients
Base
1-3/4

cup

flour

(250g)

1/4

cup

rice flour

(50g)

1

egg

2/3

cup

cold butter

(151g)

1/4

teaspoon

of salt
Filling
1

can condensed milk

4

bananas

1/2 to 1

cup

whipping cream

1 to 2

tablespoons

icing sugar

Grated chocolate

if desired
Instructions
In a large saucepan, put a can of condensed milk and water. Boil for 3 hours. Making sure that the can is covered with water at all times. After 3 hours, remove the can from the hot water with kitchen tongs and allow to cool completely before using.

For the base: preheat the oven to 176°C/350°F. In a food processor, add flours, butter, egg and salt. Pulse 5 times. In a floured surface, knead the dough until it comes together. Grease 12 - 8cm, tart tins or a large one (24cm). For the individual pies: divide the dough into 12 portions; with the help of your fingertips, spread the dough covering the whole tin. Prick the bottom with a fork. For one big pie: On a floured surface, roll the dough, cover the pie tin with dough. Prick the base with a fork. Bake the individual pies for 15 minutes and for 20 minutes the big one. Let it cool completly.

Whipping cream: 10 minutes before beating, put in the freezer. Remove from the freezer, pour the cream in a medium bowl and add icing sugar. Beat with electric mixer until thick.

To assemble: divide the toffee among the 12 pie crusts. Add sliced bananas. Spread whipped cream evenly and if desired, grate a little chocolate on top.
Notes
Things you can do ahead of time:
Boil condensed milk (a few days before serving)
Bake the base and keep it in a sealed container (a few days before serving)
Cut bananas and squeeze half a lemon, and mix. Keep in the fridge (a few hours before serving)
Tips: Before assembling the pies, stick the toffee (in a microwave safe container) in the microwave for 30 seconds
Depending on how much cream you want use, you can cream 1/2 cup of cream with 1 tablespoon of sugar, or 1 cup of cream with 2 tablespoons of sugar.
The time on this recipe card does not include the 3 hours of boiling the condensed milk.
Nutrition
I´m sharing this recipe at Fiesta Friday, hosted by Angie and her cohosts this week are Laurena @ Life Diet Health and Trupti @ My Culinary Saga
Save
Save