This No-Bake Dulce de Leche Cheesecake Pie is creamy, melt in your mouth dessert.
Wow! This easy peasy cheesecake turned out perfect. Creamy and silky. Not overly sweet. Makes you go for another slice without feeling you are overindulging 😁
I just love cheesecakes ❤ Cheesecakes are creamy, with a crunchy crust. Flavors can vary a lot. You can add fruits, chocolate, nuts, caramel, or coffee, just use your imagination. This recipe is a no-bake cheesecake, where you just mix a few ingredients and end up with an amazing dessert!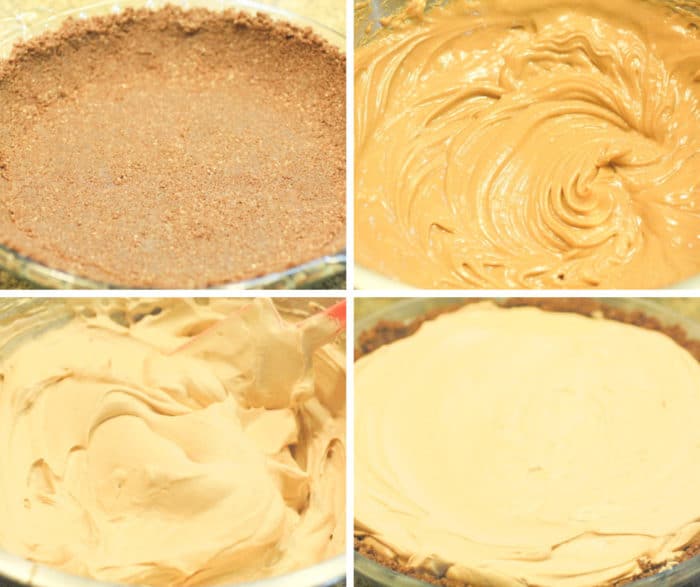 What is Dulce de Leche?
Dulce de leche is boiled down milk and sugar. Depending on the region, it might contain vanilla, cinnamon or cloves.
I'm a little obsessed with dulce de leche and I'm very pleased that, here in Paraguay, we can get it at any supermarket cheaply. If you can't find it, check out this recipe:
Now, this cheesecake pie comes together rather quickly. Let's talk about the crust first: I used chocolate cookies. I like to choose butter cookies, I find that they hold together better than other cookies. That said, I really like Oreos too. When using Oreos, I use the whole cookie, filling too and add less butter, more like a 1/4 cup.
Second, the filling: I like to work with everything at room temperature. So 15 to 20 minutes before I start, I get the cream cheese and dulce de leche out of the fridge and set them aside while I make the crust or base for the cheesecake.
How to whip cream: 10 minutes before I need to whip some cream, I set it in the freezer along with my bowl and the whisk. After 10 minutes, I get it out and start whipping. Whip for about 5 minutes on medium-high, or until soft peak.
Other options are: cool whip or chantilly (ours come in a powder form)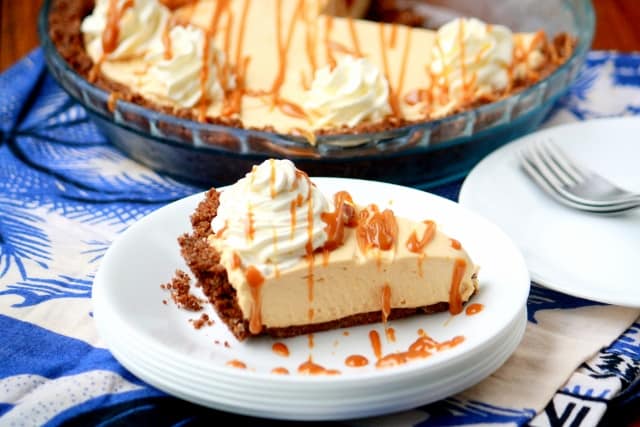 Have a slice or two 😉 and enjoy your weekend!
Do you like dulce de leche? check out these tasty recipes:
If you liked the recipe above, please consider rating the recipe and leaving a comment below! and share your picture on Instagram with the hashtag #chipabythedozen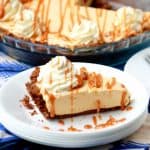 Print Recipe
No-Bake Dulce de Leche Cheesecake Pie
Creamy and silky. Not overly sweet. It makes you think you can eat more than one slice.
Ingredients
For the base:
1-1/4

cups

chocolate cookie crumbs (125g)

1/4

cup

sugar (50g)

1/3

cup

butter

melted (75.6g)
For the cheesecake filling:
3/4

cup

cream cheese (170g)

1

cup

dulce de leche (304g)

2

cups

whipped cream

(1 cup whipping cream -- or 2 cups cool whip)

1

teaspoon

vanilla extract
If desired, top with:
1/4

cup

whipped cream

2

tablespoons

dulce de leche
Instructions
For the base: In a medium bowl mix the cookie crumbs, sugar, and butter. Press mixture into a pie pan (if you don´t have one, use an 8×8 inch baking dish). Keep it in the freezer while making the filling.

For the filling: with an electric mixer, beat cream cheese, dulce de leche and vanilla until creamy. To this, add one cup of whipped cream and fold. Add the rest of the whipped cream and fold until well incorporated.

Pour the filling into the prepared crust and refrigerate for an hour before serving. If desired, serve with whipped cream and some dulce de leche (heat up the dulce de leche and drizzle over the cheesecake).
Notes
Cover with plastic film and keep in the refrigerator for up to a week.
Nutrition
Places I'm sharing this recipe:
Meal Plan Monday, hosted by SOUTHERN PLATE, SOUTHERN BITE, A SOUTHERN SOUL, BIG BEAR'S WIFE, AND JULIA'S SIMPLY SOUTHERN
Fiesta Friday, hosted by Angie and this week her co-host is Diann @ Of Goats and Greens.