Take advantage of those over ripened bananas to make this oatmeal banana bread.
Banana bread is perfect as a snack or for breakfast. You can whip it up in just a few minutes with simple ingredients from the pantry.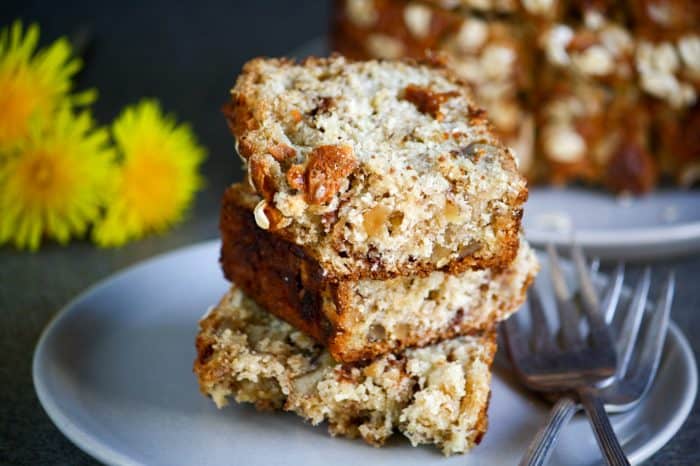 This bread it's on the heavier side compared to other quick bread. That's because it has quite a bit of old-fashioned oats.
It's a recipe to which you can vary the ingredients, just remember that the texture of the bread would change a little with the changes. But the aroma and rich flavor would remain the same.
Ingredients for banana bread
Bananas: Use overripe bananas. Those black ones that we all throw away are the ones that give it an incredible aroma.
Butter: You can use butter, olive oil, vegetable oil, or lard. Each fat gives it a slightly different texture.
Sugar: Use white or brown sugar. I haven't used artificial sweetener in a long time and I can't give you the exact amount, but you can add some and taste the batter before baking.
Oats: For this recipe I used old-fashioned oats, which gives it more texture than instant oats and won't disappear after baking. You can use whatever you have on hand.
Walnuts: You can use whatever kind of nut you like and have on hand. If you don't like them, you can skip them. I used walnuts.
How to make it:
Before mixing everything, turn on the oven and grease a loaf pan.
This bread is mixed in a single bowl, not much to wash later 🙂
Start by mixing mashed banana, melted butter, eggs, sugar and vanilla.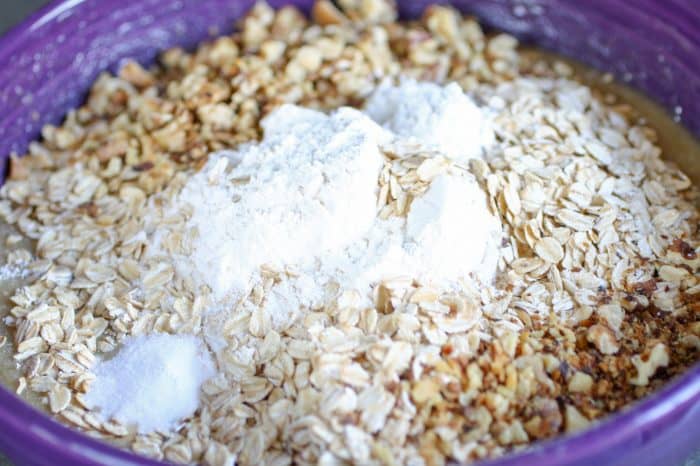 To this mixture add the rest of the ingredients and mix it slowly, only until everything is incorporated.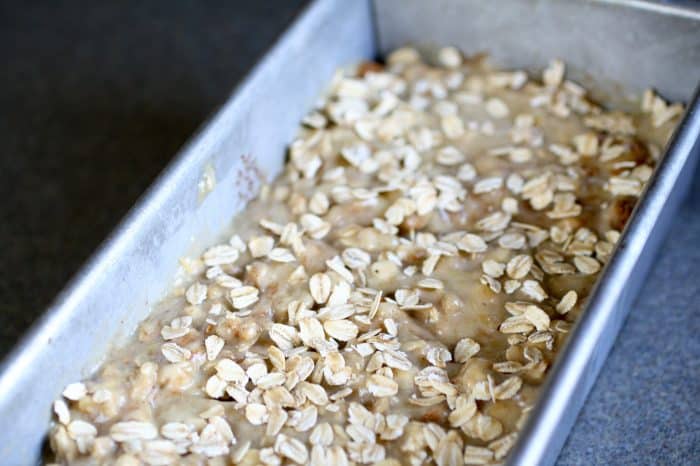 Once the batter is ready, pour it in the already prepared pan and bake it.
As I mentioned before, the batter is a little heavy, and it takes time to bake. If you see the top browning too quickly but that the center is still not cooked, cover the pan with aluminum foil and finish baking.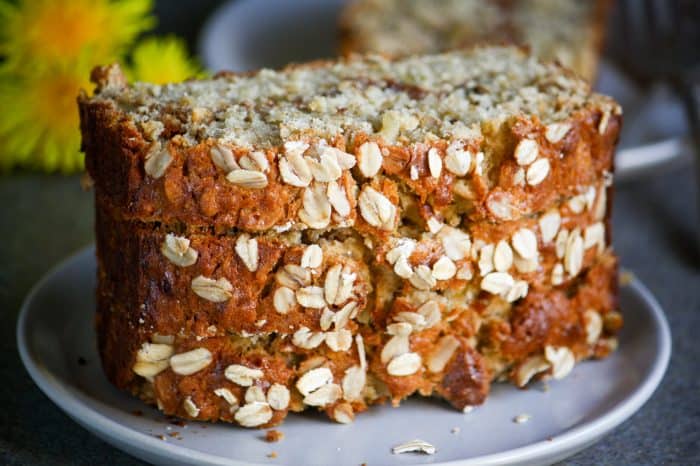 Baking pans: Not everyone has a loaf pan. You can bake this bread in a 20x20 cm (9x9 inches) square pan. Cooking time is going to be a little less, maybe only 30 minutes.
Recipes you might like:
If you liked the recipe above, please consider rating the recipe and leaving a comment below! and share your picture on Instagram with the hashtag #chipabythedozen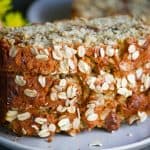 Print Recipe
Oatmeal Banana Bread
A quick bread made with oats, bananas, and nuts.
Ingredients
1-1/2

cup

mashed banana

(450g)

1/2

cup

melted butter

(113g)

2

eggs

1

cup

sugar

(200g)

2

teaspoons

vanilla

1-1/2

cup

flour

(180g)

1

cup

old-fashioned oats

(90g)

2-1/2

teaspoon

baking powder

1

teaspoon

salt

2

teaspoons

ground cinnamon

1

cup

walnuts,

chopped (125g)

2

tablespoons

old-fashioned oats,

if desired to sprinkle before baking
Instructions
Preheat the oven to 180C (350F) and grease a loaf pan (26x13centimeters)(10x5 inches)

In a large bowl, mix together the banana, melted butter, eggs, sugar, and vanilla.

Add the rest of the ingredients, and mix with a ladle until well incorporated.

Pour the batter in the prepared pan. If desired, sprinkle 2 tablespoons oats on top. Bake for 45 to 50 minutes, or until the center of the bread is cooked (insert the tip of a knife and it should come out clean).

Leave in the pan for 15 minutes before removing to a cooling rack.

Let cool completely and serve.
Notes
If you don't like walnuts, you can skip them, or you can use the one you like best.
The bread can be kept at room temperature for up to 3 days, or in the refrigerator for up to 10 days. You can also keep in the freezer for up to 3 months.