Homemade cinnamon rolls are easy to make. Soft, warm, gooey center, and drizzled with vanilla icing.
A few years ago, I shared this amazing cinnamon roll recipe here at Chipa by the Dozen.
So fluffy and delicious, perfect for our winter weather. And today I decided to update the post, but not the recipe itself, because it's perfect 😉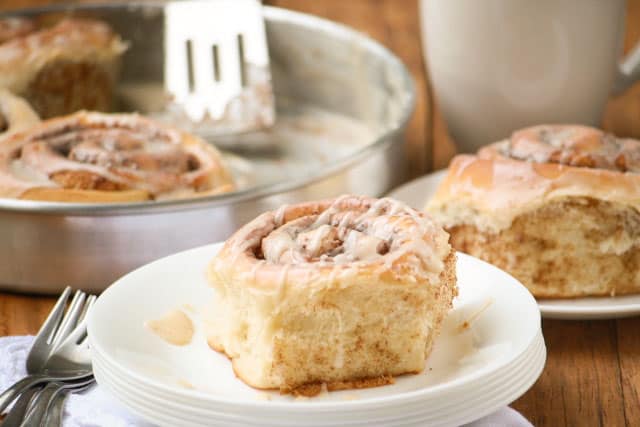 Recently we've had more and more places selling cinnamon rolls here in Paraguay.
And of course, they are expensive. So, for this update, I want to share with you some more details and great tips for making homemade cinnamon rolls that are incredibly delicious and cheap to make.
Cheap, homemade cinnamon rolls
Yes, making cinnamon rolls at home is much cheaper than store-bought ones.
This recipe has simple ingredients, that you might already have in your cupboard. If you don't bake often, you might have to buy some of these ingredients, but surely you'll find them in any supermarket.
How to make cinnamon rolls from scratch
Your ingredients need to be at room temperature. You need to get them out of the refrigerator 30 minutes before using them.
Have all the ingredients on hand before you start.
Read the recipe about 3 times before you start. Especially if you have never made yeast bread before.
Do not substitute the ingredients. It says whole milk, not skim milk.
Respect the proofing time, and keep the dough in a warm place.
Although I just told you not to substitute the ingredients, it happens that right now we can't find brown sugar in Paraguay. To get that moist center, you need brown sugar. I have made them with white sugar and they come out nice, but not like when it has the right sugar.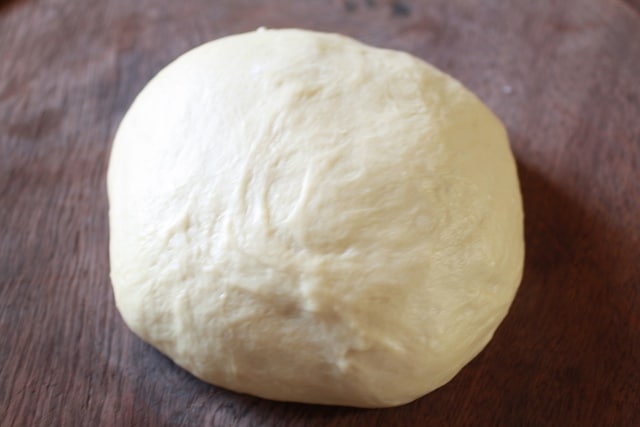 Kneading yeast dough:
This dough is a bit sticky. You can flour your hands to knead it, but not the table or surface on which you are going to work.
At first, it seems a bit difficult, but after 5 minutes the dough becomes more elastic and does not stick to your hands.
You can knead it by hand (kids love to help with this part), or use an electric mixer with the kneading hook attached, or use a breadmaker.
You need to let the dough rest for an hour and a half or until it grows twice its size. Sometimes it takes 2 hours, especially in the winter.
How to help yeast dough rise:
Yeast likes warm places. In the summer, it rises very quickly, but in the winter, it needs a little bit of help.
The method that works best for me is to cover my bowl completely with a large garbage bag, a new of course.
Another method is to put the bowl in the oven with the light on. And the last one is to put it on top of the dryer while it's still on ☺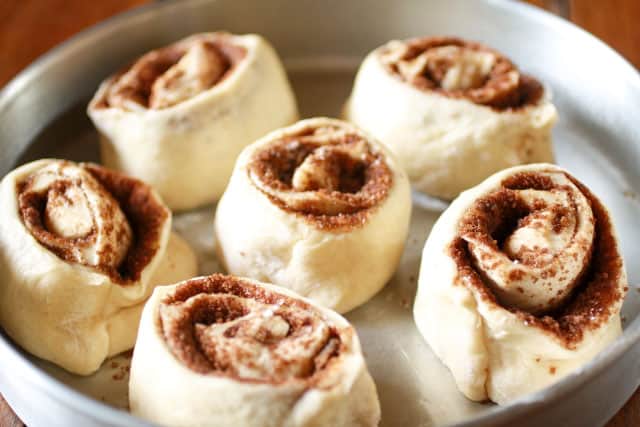 After proofing and shaping the rolls, you can cover the pan and set it in the refrigerator for baking the next day.
Because, who doesn't want delicious, hot cinnamon rolls fresh out of the oven for breakfast?
Once in the refrigerator, these rolls will continue to rise, but a little more slowly.
The next day you do not need to preheat the oven. Place the cinnamon rolls in the oven, and then turn it on. There is no excuse for not eating something delicious on these cold mornings!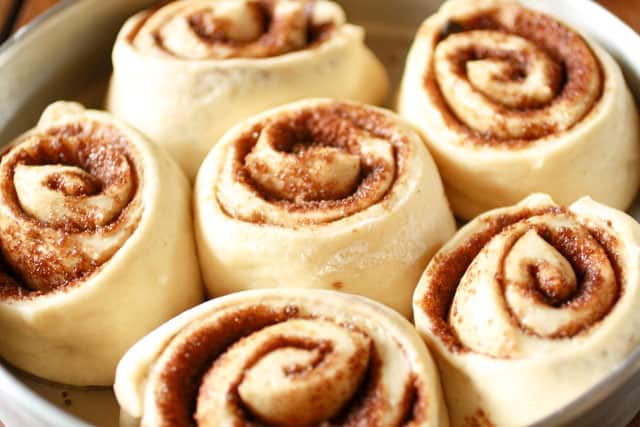 If you did not put your dough in the fridge, cover it with a cloth and leave it in a warm place again. This time for about 30 minutes.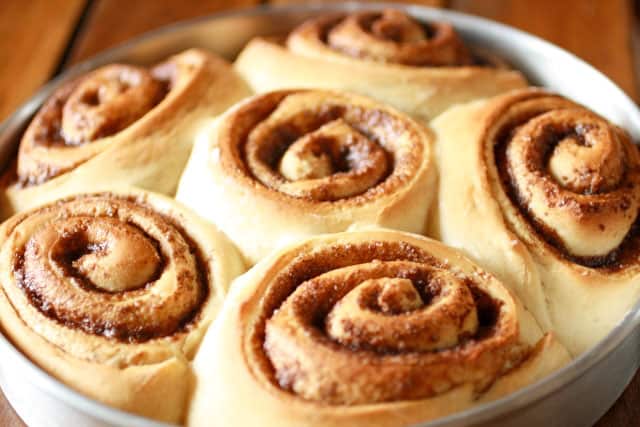 The house is going to smell amazing! and the good thing about these cinnamon rolls is that they can be eaten fresh from the oven! but before that, the glaze. 😍
While your rolls are in the oven, prepare the glaze. The icing sugar has to be very fine, choose the best to have better results.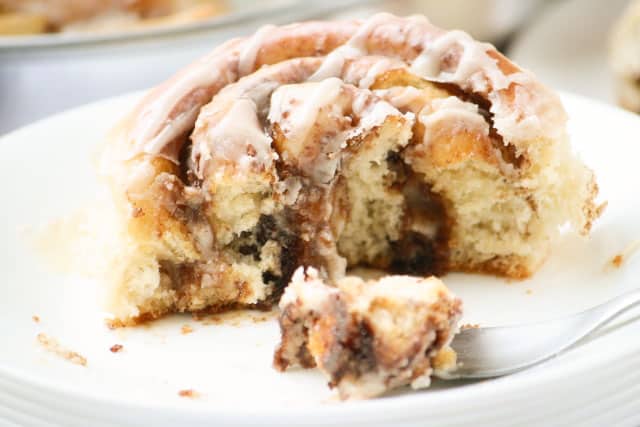 Now, if you have some left over and you want to eat them the next day, heat it up for about 15 seconds in the microwave and they are delicious again.
Recipes you might like:
If you liked the recipe above, please consider rating the recipe and leaving a comment below! and share your picture on Instagram with the hashtag #chipabythedozen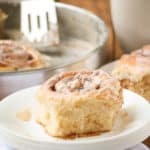 Print Recipe
Homemade, Fluffy Cinnamon Rolls
Soft, fluffy and so delicious! You'll never go back to store-bought cinnamon rolls.
Ingredients
2

teaspoons

active dry yeast or instant yeast

2

tablespoons

room-temperature water

1

teaspoon

sugar

1

cup

of whole milk

room-temperature (236ml)

1

egg

2

tablespoons

heavy cream

I use the canned kind or sour cream, room-temperature

1-1/2

teaspoons

salt

1/4

cup

sugar

(50g)

3-1/2

cups

all-purpose flour

(437.5g)
Filling:
4

tablespoons

butter,

soften (56.7g)

3/4

cup

brown sugar

(150g)

2

tablespoons

flour

2

tablespoons

ground cinnamon
Icing:
2

cups

icing sugar

(250g)

3

tablespoons

milk
Instructions
In a small bowl, pour water, yeast and a teaspoon of sugar. Set aside for 8 minutes.

While the yeast is activating, mix wet ingredients in a bowl and dry ingredients in another.

Add the yeast and the liquid ingredients to the flour. Mix well.

Put the dough on a flat surface and cover your hands in flour. This dough will be a bit sticky, so the flour will prevent it from being stuck to your hands. Do this every two minutes or every time you feel it too sticky. When working with this dough, I prefer flouring my hands rather than sprinkling it on the countertop. Knead for 10 minutes.

Place the dough in a greased bowl (use neutral, vegetal oil), flip the dough to cover it in oil, and cover with plastic film.

Set aside in a warm place. I generally leave it in the laundry room. This time, I let it rise for an hour and a half. When the weather is hot, it takes only an hour. It will be ready by the time it has doubled its size.

After the dough has rested, place it on a floured flat surface and roll it into a rectangle (about 50x30cm / 18"x11"). Spread butter on it (I used my fingers) and sprinkle the cinnamon and sugar mixture. Roll the dough and pinch the two ends to seal.

Using a sharp knife, cut into 12 equal portions. Put the rolls in a greased baking pan; cover it with plastic wrap and let rest for 30 minutes. My oven takes about 15 minutes to reach 175ºC/350ºF, so I turn it on considering the 30 minutes rest the dough needs.

Bake the cinnamon rolls for 25-30 minutes. Make the icing: mix icing sugar and milk. Pour icing over hot rolls. Serve.
Video
Notes
It's very important to have all the ingredients at room temperature.
If you want to serve it freshly made in the morning: after cutting the rolls and covering them with a cloth, you can keep them in the refrigerator and take them out the next day to bake them.
Nutrition