This Pão de Deus (Portuguese bread) which means bread of God, will not disappoint you. So fluffy and soft in the inside and with a crunchy coconut crust. Each bite is one more step towards heaven.
I get to participate in a monthly cooking challenge. Where we, a group of bloggers, try a new recipe from another country. This month was Portugal. There were so many delicious recipes, so hard to choose only one! But I had my eye on this Pão de Deus recipe for a few months already. That coconut crust stole my heart!
The dough has lemon zest, a little bit of rum and a splash of vanilla. These 3 ingredients are wonderful together. While kneading this dough you can smell the amazing aroma, makes you want to knead it for more then 10 minutes. The dough is very sticky. But after the kneading time, its so much easier to handle. If needed, add a little bit of flour to the dough to make it easier to knead.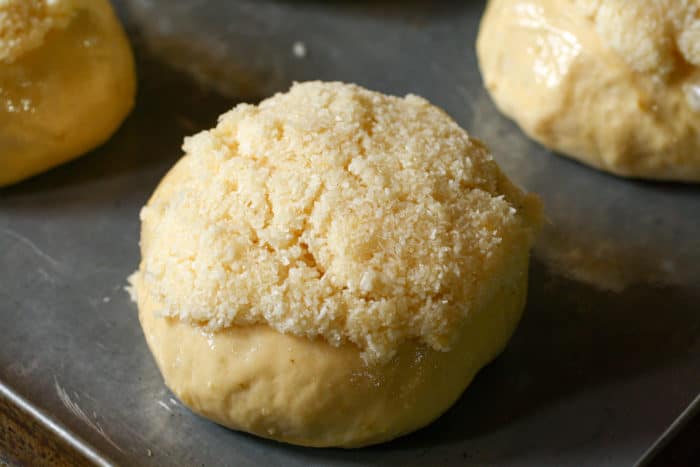 The mixture for the coconut crust seemed dried to me. So after brushing the dough with the beaten egg, I added what was left over to the coconut mixture.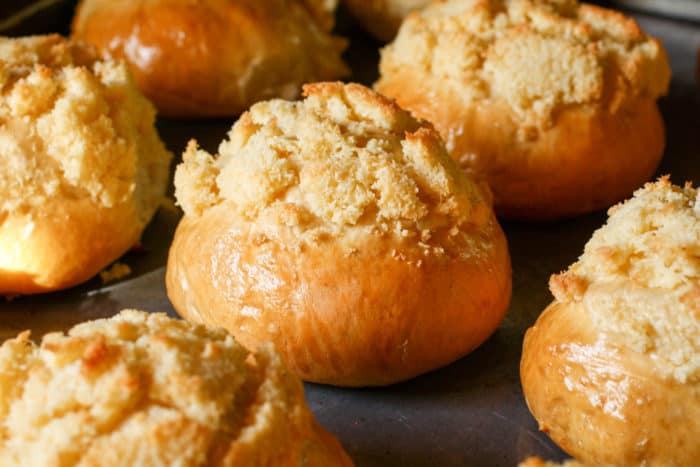 To put the coconut crust on top of the bread, I got my hands wet, and flattened about a tablespoonful and used that to covered the bread.
While the bread is baking, some pieces of the coconut crust fell to the tray, cooking them a little more and making them more crispy. Mouth watering!
If you liked the recipe above, please consider rating the recipe and leaving a comment below! and share your picture on Instagram with the hashtag #chipabythedozen
Recipe from El Gato Goloso.
I'm sharing this recipe at Fiesta Friday hosted by Angie and her cohost this week is Mollie @ The Frugal Hausfrau.
Pão de Deus (Portuguese bread)
This Pão de Deus (Portuguese bread) which means bread of God, will not disappoint you. So fluffy and soft in the inside and with a crunchy coconut crust.
Ingredients
For the dough:
1/2

cup

warm milk

(120 g)

1/3

cup

water at room temperature

(80 g)

1

tablespoon

dry yeast

(7 g)

2

eggs

1

tablespoon

rum

1

teaspoon

vanilla extract

1

tablespoon

lemon zest

3 -1/2

cups

all-purpose flour

(450 g)

1/4

cup

+ 2 tablespoons sugar

(80 g)

1/4

cup

butter or margarine at room temperature (40 g)

1/2

teaspoon

salt
For coconut crust
2

cups

grated coconut

(150 g)

1/2

cup

+ 1 tablespoon of sugar

(110 g)

1

egg
Additional:
1

beaten egg for brushing

icing sugar
Instructions
In a large bowl, add milk, water and yeast. Mix and let stand for 5 minutes. Add eggs, rum, vanilla, and lemon zest to this.

Using an electric mixer, beat the liquid mixture for 3 minutes plus one cup of flour. Add the rest of the flour and salt. Mix with a wooden ladle and put the dough on a flat surface and start kneading.

Add the butter and continue kneading. Knead for 10 minutes. Grease a large bowl and put the dough. Cover with a cloth and let rest for 1 hour (if it is summer) or 1 hour and 45 minutes (in the winter).

While the dough is resting, in a medium bowl mix all the ingredients for the coconut crust.

Divide the dough into 10 equal portions, about 90 g each, and form round buns. Put them in a greased tray and brush with the beaten egg. Let stand for 45 minutes. Heat the oven to 180 C / 350 F.

Add the coconut crust on top of each bread, being careful not to flatten the rolls.

Bake for 25 to 30 minutes or until golden brown.

Allow to cool completely before sprinkling with icing sugar.
Recipe Notes
It's a very sticky dough, but after 10 minutes it becomes very soft and less sticky. 

If you find it difficult to knead, add a little more flour.

If you know your oven, you have an idea of ​​how long it takes to reach the temperature you need. Thinking about that, turn on your oven ahead of time.

Store in an airtight container at room temperature for up to 3 days.

The time on this card does not include the resting time of the dough which is 1 hour and 45 minutes.