.
I love mangoes. About a month ago we started having mangoes everywhere. I think almost every house in our town has a mango tree in their yard; it gives much needed shade for our warm weather here in Paraguay, but at the same time it gives a lot of fruit, so much that the streets and the yards are full of decomposed mangoes. A pity, thinking of all those countries where mango is so expensive and not many can enjoy it . mango popsicle.
I think this mango popsicle turned out really well! I went to the yard and chose very ripe and soft mangoes. As I was peeling them, there was so much juice dripping, I squeezed them a little with my hands and I had plenty of juice. I used the juice/puree and mixed it with some sour cream. Sour cream (you can use double cream or unflavored yogurt ) makes them very creamy, like those bought in ice cream shops. This mango ice cream is creamy and refreshing. Perfect for our summer. What else do you make with mangoes? mmm.. I´m thinking.. mango salad with some spicy mango dressing.. yum yum mango popsicle
.
.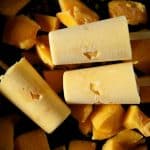 Print Recipe
Mango Popsicle
This mango popsicle is great for as a summer snack. Low in sugar, creamy and delicious!
Ingredients
8

tablespoons

sour cream or unflavored yogurt

8

tablespoons

mango puree

4

tablespoons

of sugar

1/4

cup

chopped mango

6

popsicle cups/molds

6

popsicle sticks
Instructions
In a medium bowl, add the sour cream, mango puree and sugar; Mix well until the sugar is incorporated.

Fill the popsicle molds in half. Add some mango and fill with the rest with the mango cream mixture. Freeze for 5 hours or overnight.
Nutrition
Save