This post may have affiliate links, which means I may receive commissions if you choose to purchase through links I provide (at no extra cost to you). Thank you for supporting the work I put into this site!
Doro wot or doro wat is a rich and flavorful Ethiopian spicy chicken stew. Slowly simmered in a blend of robust spices.
This is the first Ethiopian dish I learned to cook. It has a rich thick sauce that is so delicious and easy to make! My family's favorite.
Ethiopian Cuisine
Strong, spicy flavors and rich stews characterize Ethiopian cuisine, giving it a unique flair.
It consists of vegetables and often very spicy meat dishes. This is usually in the form of wat, a thick stew, served atop injera, a large sourdough flatbread, made out of fermented teff flour.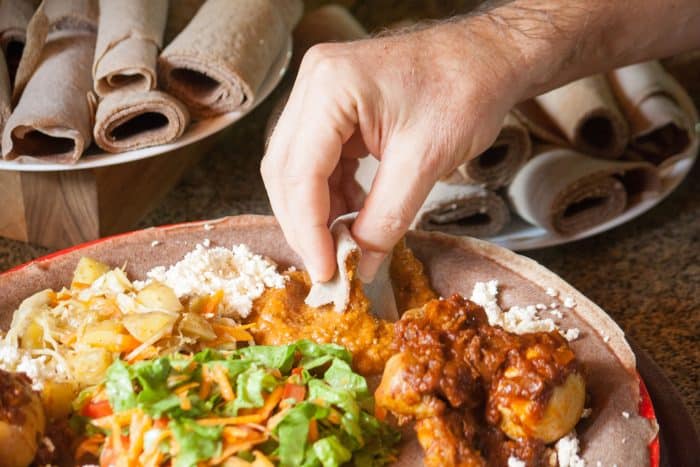 When eating Ethiopian food use your hands! Eating with your hands is a standard practice in Ethiopia. It may require some getting used to but practice makes perfect, and only use your right hand to eat!
Ingredients for Making Doro Wot (Ethiopian Spicy Chicken Stew)
The ingredients for making this chicken stew are very simple, red onions, lots of garlic and grated ginger. That is your base for an amazing thick sauce.
You'll need a special spice called berbere.
Berbere is a spice blend used to season many Ethiopian dishes.
I used Asli Berbere to make this spicy chicken stew.
How to Make Doro Wot
Start by placing the onions in a medium saucepan, cook it without any fat until all the water has evaporated.
Add niter kibbeh (spiced butter) and let it cook on low for 10 minutes. Then add garlic, ginger, tomato paste, and berbere and let it cook for 5 minutes.
You'll get a rich sauce with a beautiful aroma!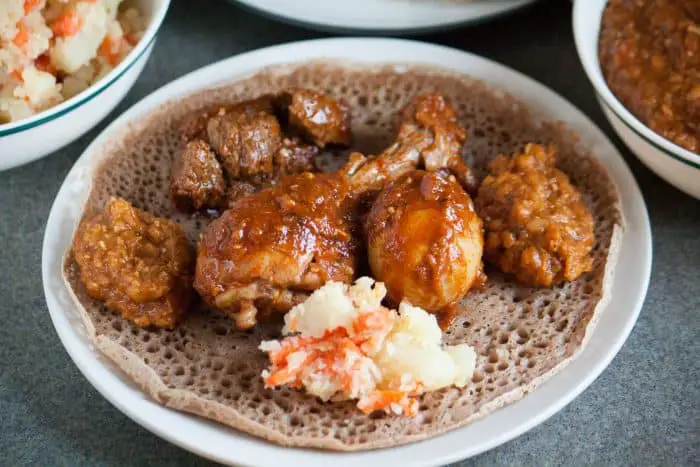 Brown some chicken legs, add them to the sauce with a splash of cooking wine and let it simmer while you peel some hard-boiled eggs.
I like to use chicken drumsticks for this dish and cook it until the meat almost falls apart because it's a lot easier to tear it when you are eating with your hands.
Traditionally doro wat is served with injera (sourdough flatbread), but it can also be served with some rice.
Enjoy making Ethiopian food at home!
Come check out my post on How to Make Ethiopian Food at Home (Ingredients) and come back next week for more Ethiopian recipes.
If you liked the recipe above, please consider rating the recipe and leaving a comment below! and share your picture on Instagram with the hashtag #chipabythedozen
Recipe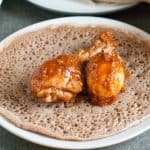 Print Recipe
Doro Wot (Ethiopian Spicy Chicken Stew)
Doro wot or doro wat is a rich and flavorful spicy chicken stew. Slowly simmered in a blend of robust spices.
Ingredients
2

red onions, finely chopped

2

tablespoons

minced garlic

2

tablespoons

grated fresh ginger

4

tablespoons

spiced butter (niter kibbeh)

3

tablespoons

berbere

3

tablespoons

tomato paste

1

cup

red wine

8

skinless, bone-in chicken drumsticks (about 2 pounds)

2

teaspoons

vegetable oil

½

cup

chicken broth

1

teaspoon

salt or to taste

4

hard-boiled eggs
Instructions
Put the onions in a large skillet over medium heat. Cook, stirring constantly, until water evaporates, about 10 minutes, taking care not to burn them. You may need to reduce the heat as the onions dry out. Add spiced butter and simmer on low for about 5 minutes. Add ginger, garlic, tomato paste, and berbere. Simmer for 10 to 15 minutes, adding enough wine to make it a thick sauce.

In a medium skillet brown chicken drumsticks with 2 teaspoons of vegetable oil. Add chicken to the sauce and simmer over very low heat for about 30 minutes, stirring occasionally, until the liquid is reduced and the sauce is very thick, occasionally spooning the sauce over the chicken.

10 minutes before turning off the stove, add hard-boiled eggs.

Serve hot with rice or injera.
Notes
If you want to serve doro wot with rice, you might want a runnier sauce, add chicken broth if desired. 
3 tablespoons of berbere, makes this stew mild.
Nutrition