This post may have affiliate links, which means I may receive commissions if you choose to purchase through links I provide (at no extra cost to you). Thank you for supporting the work I put into this site!
Niter Kibbeh, an aromatic clarified butter, is the key building block in many Ethiopian dishes.
Its preparation is similar to that of ghee, but niter kibbeh is simmered with spices before straining it, imparting a distinct, spicy aroma.
It is used in many Ethiopian dishes, Doro Wat, for example. It is usually made in large quantities and kept on hand for daily use.
It adds an incomparable flavor to dishes. Plain butter or oil can be substituted in Ethiopian recipes if you don't have the time to make niter kibbeh, but something special will be missing.
There are, of course, many different recipes for nitter kibbeh. 
The spices and other ingredients can be added during the clarification process, or the butter could be clarified and then the spices cooked with the butter-fat until it is well-flavored. In either case, it needs to be well strained and filtered through a cheese-cloth.
Spices for Niter Kibbeh
If you enjoy Indian food, you might have some of the ingredients in your pantry already.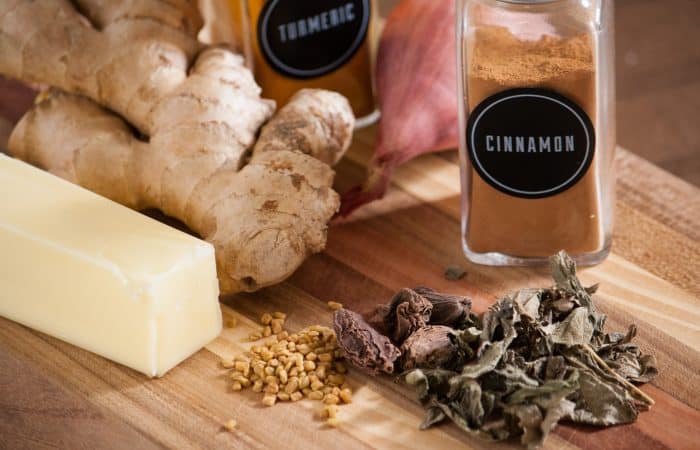 There are 2 ingredients that are hard to find outside Ethiopia, besobela and koseret.
Besobela is a variety of Holy Basil that grows wild in Ethiopia. Its purple flowers and leaves are sundried, then sometimes toasted before being ground.
I found it on Amazon, but it was going to take 2 months to arrive, so I omitted on my recipe.
Koseret is an Ethiopian herb that grows wild around Africa. It's often compared with oregano, but the plant is more similar to verbena.
And this one you can find on Amazon.
If you ever go to an Ethiopian restaurant, ask the waitress if you could buy some of their spices to make Niter Kibbeh. A lot of them are willing to sell you some.
How to Make Spiced Clarified Butter
The process for making clarified butter is very simple, just make sure you are using good quality unsalted butter.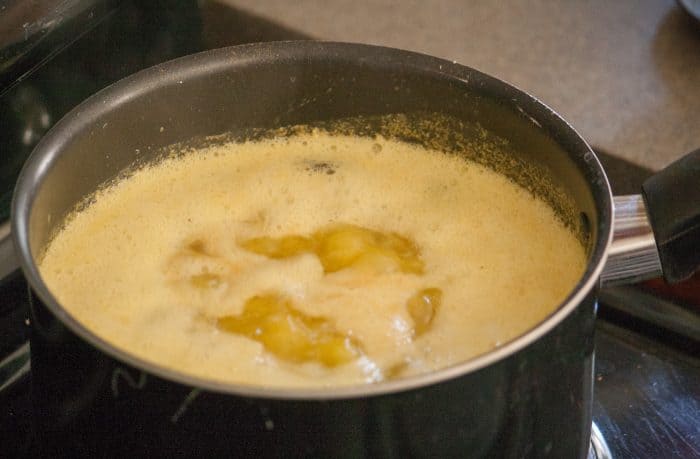 Add all the ingredients to a saucepan and simmer it over low heat until the water evaporates and the milk solids gently brown.
Once it's done, let it cool completely on the pan and then strain it and pour it into jars.
Niter Kibbeh is not only great for Ethiopian food but it also enhances the flavors of any curry.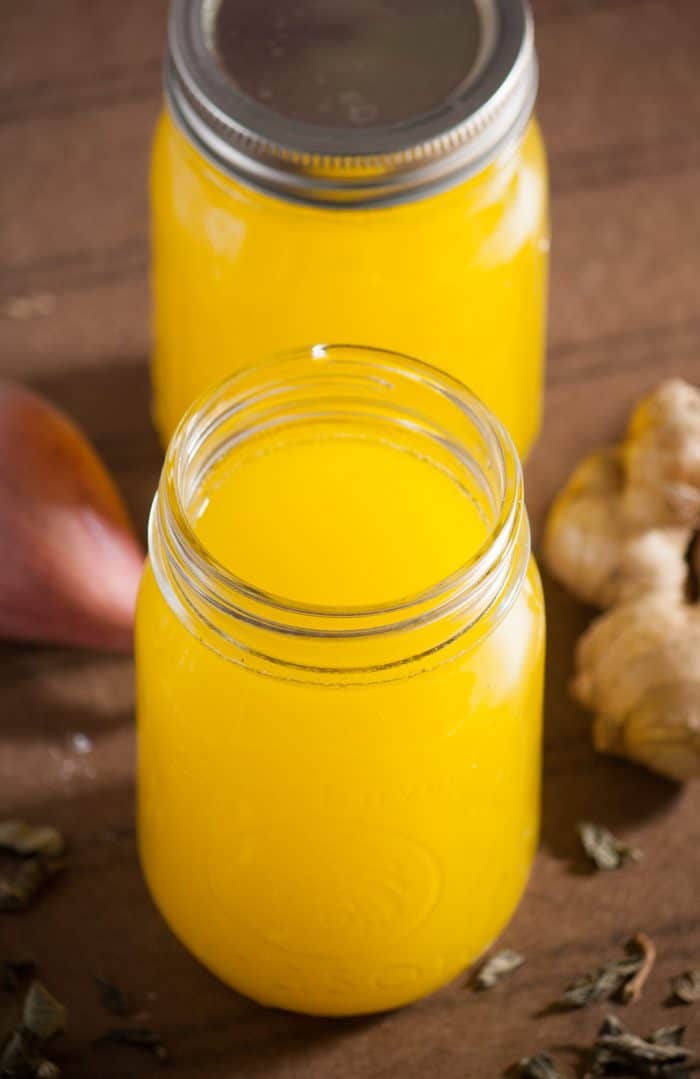 How do you keep niter kibbeh?
I've kept mine in the fridge for up to 2 months. I talked to a friend who lives in Ethiopia, and he said that they keep it at room temperature. But I haven't tried it.
Can I make dairy-free niter kibbeh?
Yes! use your favorite dairy-free butter and follow the instructions.
Recipes you might like:
If you liked the recipe above, please consider rating the recipe and leaving a comment below! and share your picture on Instagram with the hashtag #chipabythedozen
Recipe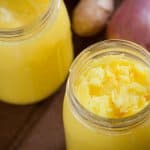 Print Recipe
Niter Kibbeh (Ethiopian Spiced Butter)
Niter Kibbeh is a seasoned, clarified butter used in Eritrean and Ethiopian cuisine.


Ingredients
4

cups

unsalted butter

(908 g)

6

garlic

cloves minced

2

tablespoons

grated ginger

1

shallot diced

3

tablespoons

koseret

1

teaspoon

fenugreek seeds

1

teaspoon

turmeric

½

teaspoon

ground nutmeg

1

teaspoon

dried oregano

1

cinnamon stick

5

black cardamom pots
Instructions
In a big saucepan add all the ingredients and simmer over low heat for 45 minutes.

If foam rises to the top, skim it off with a spoon.

Strain butter using a few layers of cheesecloth and set it over a clean, heat-proof container. Discarding any solids. Let cool completely at room temperature, and refrigerate, tightly covered, for up to 2 months.
Notes
400 calories in 4 tablespoons.
Makes 3- ½ cups of clarifed butter.
Nutrition