This post may have affiliate links, which means I may receive commissions if you choose to purchase through links I provide (at no extra cost to you). Thank you for supporting the work I put into this site!
Misir wot, a delicious, rich Ethiopian lentil stew. Flavored with niter kibbeh and berbere.
I hope you've been enjoying learning how to make Ethiopian food at home.
Wat or wot is a stew or curry made by cooking chopped onions slowly, without any fat or oil, until much of their moisture has been evaporated.
Fat (usually niter kibbeh) is then added, the onions and other aromatics are sautéed before the addition of other ingredients. This method makes the onions break down and thicken the stew. So, don't spik this step!
Lentils for Misir Wot
Red lentils are traditionally used in this recipe. Once cooked, they turned to a pale yellow.
I've made this recipe in Paraguay with brown lentils and got great results too.
Spices for this Lentil Stew
Watching some YouTube videos on how to make this lentil stew, some cooks were adding a spice I have never used before called, mekelesha. I found a recipe at jabberwockystew.com and adapted it for this dish.
Berbere is a must for this recipe! I recommend using Asli Berbere.
Vegan Ethiopian Food
I've heard from a lot of people that Ethiopian food is the best vegan food out there.
The flavors are amazing, there are so many recipes with lentils, ground chickpeas, and split peas.
If you are looking into making this misir wot without niter kibbeh (clarified butter) I found this recipe that you might want to try out!
Serving Misir Wot
Ethiopian food is served using a big pancake-like bread, topped with different dishes, like the lentils and doro wat (chicken stew). This bread called injera is used as a spoon. Yeah! you get to eat it with your hands!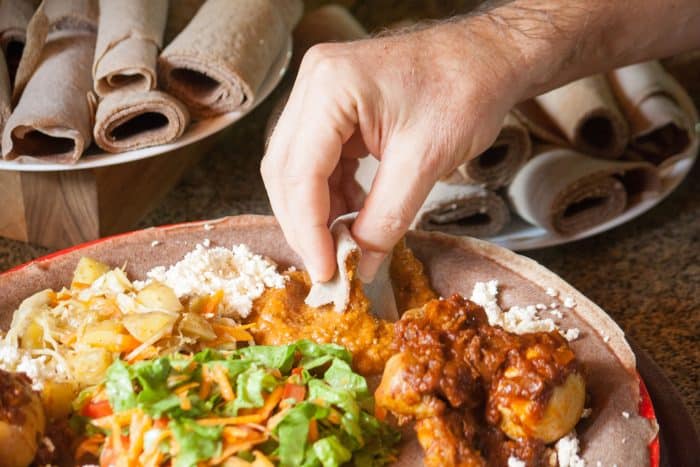 If you don't have time to make injera, serve it with some rice.
Recipes you might like:
If you liked the recipe above, please consider rating the recipe and leaving a comment below! and share your picture on Instagram with the hashtag #chipabythedozen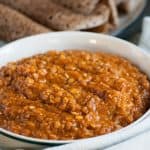 Print Recipe
Misir Wot (Ethiopian Spicy Lentils)
Misir wot is an Ethiopian styled stew spiced with niter kibbeh and berbere.
Ingredients
1

cup

red lentils

4

cups

water

1

red onions, finely chopped

1

tablespoon

 minced garlic

1

tablespoon

 grated fresh ginger

2

tablespoons

spiced butter (niter kibbeh)

1-1/2

tablespoons

berbere

1/2

teaspoon

ground black pepper

1/4

teaspoon

ground black cardamom

1/4

teaspoon

ground green cardamom

1/8

teaspoon

ground cinnamon

1/8

teaspoon

ground cumin

1/8

teaspoon

ground cloves

1/8

teaspoon

ground nutmeg

salt to taste
Instructions
In a medium saucepan, cook lentils with 4 cups of water. About 10 minutes or until soft. Don't drain.

Add the onions to a medium skillet over medium heat. Cook, stirring constantly, until water evaporates, about 10 minutes, taking care not to burn them. You may need to reduce the heat as the onions dry out. Add spiced butter and simmer on low for about 5 minutes. Add ginger, garlic, and spices. Simmer for 5 to 8 minutes, adding water if it starts sticking to the pan.

Add onion mixture to the lentils and simmer over low heat for about 10 minutes. Add water if necessary. It should have the consistency of a stew. Add salt to taste.
Notes
This keeps well in the freezer for up to 3 months. Or refrigerate for up to 5 days.
Nutrition