This post may have affiliate links, which means I may receive commissions if you choose to purchase through links I provide (at no extra cost to you). Thank you for supporting the work I put into this site!
Siga wot, an Ethiopian beef stew simmered in a rich sauce, spiced with an Ethiopian blend called berbere.
Siga or sega wot is another traditional dish from Ethiopia. The ingredients and the cooking method is very similar to that of doro wot (spicy chicken stew).
This is the third stew-like Ethiopian recipe I'm sharing with you. Trying to show you, that you can make Ethiopian food at home.
How to Make Wot
Wat or wot is a stew or curry made by cooking down chopped onions slowly, without any fat or oil, until much of their moisture has been evaporated.
Fat (usually niter kibbeh) is then added, the onions and other aromatics are sautéed before the addition of other ingredients. This method makes the onions break down and thicken the stew. 
I used this basic wot to make this siga wot, misir wot (lentil stew) and doro wot (chicken stew).
I like to make a big batch and then divide it and use it to make those three dishes. Or divide it into portions and freeze it.
Berbere for Ethiopian Food
You'll need a special spice called berbere.
Berbere is a spice blend used to season many Ethiopian dishes.
I used Asli Berbere to make this spicy beef stew.
If you live in a big city with a few Ethiopian restaurants, you might be able to find a store that sells berbere. Get it there! and if you are lucky, the restaurant might be willing to sell you some.
We've had people bring us berbere from Ethiopia, and every bag had a slightly different flavor.
If you are feeling courageous and want to make it at home, follow this video from Ethcooks. Although the whole video is not in English, the list of ingredients is.
Although siga wot traditionally is served with injera (sourdough pancake-like bread), it goes great with white rice.
Recipes you might like:
If you liked the recipe above, please consider rating the recipe and leaving a comment below! and share your picture on Instagram with the hashtag #chipabythedozen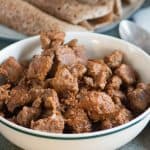 Print Recipe
Siga Wot (Ethiopian Spicy Beef Stew)
Siga wot, an Ethiopian beef stew simmered in a rich sauce, spiced with an Ethiopian blend called berbere.
Ingredients
2

red onions

finely chopped

2

tablespoons

minced garlic

2

tablespoons

grated fresh ginger

4

tablespoons

spiced butter

(niter kibbeh)

3

tablespoons

berbere

1

teaspoon

ground cardamom

2

pounds

chuck roast

cut into 1-inch cubes

2

teaspoons

vegetable oil

1/2

cup

beef broth

1

teaspoon

salt or to taste
Instructions
Put the onions in a large skillet over medium heat. Cook, stirring constantly, until water evaporates, about 10 minutes, taking care not to burn them. You may need to reduce the heat as the onions dry out. Add spiced butter and simmer on low for about 5 minutes. Add ginger, garlic, cardamom, and berbere. Simmer for 10 to 15 minutes, adding enough broth to make a thick sauce.

In a medium skillet brown beef with 2 teaspoons of vegetable oil. Add beef to the sauce and simmer over very low heat for about 30 minutes, stirring occasionally, until the liquid is reduced and the sauce is very thick. Add salt to taste.

Serve hot with rice or injera.
Notes
If you want to serve siga wot with rice, you might want a runnier sauce, add more broth if desired.
3 tablespoons of berbere, makes this stew mild.
Nutrition