These Bolivian rolls or pan casero, are found in all the small neighborhood stores throughout the country. Today's varieties have a sweet crust and a cheesy crust.
Similar to Mexican conchas (with a sweet crust on top), these Bolivian rolls are covered with a paste made with flour, lard or shortening, and sugar.
Once baked, this crust hardens and makes every bite delicious and messy. Along with the sweet crust rolls, you can always find the cheesy ones.
This is a slightly modified recipe that my cousin Glency who lives in Bolivia gave me a few years ago.
Her recipe starts with 2 kilos of flour (a little more than 4 pounds) but knowing that my family doesn't eat a lot of bread, I had to make it smaller, using about 500 grams of flour.
For many years, my cousin's family sold bread from their home. Getting up really early in the mornings to start the process.
Whenever I could, I would spend my summer vacations with them. I was always amazed at how my 12-15-year-old cousins were adept at making dough balls so fast, with one in each hand! All this bread then was baked in a wood oven.
I don't know how much my aunt sold, but I know that we ate a lot of the freshly baked bread.
Bolivian breakfast
Breakfast in Bolivia varies greatly from region to region, especially the more traditional breakfasts.
Over the years, having more access to stores, supermarkets, and international products, it has been changing.
Although each region has its own traditional breakfast dish, it is very common in all regions to have a simple breakfast that includes a cup of coffee with a piece of bread.
If the bread does not have any crust on it, it is cut in half and smeared with butter, or simply sandwiching a thick slice of cheese.
Dough
The dough for this Bolivian bread begins with a sponge, or a yeast dough that is made first and left to rest for 40 minutes.
Then the rest of the ingredients are added and kneaded.
This part varies from house to house. Some people like their bread with a tight crumb, a roll that doesn't rise much when baking.
To make it happen, I recommend using less milk, maybe just a cup. Your dough should be firm, and it will give you a little more work to knead it.
If you like the more airy, fluffy bread that rises when baked, this is the perfect recipe 😊
It is a light and slightly sticky dough. The more you knead it, the less it sticks to your hands.
After the dough rises, its time to assemble the rolls. In my case, I weighed the entire dough and then divided that amount by 16. Then I weighed each portion so that they come out the same size.
But this step is not so necessary. You can just divide them into 16 portions.
After making rolling each portion, you should make them flat, pressing firmly with the palm of your hand before adding any of the toppings.
Sweet crust bread
Commonly called pan con harina (flour bread). The crust of this bread is prepared with a mixture of flour, fat, and sugar.
Lard and vegetable shortening are often used in Bolivia for making bread.
I tried to make the crust with butter, I thought the flavor was much better than with the other fats, but butter changes the texture of the crust.
It makes the crust harden too much and after the first bite, everything breaks and falls. I leave it to your discretion which one to use.
Cheesy crust bread
Called pan con queso (bread with cheese). The crust of this bread as you can imagine has grated cheese in it, blended with an egg to keep it together.
Bolivian cheese is dry and salty. For this recipe, I used a cheese called Dutch cheese, and since it does not have the same amount of salt, I added some.
Try the cheese and see if you really need to add salt to this mixture.
I have to say that my favorite is the one with the sweet flour crust. Every time I go back to Bolivia, I make sure to buy a few for my breakfast.
I hope you are enjoying these Bolivian recipes!
Recipes you might like:
If you liked the recipe above, please consider rating the recipe and leaving a comment below! and share your picture on Instagram with the hashtag #chipabythedozen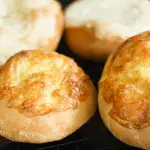 Print Recipe
Homemade Bolivian Rolls
These Bolivian rolls or pan casero, are found in all the small neighborhood stores throughout the country. Today's varieties have a sweet crust and a cheesy crust.
Equipment
2 large mixing bowls

2 baking trays

2 small mixing bowls
Ingredients
First step:

1-1/2

cups

milk,

at room temperature (250ml)

2

tablespoons

sugar

(25g)

2

teaspoons

dry yeast

(7g)

1

cup

flour

(120g)

Second step:

3-1/4

cups

flour

(394g)

1

teaspoon

salt

1

egg

2

tablespoons

butter or lard,

at room temperature (28.5g)

Cheese topping:

1/2

beaten egg

1/2

tablespoon

milk

1

cup

shredded cheese

(100g)

1/2

teaspoon

salt

Sweet topping:

1/2

cup

flour

(64g)

1/2

cup

sugar

(100g)

1/2

cup

shortening

or butter, at room temperature (113g)
Instructions
Prepare 2 baking sheets. You can grease them or use parchment paper.

In a medium bowl, mix with a spoon 1-1/2 cups milk, 2 tablespoons sugar, 2 teaspoons dry yeast and 1 cup flour. Cover with a kitchen towel and let rest 40 minutes.

In a large bowl add 3-1/4 cups flour, 1 teaspoon salt, and 1 egg. Add the yeast mixture and mix.

Place the dough on a flat surface and knead for 5 minutes; add the butter and continue kneading until the dough is smooth. If the dough is very sticky, flour your hands to knead.

Grease a large bowl with vegetable oil. Place the dough in the bowl, turn the dough over so that it is coated with oil. Cover the bowl with a kitchen towel and let it rest in a warm place. Let stand until double its size. This can be anywhere from 1 hour to 2, depending on the weather or the temperature in your house.

Cheese topping: In a small bowl, beat 1 egg. Use only half for this topping. Add milk and cheese; Mix.

Sweet topping: In a medium bowl, beat the butter or the desired fat you want to use, until creamy. Add the sugar and flour; mix well.

Place the dough back on a flat surface and divide into 16 equal portions. If you want them all to be the same size, weigh your dough and divide it by 16. Then weigh each portion.

Shape each ball by pressing it between the palm of your hand and the table in a circular motion until they're round.

Flatten them with the palm of your hand and place them on the prepared trays.

Preheat the oven to 350F/180C.

When the oven is hot. Flatten each piece of roll again with the palm of your hand or with your fingers. Add the cheese topping to 8 of the rolls, and the sweet topping to the other 8 rolls.

Bake for 25 to 30 minutes, or until golden brown.

Remove from the oven and place them on a cooling rack.
Notes
These rolls can be stored at room temperature in an airtight container for up to 3 days. More if where you live is not humid.
You can also freeze them for up to 2 months. Before consuming, remove from the freezer 20 minutes, or use the microwave to defrost them.
If you want to make only cheesy rolls, use the whole egg and another cup of cheese.
If you want to make only sweet rolls, double the recipe as well.
You can also give it a long shape, and not add any toppings.
This recipe was measured in cups. Gram measurements are an approximation.