Crispy mini meringues topped with a creamy white chocolate no-bake cheesecake infused with orange zest.
Little chunks of juicy strawberries are folded into the cheesecake.
A drizzle of white chocolate covers these little clouds. On top, like a beautiful jewel, a strawberry drizzled with more chocolate.
Jump to:
Oh, how I love desserts! I do think about them very often ? the textures, the flavors, the aroma. All of that brings fond memories. Usually, these memories involve friends and conversations around our table in different countries.
Meringues for me are little bites of joy. A treat my dad would get me when we were about to get on the bus to our 3 to 4-hour trip to visit our family in the town of Buena Vista in Bolivia.
The creaminess of this no-bake cheesecake infused with orange and mix with berries takes me right back to our house in Paraguay. Sitting around our table, sharing meals with friends, and the silence that happens as soon as everybody takes their first bite of one of my favorite desserts, a white chocolate raspberry pie. 
The flavors that go into this creamy filling are refreshing and bright. I try to add it to many of my desserts, wowing our guests with every bite.
Ingredients
Meringue:
Egg whites: I used liquid egg whites as I didn't want to have too many egg yolks left. If you are using the whole egg, separate the egg whites from the yolks while the eggs are cold. It makes the job easier.
Sugar: Use granulated sugar. No replacements.
Vanilla extract
No-bake Strawberry Cheesecake:
White chocolate: I used chocolate chips. If using chocolate bar, cut it into small pieces.
Orange juice and zest: Wash the orange well, dry it with a paper towel and get the zest first (I used a cheese grater). Then squeeze the juice.
Cream cheese: Use full fat cream cheese at room temperature.
Icing sugar: Also called powdered sugar, or confectioners' sugar.
Heavy whipping cream: It must contain at least 36% or more milk fat. You can substitute it with 2 cups whipped topping.
Chopped strawberries
Topping:
Strawberries
White chocolate
How to make it
Meringue:
Start by making the mini meringues. You'll need to cook the egg whites and sugar over a water bath.
Place a little bit of water in a saucepan and once starts simmering, bring it to low heat. Choose a metal bowl that sits right on the saucepan, and make sure the bottom doesn't touch the water.
Place the egg whites and sugar in the metal bowl and stir constantly for about 4 minutes. The sugar should dissolve.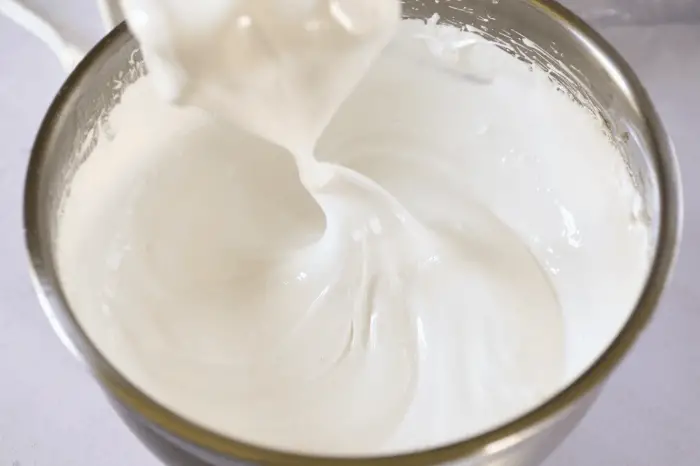 The mixture will be warm to the touch. Start beating with an electric mixer until the bowl is no longer warm, but cool to the touch. At this point add vanilla and beat until incorporate it.
Now it's time to preheat the oven to 250F (130C) and prepare 2 baking sheets with parchment paper. If you like to be more precise with the size, you can draw circles on the paper and then turn them to the other side to use them.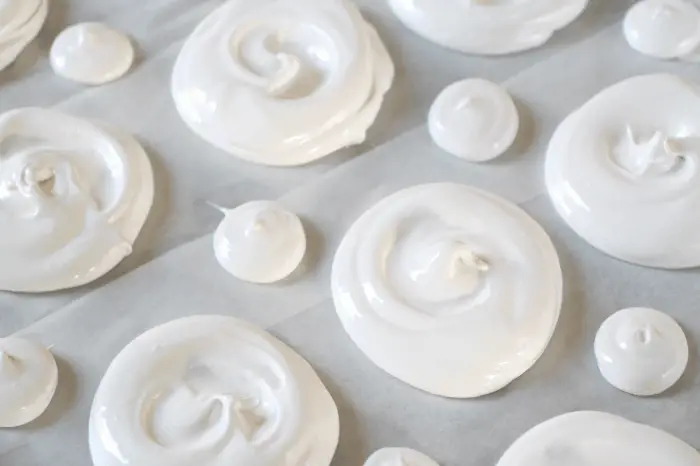 Use a spoon and divide the meringue into 12 equal portions (I only needed 10, and used the rest of the meringue to make bite size meringues).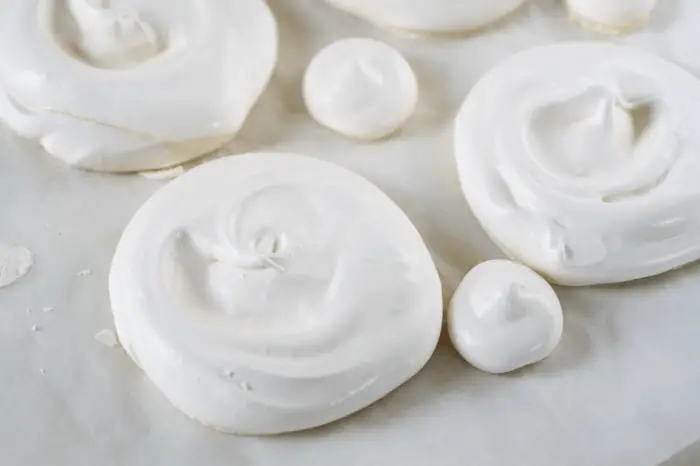 One you placed the baking sheets in the over, turn the temperature down to 200F (100C) and bake them for 1 hour and 10 minutes. Turn off the oven and leave them there for another 30 minutes before placing them on a cooling rack.
Strawberry Cheesecake:
For this no-bake cheesecake you need to remove the cream cheese from the refrigerator 30 minutes before using. If the cream cheese is cold, as you mix it with the chocolate, the chocolate will clump together.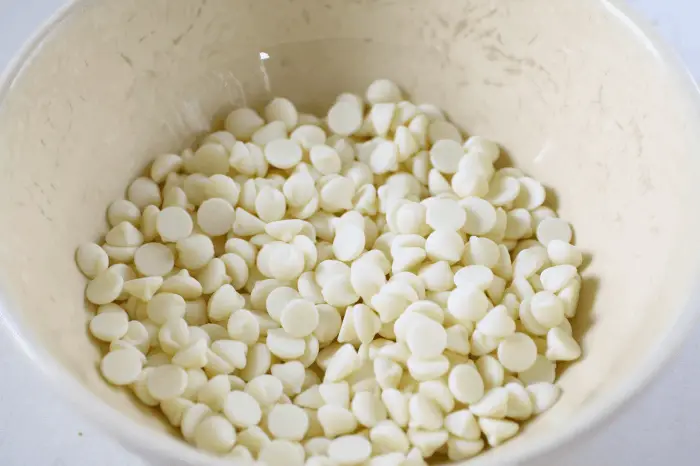 Melt the chocolate in the microwave or use the water bath method and let it cool.
Cream the cream cheese, orange juice and zest, and the icing sugar together, and then add the chocolate.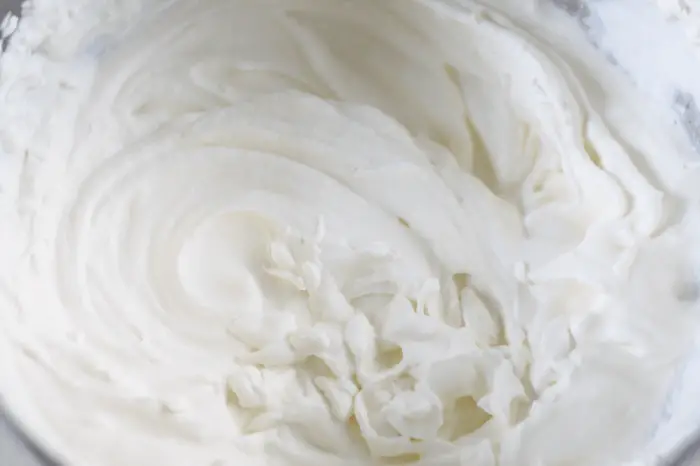 In a different bowl, beat whipping cream until creamy. It doesn't need to be firm.
Then fold into the the cream cheese mixture. Add the strawberries and fold again.
Keep it in the refrigerator until you are ready to use.
Topping:
If you like, top each mini meringue with a whole strawberry drizzled with chocolate.
You can do that, by microwaving some chocolate and placing the melted chocolate into a zip-lock bag. Cut the tip of the bag and drizzle each strawberry.
Why we love this recipe
It's just a beautiful dessert
It can be made ahead of time
Great for parties
Perfect for Valentine's Day
Frequent questions
What is the difference between meringue and pavlova?
Meringues are made with egg whites and sugar. They are crispy and dry all the way through. Pavlovas are made with egg whites, sugar, vinegar and cornstarch. The last 2 ingredients give them a marshmallow interior.
Can I use another fruit for the cheesecake?
Yes. Raspberries go very well with this dessert.
What other fruit combination can I add?
Blackberries and lime. Blueberries and lemon. Raspberries and lemon. Peaches.
Recipes you might like:
If you liked the recipe above, please consider rating the recipe and leaving a comment below! and share your picture on Instagram with the hashtag #chipabythedozen
Recipe
Recipe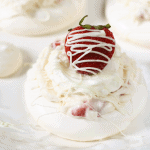 Print Recipe
Mini Meringues with Strawberry Cheesecake
Crispy meringues topped with creamy no-bake strawberry cheesecake.
Ingredients
Meringues:

6

large egg whites, at room temperature

(200g)

2

cups

granulated white sugar

(400g)

2

teaspoons

pure vanilla extract

Strawberry Cheesecake:

1

cup

white chocolate

cut into small pieces or chocolate chips (175g)

3

tablespoons

orange juice

8

ounces

cream cheese, at room temperature

(226g)

½

cup

icing sugar

(62.5g)

1

tablespoon

orange zest

1

cup

heavy whipping cream, chilled

(240g)

1-½

cups

chopped strawberries

Topping:

12

whole strawberries

¼

cup

white chocolate

(45g)
Instructions
Meringues: In a big metal bowl, place egg whites and sugar and mix.

Place a saucepan with 2 inches of water over low heat. Once it is simmering, place the bowl over the saucepan stirring constantly, heat the mixture until the sugar has melted and is warm to the touch (about 2-5 minutes).

With an electric mixer beat on high speed until the meringue is stiff, about 5 minutes. Add vanilla, and mix.

Preheat the oven to 250F (130C). Cover 2 cookie sheets with parchment paper.

Divide the meringue into 12 equal portions on the parchment paper.

As soon as you put the meringues into the oven, reduce the temperature to 200 F (100C) and bake the meringues for 1 hour and 10 minutes. Turn off the oven and leave the meringues for another 30 minutes.

Remove from oven and place on a wire rack to cool completely. The meringues can be stored in an airtight container at room temperature for up 2 weeks (depending on humidity).

Strawberry Cheesecake: Melt chocolate in the microwave for about 2 minutes, stirring every 30 seconds; or use the water bath method. Let it cool.

In a large bowl, beat cream cheese, icing sugar, orange juice, and zest. Add melted chocolate and mix.

In a medium bowl, beat heavy cream with an electric mixer for 4 to 6 minutes. It does not have to be firm, only creamy. Fold whipped cream to the cream cheese mixture with a spatula. Add chopped strawberries and fold.

Keep refrigerated until ready to use. It keeps well for up to one week.

Strawberries: Wash and pat dried strawberries. Place them on parchment paper.

Melt chocolate in a microwave-safe container for about 1 minute and 30 seconds, stopping every 30 seconds to mix. Place chocolate in a small plastic bag and cut the tip. Drizzle chocolate over the strawberries.

Place strawberries in the refrigerator until ready to use.

Assemble: Place meringues on a platter, top each one with about ¼ cup of the strawberry cheesecake. Drizzle white chocolate. Place a strawberry in the middle. Serve.
Notes
Keep meringues in an airtight container at room temperature for up to 2 weeks.
Keep strawberry cheesecake refrigerated for up to 1 week.
Once it's all put together, it keeps well in the refrigerator for up to 3 days.
Nutrition