Raspberry-blueberry baked oatmeal for breakfast? Yes please!! and yes, is healthy too. Although I don´t count calories, I thought you'd be interested to know that each serving has only 144 calories!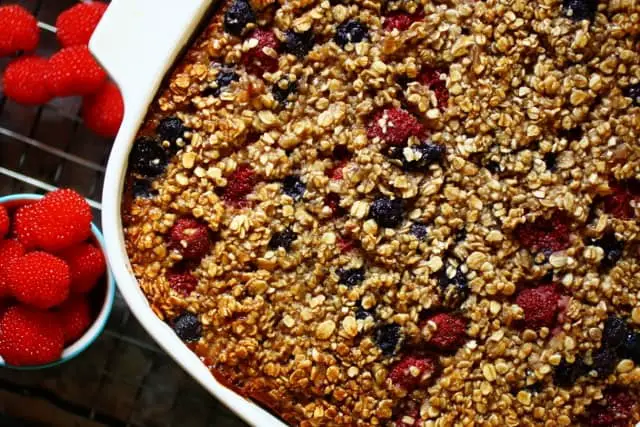 In this recipe I used applesauce instead of oil/butter. Before you leave this blog because you don´t have any applesauce or you can´t get it where you live, wait !! keep reading! I can´t get applesauce here either, but there is an easy, quick and cheap solution. Just cut a red apple, take the core out, if you want you can peel it, I use everything, put it in a small saucepan with a little bit of water, just to cover the fruit, and cook it until soft. Add everything to the blender and you have applesauce! now there is no excuse, you can make this recipe :).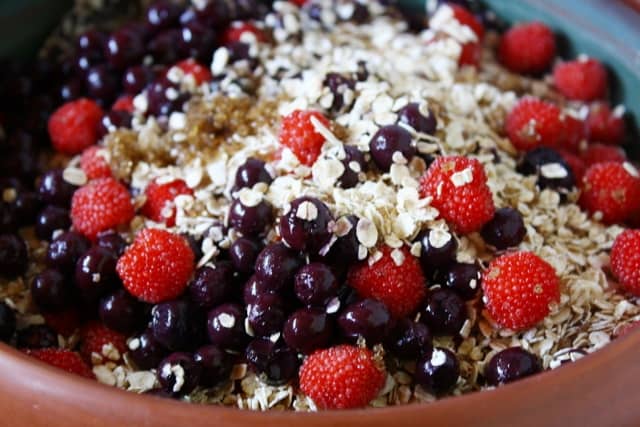 At home we eat a lot of baked oatmeal for breakfast. I usually bake a few trays, and when they´re cold, I cut them into individual portions and freeze it for other breakfasts.
I don´t always have raspberries and blueberries on hand. If I have more apples, I cut some and add them with a pinch of cinnamon and nutmeg; or some sliced bananas. What if you don´t have any fruit? You can make it anyway! just plain baked oatmeal, brown sugar gives it a caramel-like flavor, so it still delicious!

Did you make this recipe?  Please let me know how it turned out in the comments below! and share your picture on Instagram with the hashtag #chipabythedozen
Recipe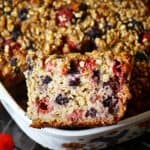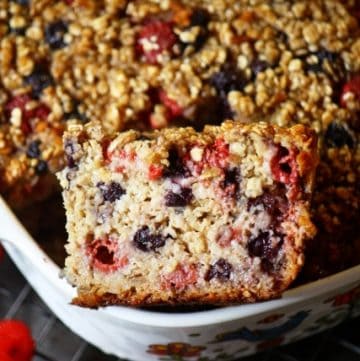 Print Recipe
Raspberry-Blueberry Healthy Baked Oatmeal
This baked oatmeal full of berries is a great way to start your morning.
Ingredients
3-½

cups

rolled oats

¾

cup

brown sugar

½

teaspoon

salt

2-½

teaspoons

baking powder

2

egg whites

1-½

cup

2% milk

¾

cup

applesauce

2

cups

raspberries

1

cup

blueberries
Instructions
Preheat oven to 350°F / 176°C.

In a big bowl add oats, brown sugar, salt, baking powder and berries.

In a small bowl, mix in applesauce, egg whites and milk. Add it to the oat mixture.

Pour batter into a greased 8x8 baking pan and bake for one hour.

Serve hot with a splash of milk.
Notes
Once cooled, this baked oatmeal can be frozen for up to 3 months.
Nutrition
Save