Suspiro limeño is a Peruvian custard-like dessert. Topped with a light meringue infused with Port.
This article for "Suspiro Limeño" was originally published on Curious Cuisiniere.
Suspiro Limeño or suspiro de Limeña is a creamy, custard-like Peruvian dessert very popular in Lima and the cities around it.
Amparo Ayarza, a Peruvian lady from the city of Lima made this dessert for her husband. Her husband, being a poet, gave it the name of Suspiro de Limeña, which means, 'Sigh of a Lima lady' because it is soft and sweet like the sigh of a woman.
And yes! This dessert is creamy, light and very rich.
How to make Suspiro Limeño
Suspiro Limeño has two parts.
The base has a pudding or thick custard-like texture. It is made with condensed milk, evaporated milk and egg yolks. When cooked, it takes on a thick brown consistency. Similar to dulce de leche in flavor and in color.
Then is topped with a layer of meringue. This meringue is commonly prepared with Port. A syrup is made with Port and then used to sweeten the egg whites.
To finish this dessert, sprinkle some ground cinnamon.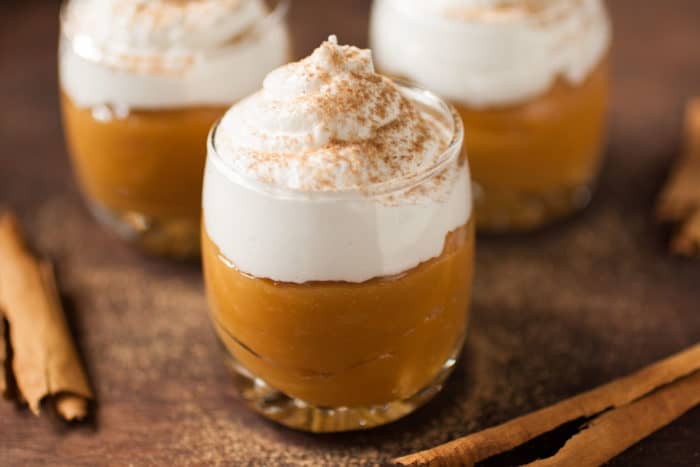 What happens if you don't have any evaporated milk?
No problem! it's very simple to make. Boil a liter of whole milk at a low temperature for about 20 minutes.
Or you can use powdered milk and add only half the amount of water you'll need to prepare a liter.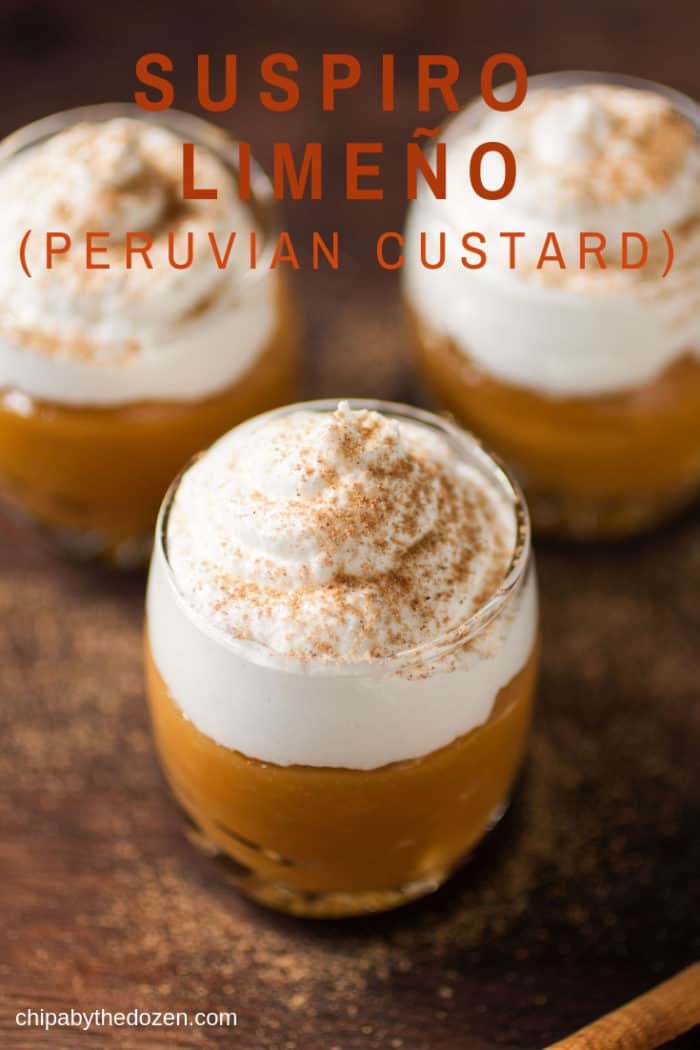 As you can imagine, this suspiro limeño is very rich. I served it in very small portions. If you want, serve it in bigger glasses. You'll get 3 or 4 portions.
I think this rich, decadent dessert will be great for Valentine's Day. What do you think?
If you liked the recipe above, please consider rating the recipe and leaving a comment below! and share your picture on Instagram with the hashtag #chipabythedozen
More recipes with dulce de leche:
Recipe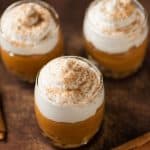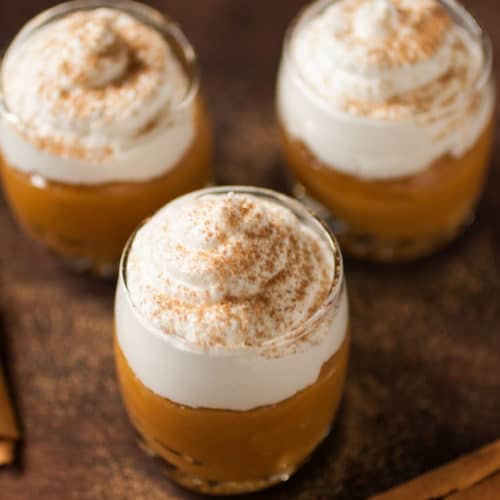 Print Recipe
Suspiro Limeño (Peruvian Custard)
Suspiro Limeño is a custard-like dessert, top with a Port infused meringue.
Ingredients
For the custard:
1

12 fl oz can evaporated milk (340g)

1

14 oz can sweetened condensed milk (296g)

2

egg yolks,

at room temperature

1

teaspoon

pure vanilla extract
For the meringue:
½

cup

sugar

2

tablespoons

Port

2

egg whites,

at room temperature

1

teaspoon

ground cinnamon
Instructions
For the custard: Place the egg yolks in a small bowl.

Place the evaporated and sweetened condensed milk into a large, shallow pan. Boil over low heat for 10 minutes.

Turn off the heat and take ¼ cup of the mixture; with one hand whisk the egg yolks constantly, with the other hand pour in the ¼ cup of the custard mixture, a little bit at a time.

Pour the custard/egg yolk mixture into the pan and add the vanilla extract. Mix well and cook over medium heat for 3 minutes.

Transfer to individual cups, filling only halfway.

For the meringue: In a small pan, over low heat, boil sugar and Port for 3 minutes. Set aside.

Add egg whites to a clean bowl. Whip egg whites with an electric mixer until fluffy.

With the mixer still on, pour in the Port syrup slowly. Beat until thick and glossy.

Fill a piping bag with the meringue and pipe over the custard.

Sprinkle with ground cinnamon.
Notes
Keep in the fridge up to a week.
Nutrition
I'm sharing this recipe at Fiesta Friday, hosted by Angie and her co-hosts this week are Mollie @ Frugal Hausfrau and Diann @ Of Goats and Greens